Today, Mary Poppins Returns open Nationwide! I am excited for you all to see it. It is extraordinary and magical! One of the best parts of the movie is the music. The soundtrack which can be purchased now is  AMAZING! Trust me when I tell you that you will be in love with each and every one of the songs on the soundtrack and for good reason! The genius songwriter combination of Marc Shaiman (just got nominated for a Golden Globe) and Scott Wittman are behind this film. Marc Shaiman and co-lyricst Scott Wittman have written all the songs for director Rob Marshall on the sequel to Mary Poppins Returns.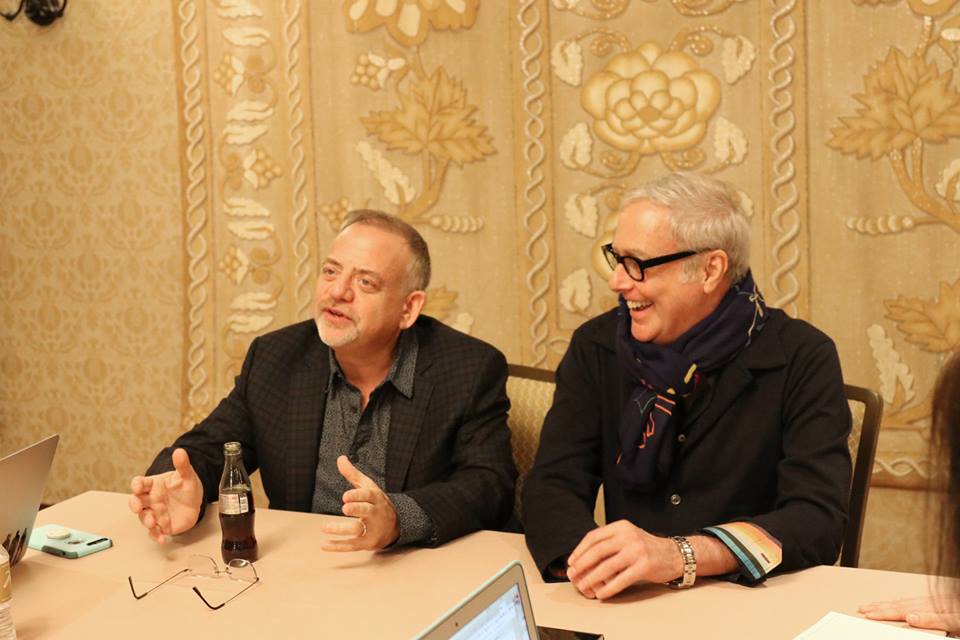 Some of Marc Shaiman works include Sleepless In Seattle", "Patch Adams", "The First Wives Club", The American President" and "South Park-Bigger, Longer & Uncut" and some of Scott Wittman works include Hairspray and Catch Me If You Can. They work together on most of their music with Mary Poppins Returns being their latest collaboration.
Question 1:    I know that Richard Sherman was working as a consultant with you. What was that like?
Scott said it was heaven. Marc said he got to ask him why he wrote a song and why it was in the key it was in. And what was Walt Disney like.
Question 2:    Did you ever talk about family? Or what's going on in the world?
"It was so surreal that I don't remember really any of his answers. But the glorious part of it was that he loved our movies so much. And that he really felt like it was in good hands. And that in some way, he said to us that the baton had been passed."
Marc told us the greatest compliment they got was the way Richard looked at them and treated them.
Question 3:    Have you stayed true to the original, in terms of music?
Scott said they went back to the books and all the adventures in the stories. Some of the stories cried out to be sung. All the material was in the books.
"And then we had Emily and Lin and we had them right from the beginning. So we got to sculpt all this material on them."
He said they knew they had it right so it sounded like it was in the same neighborhood of the first movie. He also said the first movie prepared them well for this one.
"So you grow up with it, there's going to be something about what we wrote, that would come from that. And would sound similar and we never tried to copy it. Or even write something that's so close, that it will only make us pale in comparison. And yet we couldn't help but find ourselves in the Mary Poppins vernacular. Musically and lyrically."
He said they had a great four months of working with Rob and his partner John and the screenwriter, David Magee. They had had the idea that it would be about Michael Banks, a recent widower. And that would be the crux of what's going on.
And then they just pieced the movie scene by scene. And figuring out which songs, where to put a song. And how it would speak to what was going on. Or further what was going on.
Question 4:    You've done such a wide variety of work. How was making Mary Poppins Returns, different from what you've done before?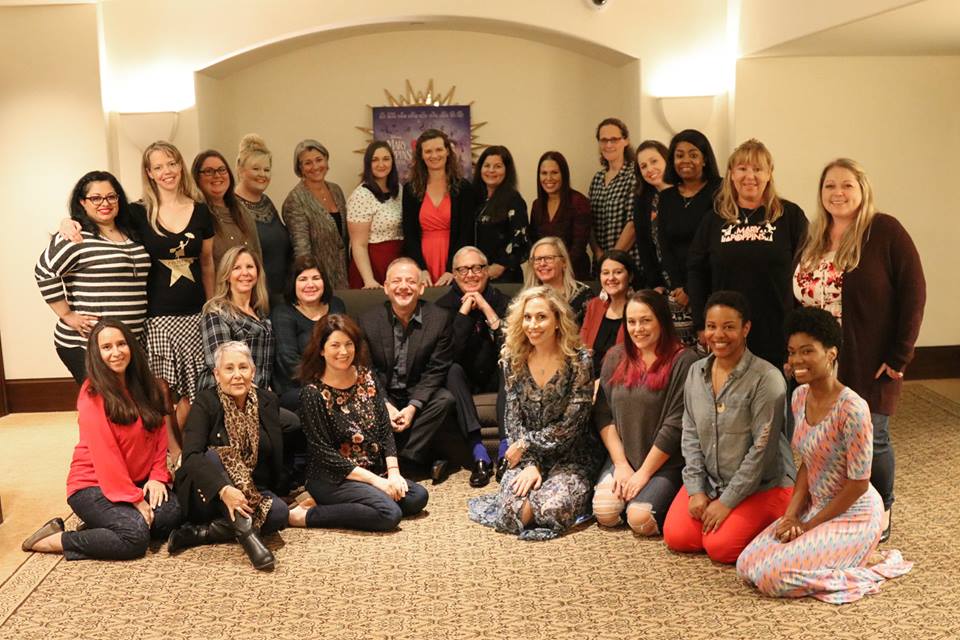 "Well, it's funny. A Disney way, it really was a dream, it's a wish your heart makes. So it was a love. I said to someone recently, that four months we were in a hotel room in New York. It's the best time I've ever had in a hotel room. Creatively. And so, that was sort of a magical experience, because Rob is such a person of the theater. And we come from the theater. It was like working on a Broadway musical because it was really that whole experience.
But Rob is singular in his vision and he's straightforward – and the blinders are up. It gives us all a confidence."
"This movie was a whole other experience, though. Because Rob specifically hired us also because he knew I also score films. It's a whole different kind of beast. Or muscle, to exercise.
And so I also had him know that melodies for the songs could hopefully form a solid score. And not just sort of like a wisp of a melody here or there. But really of real foundation. And luckily, Scott after we wrote, Can You Image That? Which was our fourth attempt at that, to write for that slot. Because we kept writing songs like, That's Great. Remember, it's the first time Mary Poppins has sung on screen in 54 years.
So we go back and we write another song. And after we wrote that one, Scott said, "Now remember, play it like score, also." So besides singing it, a la Mary Poppins. And I sat down and played it. And that's what you hear as the main theme of the movie almost throughout. That more melancholy, if you slow it down and put slightly different chords to it, it creates a whole other atmosphere."
Question 5:    Was it challenging to write the songs?
Yes!
"First we try to write songs that were more in the style of the English dance bands. Of the early '30s. And we thought it'd be fun if Mary Poppins had a touch of current sound work, for the '30s. And it's like, Hey, I know what the kids are doing. And I'm going to sing a song in a style that will show that I'm aware, and make the kids maybe be a more interested. And it was a fun song and they even started rehearsing, they rehearsed, then they started working on what it would look like. The underwater section.
And so they already had Emily up on wires and how they would slow the picture down a little. So it looked underwater. And that's when they said, "You know what, we love the song, and yet when we say the title, we don't sing it."
And also with the first song, they kept saying, "We got to deliver Lin-Manuel. We have to deliver Lin-Manuel. Sort of felt like a midwife. So the first song we wrote, is the one that's in the movie. But it's very gentle. And at one point Rob thought there should be no music until Mary Poppins arrives. No songs. But we felt that Lin's character, although he's not magical, he can't create the magic, he believes it. He's a believer. So we thought we would sing. But it is the Depression, or it's like all the storm. So we were influenced, there was a great duo back then called Flanagan and Allen. And they wrote songs like, Under The Arches. And songs about the common man.
When he says, "Lovely London sky," it was not a day unlike today. He's thinking about a gray sky. Yeah, we knew it, he's thinking about a gray sky.
"Even the ending was just "Balloons, balloons, balloons." It was more wistful. And then we just like, it's gotta say something more.
And then when we came up with the title of, There's Nowhere To Go But Up, which is so perfect for nowadays.
Question 6:    When you're writing a song and you're writing to the singer's abilities, how are you keeping with the theme of the movie?
Marc said they are juggling and multitasking creatively. The director is the ultimate final cut.
Some  musical clips:
CAN YOU IMAGINE THAT:

ROYAL DOULTON BOWL:
Mary Poppins Returns opens everywhere TODAY!  Be sure to check out my other posts about the new Mary Poppins Returns here: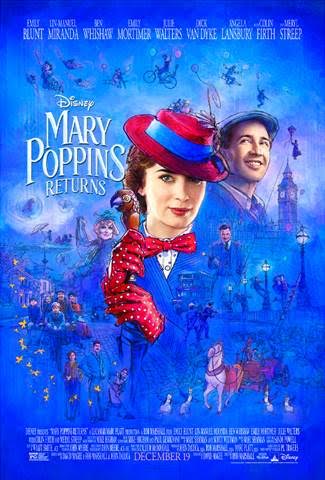 Mary Poppins Returns Movie Review 
*I walked the red carpet thanks to Disney. I collaborated with Disney to help promote this new movie. All opinions are my own and not swayed by outside sources.*