I was giddy like a school girl to interview the one and only Rob Marshall. Being a huge musical fan my entire life, Rob Marshall was a name I grew up with. His producing credits include Into the Woods, Chicago, Pirates of the Caribbean: On Stranger Tides, and Annie to name a small few! I have been such a fan of his, so to actually meet him was a dream come true. Now Rob Marshall is taking the lead of producer/director in the new Mary Poppins Returns which opens this Wednesday!
Before he started the interview he told us he loves meeting with the bloggers which made us all feel so great! We loved the opportunity too!
Question 1:    So how do you convince your actors that everything is possible even when they're scared of heights? When they don't consider themselves singers or dancers?
He said it is very interesting when he works with actors. He finds they need positive reinforcement a lot and for him that is very easy to do. It is similar to being a good parent with reinforcement. He said an example was with Ben Whishaw (Michael Banks) never sung before and was nervous about it. He made him believe he can and made him have confidence.
"He was sort of nervous about how do you do that and I always feel that people can do so much. It's just feeling that they can and knowing that they can."
"I like to protect actors to make them feel they can do things and try things. And everybody was so nervous on this film because we were following that extraordinary film that means so much to me and so much to so many people. I'm sure everybody in this room.
And so we knew we were you know doing the impossible, but I honestly felt like if we did it together from the right place with a great respect for the first film and found our own way at the same time then we would at least have done it in the right way and then you hope that it works." And it sure did!
Question 2:  Did you use any other props from the first film? Maybe like the umbrella or any like that?
He said he visited the Disney archives but they didn't really have the archives in the 60s. But he did replicate a lot such as the original blocks in the first film. He also said that they created their own version of the kite, but those are very specific things from the first film that he really wanted to hold onto. It's those first little Easter eggs.
Question 3:    Could you please tell me how it was to work with Dick Van Dyke?
He said he is something else and there is no one quite like Dick Van Dyke. He was so excited and nervous to even call him to ask him to do this because he's a hero for him and all his works. He told us Dick Van Dyke is so joyous and it's just sort of who he is and he said yes so quickly. He wanted to be part of it and he was excited to be part of it.
"And when he came onto the set he honest to G-d grabbed my arm as we were walking on. He said, "I feel the same spirit here on this set that I did you know in the first film." And I thought okay well that's everything. That's all I need to hear. That was everything for me to hear that from him."
Question 4:    Was it really him dancing at the end?
He said it sure was!
Question 5:    So when you were talking about the props you said you were specific and strategic about using them. Is this correct?
"I feel like that same method was used for the original music and how it was kind of placed in the right places. Same goes for the props."
Question 6:    So how much creative control did you give your song writers with that?
He said they did it together. He said with doing a musical production movie, you all have to work together.
We then talked about the end number with Dick Van Dyke and how everything comes full circle. I loved this part of the movie so I will let you watch it to experience it yourselves. I will say it is purely magical!
Question 7: Tell us about that magical bathtub scene?
"Well it's her first adventure. She arrives and so you have to look for something. You know the great thing about the PL Travers books is that even though there's no narrative to any them they're all just episodic.
It's all about taking an ordinary everyday event and turning it into something magical. An adventure that's fun! Even cleaning up your room turns into an adventure in the first film right? So I was looking for something that kids hate and it's taking a bath.
And I thought you know the great thing about Mary Poppins she does these adventures, but denies them ever happening and kind of just does them without you know announcing them."
"And all of a sudden that Dolphin comes up, she goes not yet, and things like that. You know what's going on you know? But I thought that could open up to a beautiful world and there is an underwater adventure. It's not from a bathtub, but there is an underwater adventure in one of the Poppins books. There are 8 of them.
And so I thought well we could use sort of the feeling of the PL Travers underwater and then I came up with this idea of her seeing all the people from the neighborhood below the water, they're moving through and trying to open the eyes of these kids that have grown up too fast, been forced to become adults too quickly.
It sort of found our way with that and then you work backwards. Then they have to become a complete mess for them to have to take a bath in the middle of the day so then that's the muddy park. It all sorts of feeds together."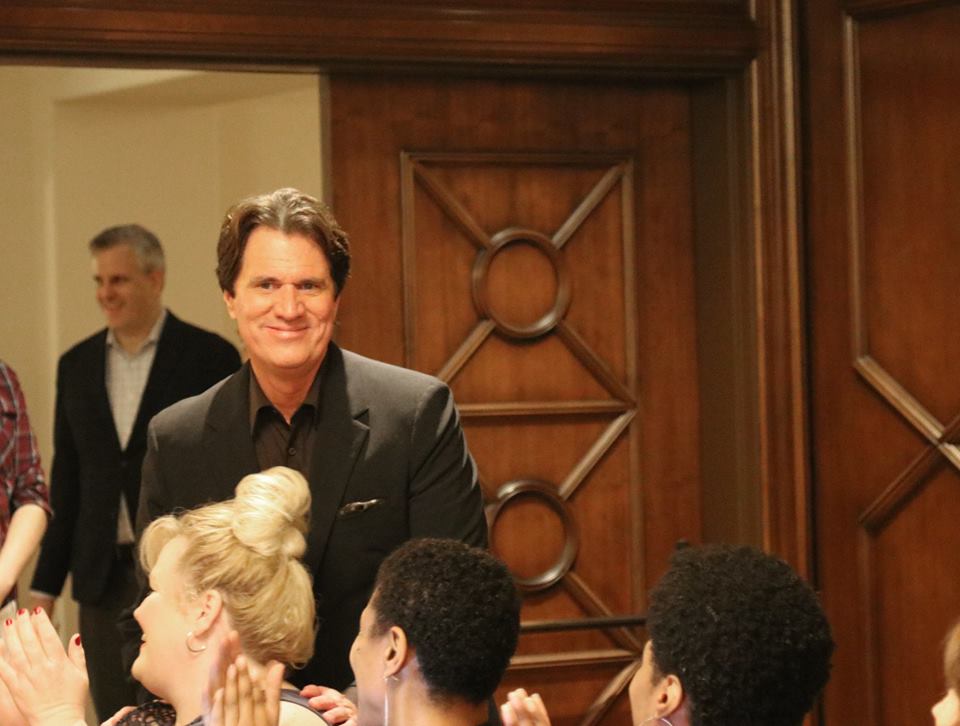 Question 8:    The animation sequences were amazing and beautiful and so clean. I want to know about the process because I can imagine it was ridiculously challenging?
"Thank you for asking about that really because that was the most challenging part of the whole filmmaking and it's the first thing we shot, right away, because the animators, it's all hand drawn animation, every frame. So we needed to get that material to the animators right away.
And the reason our post production was I think close to 14, 15 months was because of the hand drawn animation. They needed that time. So I mean it's that thing. Can you imagine flip-draw? That crazy, it's so hard. I went and visited them.
You know I would say the majority of them came out of retirement to do this. It's kind of a lost art, although I have just to say I was somewhat hopeful because a lot of the artists there really were also in their 20's who were more interested in working on the hand drawn animation than the computer generated work. So that was really good."
Question 8:    Last light you said that there was lots of material in the book. So there's 8 books. Is there enough material for another movie?
"Well I'll tell you that's such a good question. You know of course I'm just sort of holding my breath to see how this movie's embraced, you know hopefully, and how it does. And if you know people accept it and are excited by it.
And if it does I think there will be talk about it because there is a lot of material. You know we walked through it and cherry picked what we thought were the best adventures that we could musicalize and create like a set piece.
But I will say there was a lot left on the table as we were working through that."
Mary Poppins Returns opens everywhere on December 19th and you can buy your advanced tickets on Fandango now. Be sure to check out my other posts about the new Mary Poppins Returns here:
Mary Poppins Returns Movie Review 
*I walked the red carpet thanks to Disney. I collaborated with Disney to help promote this new movie. All opinions are my own and not swayed by outside sources.*