This post is brought to you by Movemints and The Motherhood. All opinions are my own and not swayed by outside sources.
As a dentist that treats a lot of kids and with a husband who is an orthodontist, we always get asked about clear aligner and clear aligner costs. Of course, we are huge proponents of clear aligners in our household and my husband is a big provider, so much so that we will be attending the national conference this fall. The #1 complaint we hear is patients who can't adhere to not putting anything in their mouth when they are wearing clear aligners. Even something like mints can't be eaten without taking out the trays. Now though we found out about an awesome new product called Movemints Clear Aligner Mints. Movemints are the mints just for those who wear clear aligners and the best part is the patients don't need to take out their trays. A true win for both the patient for eating something and a win for the orthodontist because this allows patient compliance! With the invisible braces cost, you want to make sure you are putting something in your mouth that will not mess around with your treatment.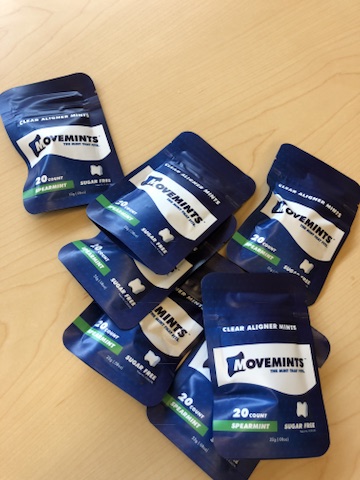 What are Movemints?
If you are in clear aligners, you can now improve your experience during the clear aligner treatment journey. There is no better way to create a more enjoyable, fresher smile journey.
Movemints are mints that help you comfortably seat your trays and help keep aligners in place. They are to be placed in the mouth similar to this: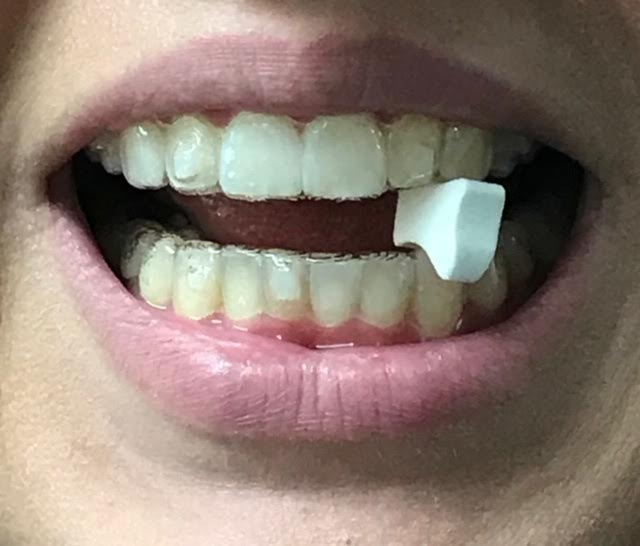 Movements are a discreet and convenient way to comfortably seat clear aligners when you are on the go while freshening your breath and fight dry mouth. These mints were designed by an orthodontist who specialized in Invisalign and has patented grooves that fit between your top and bottom trays. These grooves can help you guide your aligners in place without having to chew on those plastic chewies that patients often receive when beginning treatment. Movemints can help alleviate invisible brace pain as well.
Most Invisalign patients use chewies(which is a small spongy material) to do this but this is unsanitary. Putting your fingers in your mouth during flu season is not something any of us want to do. With Movemints, you can get the same benefits as the chewies but no need to put your fingers in your mouth and best of all, they taste great.
Can you have Mints with clear aligners?
The answer is YES! But just these Movemints! Movemints are sugar free, gluten free and vegan. They are meant to wear with your clear aligners. The key ingredient in Movemints is Xylitol, which is a naturally occurring sugar substitute that can help prevent dry mouth and is thought to prevent tooth decay. It is also low calorie and diabetic friendly.
Movemints Clear Aligners Mints provide a great substitute to gum chewing(which you can't do with your trays) making it easier for patients to wear their daily 22 hours of aligners a day. Movemints help to keep the trays clean while wearing them.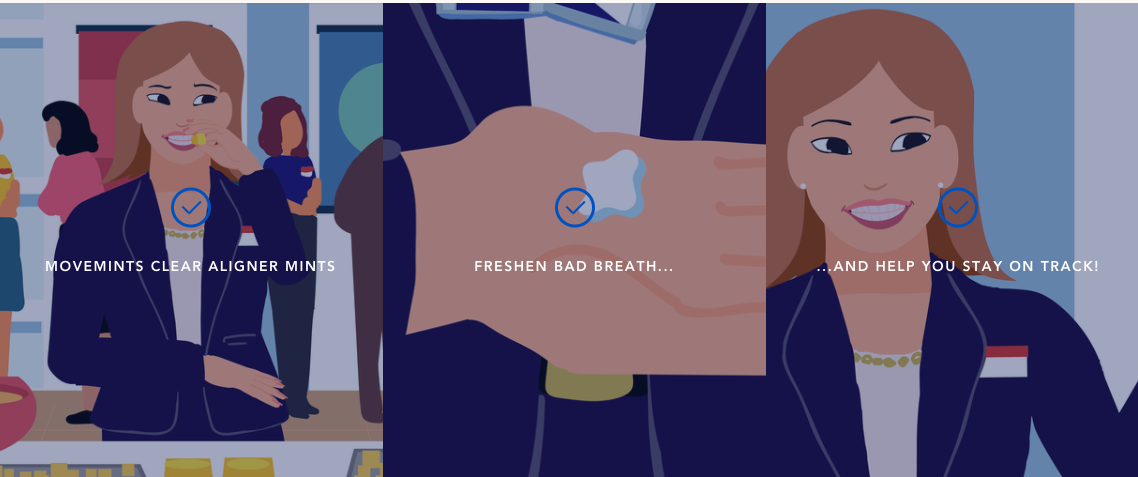 Movemints are a great accessory to have in your on the go bag. They are delicious and affordable. If you have clear aligners, definitely give Movemints a try today. My husband has been suggesting these to his patients and so far they have been huge hits in his office! These sugar free hits are now available to try out at Pezza orthodontics and you can order online here: Movemints Clear Aligner Mints.
Also visit Dental Movemints to sign up for their mailing list and get a 20 percent off coupon plus other special offers.
*Movemints have not been evaluated by the FDA.