*This is a partnered post with the Jona App. All opinions are my own and not swayed by outside sources.*
When it comes to saving money, I'm all for it. If I can save a buck without compromising quality, I'm all for it. If I come across a bargain that just can't be beat, count me in! I love scouring the web for the best coupons, site hopping to compare prices, etc. Some might call it a little bit of an obsession but once you get into the habit of finding amazing steals on your favorite items, it becomes an understandable obsession that many find themselves getting on board with! That's exactly how I got started..a friend turned me onto it and once I saw the savings start adding up, I was hooked.
With my love for saving & couponing, it doesn't take much for me to get lost in my search for the best available deals. So, when the makers of Jona reached out to me for a partnership to review their nifty savings app for moms, I was intrigued. I've saved a lot over the last few years since I'd started but an app for moms as well as every day women, was something that I'd never heard of before being approached by the makers of the app.
Users can stand to receive up to $800 in freebies that are curated towards their likes as well as their needs, like offers from Similac, Enfamil and Medela. Deals on big name brands such as those aren't usually easy to come by, so being able to take advantage of the savings and free gifts just for using Jona is something I definitely recommend, especially to my fellow moms & those expecting. Jona also is capable of recommending deals based on your personal interests that are gleaned from your search history. Love shopping at name brand stores like Macy's, Amazon, or have you been waiting on the seasonal deals for that kitchen mixer you've been dreaming of? Jona can help you save big on those things too!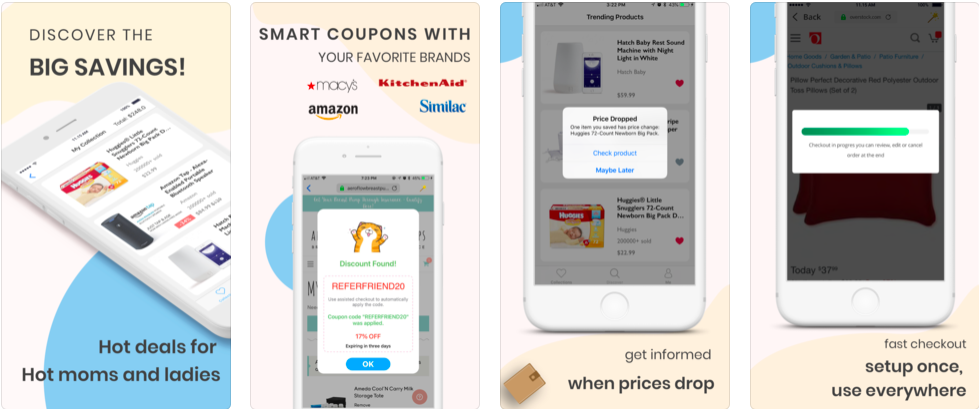 One of my favorite things about Jona is simply how easy it is to apply discounts and checkout with your purchases. After downloading, you can browse the best deals available and once you're all finished, the app will automatically check the best ones for you and apply it during checkout so you get the biggest savings possible. The checkout process is also a breeze, with the app enabling you to enter your information once and storing it away, so you never have to sit in front of your screen & input the same information over, and over again. One click and you're done.
Whether you're a single gal or a mom who is looking to save money when it comes to planning/raising little ones, Jona is definitely a lifesaver. Skip the long lines at your local retailers, having to worry about items being out of stock on the shelves, and just enjoy being able to shop with ease from anywhere, while applying huge discounts AND being able to get some great freebies too!
While I can't stock up on diaper deals or hunt for extra wipes now that the kids are older, I've had a lot of fun using Jona during my review. My only issue since downloading the app is just how much I wish I'd have come across it when my first baby was born, it would have been an absolute lifesaver to help me navigate the waters of first time motherhood. It would have also gone a long way in saving some big bucks too, since we all know just how expensive it can be to have an infant in the home! Nonetheless, I've still recommended the app to a few close friends who do have little ones at home and they've all been super happy with the discounts they've come across so far!
Want to learn more and keep yourself informed about awesome updates that are coming up, such as pricing notifications + social sharing? Unfortunately the app isn't available to Android users in its early stages but for Apple users, you can visit your app store and download it for yourselves to see why I've come to like the app so much myself.
TRY OUT THE APP YOURSELF:
Use code ADFREE10 at checkout.  This code can save you $10 and get the ads-free version (expire by Oct 31, 2018).  Just input this code in 'Me -> Setting ->  Redeem code".   Without this code, ad appears at the bottom of product detail pages.  For more information, find them on Facebook.