*I work with Nintendo. All opinions are my own and not swayed by outside sources.*
It's hard to believe that over 20 years ago a struggling card and toy company was struggling to make their break into a highly competitive market, the industry of arcade games. Their lucky break came in the form of two Italian brothers whose hobbies included plumbing and rescuing damsels in distress. Who was this company and where did these quirky brothers come from? Well, my readers should know these facts well, considering we're among the first to have experienced the legends that became world renowned: these characters were Nintendo's Mario Bros!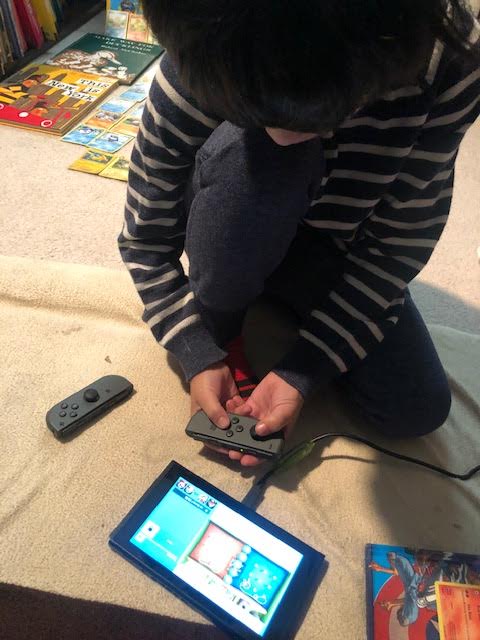 The famous Italian plumbers have come a long way since getting their start as an arcade game back in the early 80's. Back then, Nintendo was struggling to keep their doors open which might come as a surprise considering their explosion of success since then on consoles ranging from Super Nintento, Gamecube, the DS series and Nintendo 64.  Now they are one of the best gaming companies in the world and a national phenomena!
While I spent most of my time outdoors and didn't have a lot of game time growing up, at least not as much as friends, my parents did allow a moderate amount, so, I'm fairly familiar with the progression of Mario themed games on the market. Especially the newest kid on the block, Super Mario Party for the Nintendo Switch. For any hardcore Mario fans that follow here on my blog or for parents of fanatics, I'm sure you remember how popular the Mario Party series was back in the day when it got its start on Nintendo 64. It was a fun, competitive way to share screen time with siblings as well as neighbor kids.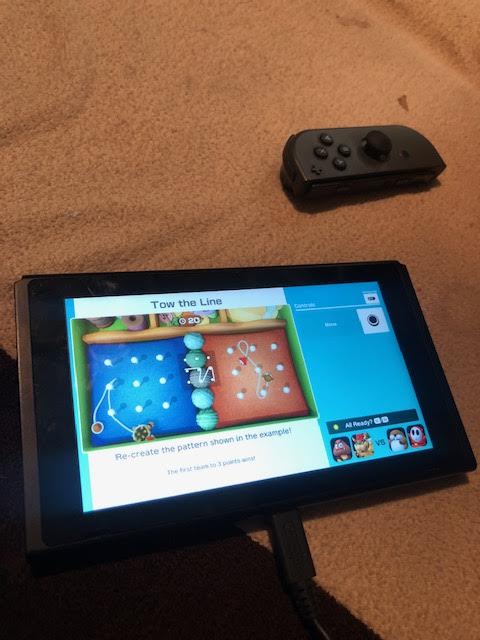 I was given the opportunity, with the holidays literally right around the corner, to review Super Mario Party for the NintendoSwitch, the newest console that has been all the rage over the last few years since it came out.  Lately, a lot of that screen time has been dedicated to fierce competition in over 80 new mini games, with characters such as Mario, Luigi, Princess Peach, Wario, Daisy, Bowser and more. There are even a few new faces this time around, like Rosalina ( my favorite!), Pom Pom and Shy Guy!  Zane is totally obsessed!
Characters of the Mushroom Kingdom have united to one again bring gamers together in the spirit of good, clean, competitive fun. Whether you're playing online, in Toads Rec Room between shared devices or against the computer, you'll never find yourself board (see what I did there, cause you play on a virtual game board? Okay..bad pun). With game play possible for up to 4 players, your family will love this refreshing remake of an old classic. They'll be able to race across the board to find Stars, choose where to move & when, which dice to roll and play against family/friends to test their skill in skill-based mini games in which the prizes are collectible Stars!
I haven't played Mario Party in many years since it got its start on the Nintendo 64 but I can say I'm guilty in indulging lately with my family, especially my son. It has been great fun for the whole family so far and if you've been looking for a new game to add to your Switch collection, this one comes highly recommended by myself & the little ones!

Although, I know most parents aren't strangers to Nintendo, I highly encourage you to head over and become a follower of the following social media pages. You won't regret following Nintendo on Facebook|Twitter|Instagram when it comes to staying updated on what's in the works or newly released games! The Super Mario Party game for Nintendo Switch is fantastic!
GIVEAWAY: One winner will receive Super Mario Party. This giveaway is run via rafflecopter so click read more to see the actual giveaway. The only mandatory entry is to tell me who you want to win in this for in the comment section proceeding this post. While the other entries are optional, I highly suggest filling it out to increase your chances of winning. US only. Good luck!
a Rafflecopter giveaway