****I received an all expense paid trip thanks to Disney and Marvel Studios. All my opinions are my own and not swayed by outside sources. Photo credit to Louise Bishop and Disney pictures.**

Michael Douglas made a bold statement that Corey Stoll is the best villain to date in the all new Ant-Man opening this coming Friday! You know what..I have to agree with this! Corey Stoll has many movies under his belt including The Bourne Legacy, Non Stop, and Push to name a small few. While I have seen him in some of his films, I truly think this is the best of his work to date.  He is spot on as Darren Cross, taking on the role of the ultimate villain, YellowJacket.  When you see Ant-Man, you will see exactly what I mean!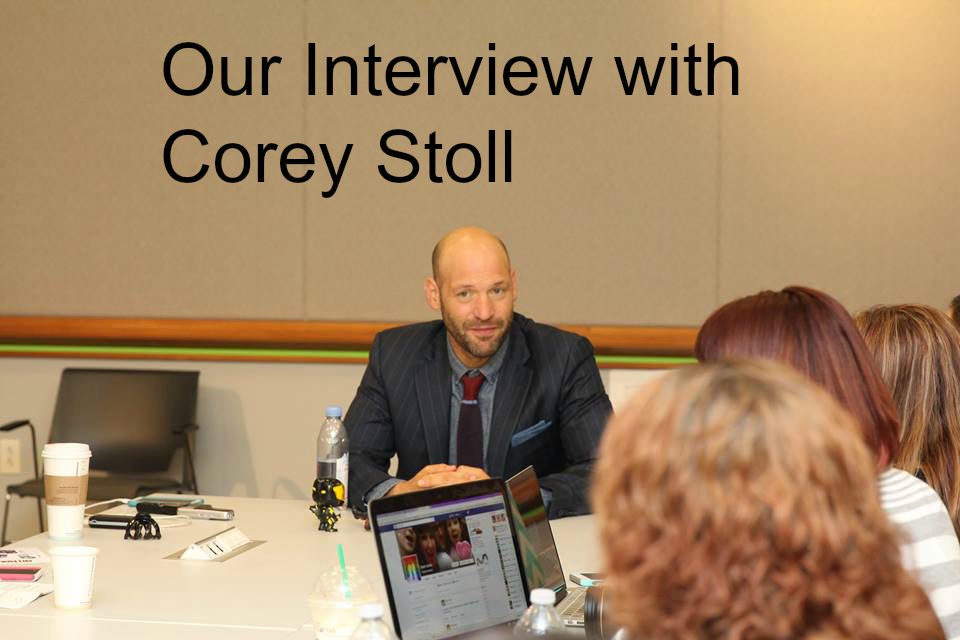 When Corey Stoll came in the room for our interview, he was so gracious but most of all humble! We first started the interview asking him how hard it was to take on the role of the ultimate villain in Ant-Man?  Amazingly, he said it was not hard at all taking on the role. He described to us the very first day of shooting where in the morning, it was abstract in that they did stunts and play. He described it as a silent film morning. Then in the afternoon, he got to do his first scene with Michael Douglas. It is the scene where he showed up to his house unannounced and he said it was the most intense scene.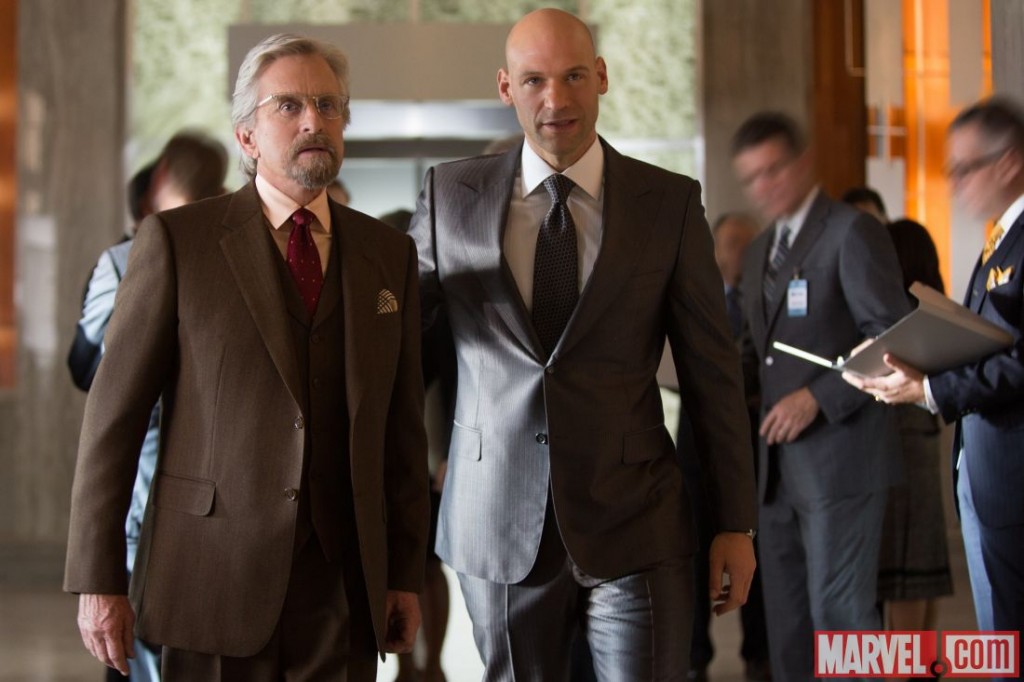 " It was a great way to start because there are two extremes of what this role would be. It was just fun. I think as we went on, there was a lot of Peyton trying to calibrate. I want to make sure my character is scary but I also love what a loser he was.  He's the least cool guy in the world. He wants to be Tony Stark.   He wants to be the coolest guy in the world.
He's puffing himself up with these Tom Ford Suits and driving an Aston Martin. But he knows that he's not that guy. And  that's the irony, he's trying to buff himself up in the end to impress this father figure and it's exactly the opposite of what a father figure wants. I think the script was really smart about giving very real, playable motivations."- Corey Stoll
We then asked Corey Stoll if he was into comics his whole life and who his favorite comic is?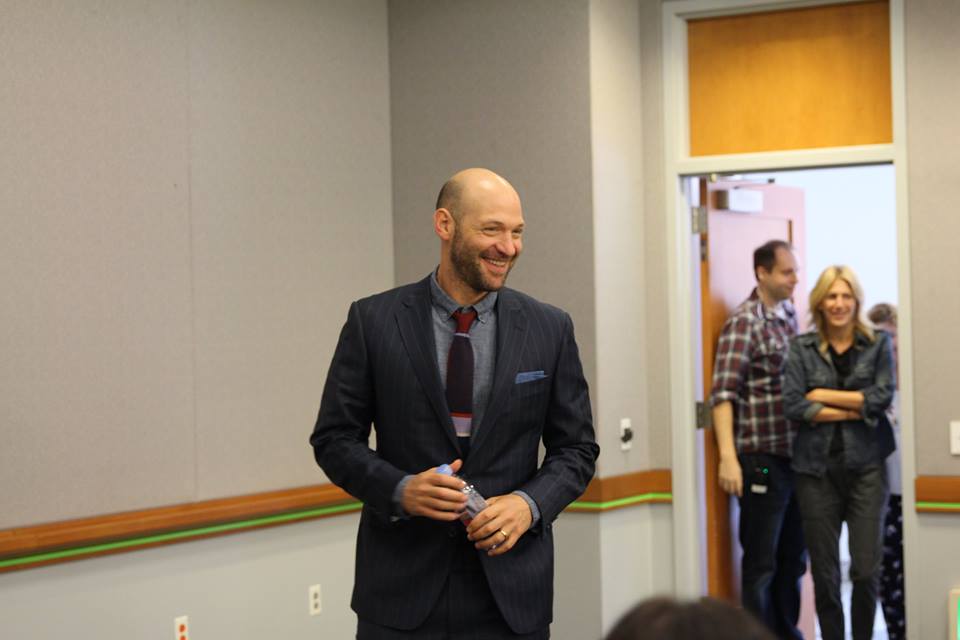 He told us that in Junior High School and High School he was really into Comic Books starting with the real Super Hero Marvel Comic Books and then getting into the darker stuff. He loves Spiderman, X-Men, and all those superheroes. He said while he wavers on his favorite, he would say it was Spiderman.  He thinks Spiderman was the guy most can identify with as a high school student. Spiderman was in New York and as a kid from Queens, he loved that. He also loved the fantasy of being able to swing through the buildings that he saw on an everyday basis growing up.
Of course, we then had to ask how it was working with all the latest technology?
 "I don't know how many 100 million dollars this movie is but in the end, it was just  basically the same technology or the same feeling as when I was 10 years old playing in the Playground. You just sort of, you just use your imagination and have fun.
And the camera picks it all up and they just feed that into a computer and then thousands of people all over the world,  peg away at the computers and make it really cool. But my favorite part of the job is play."- Corey Stoll
Next we got into talking about the YellowJacket suit! This is one of the coolest suits I have seen to date, so of course I was interested!  He told us he did two separate trips to Atlanta to try on the different versions of the suits and it never looked correct to him. When he first tried it on, everyone was trying to convince themselves that it looked cool. However, truth prevailed and it looked more like a Power Ranger. So the smarter heads prevailed and they ended up doing CGI instead of him wearing the suit. A very interesting tidbit!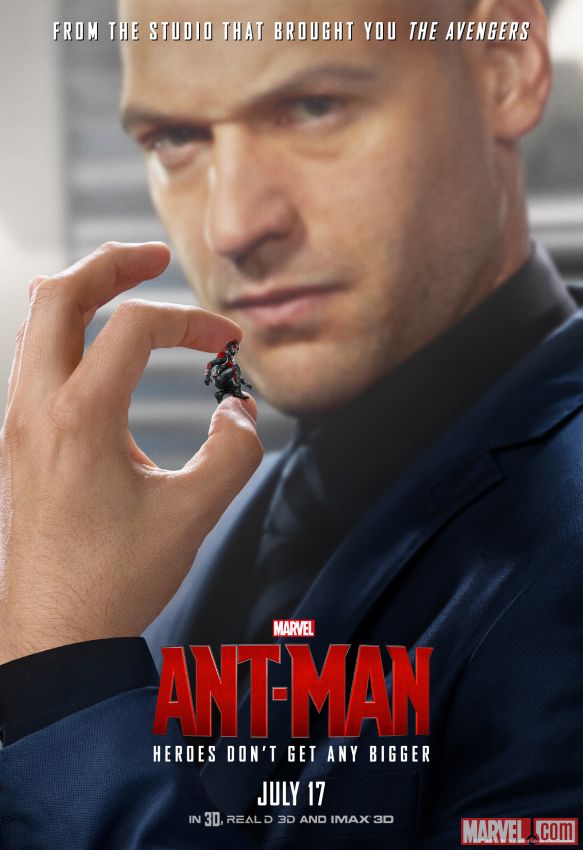 Although he was not wearing the suit, he thought it looked incredible when he saw the film. It looked fantastic and it really came together onscreen. I have to agree. I would have never known that he was not actually wearing it!
He then went on to describe the biggest climax scene that he shot!
"The big sort of climax scene is in the Feature's Vaults where I have sort of lured Hank Penn and Hope in order to deliver my big Villain Monologue and all that. I mean, I would say it was several days, maybe 3 days shooting that scene. It was  an endurance feat because there were so many people in that scene. We really felt like we were sort of trapped in that room for a long time.  But  it was just really fun to have that license to just be that big sort of Bond Villain, just for it." -Corey Stoll
Since Corey Stoll plays the villain, we wanted to know if there was something in him good that he can see in himself?
" We sort of brainstormed about what would be the beneficial applications of this technology in the film and you realize that this actually could save the world. You know, there's so many things you could do. You could get a shipping container down to the side of a Volkswagen Bug and the shipping cost would be like nothing.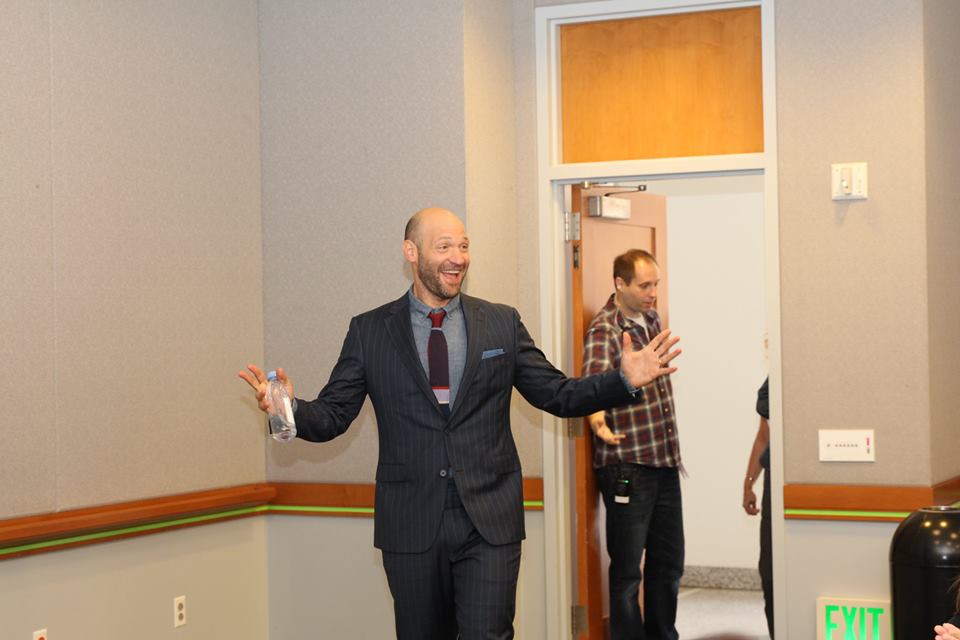 And there would be that the carbon emissions would become smaller, or you could maybe shrink. Smoke as it comes out of a coal powered planet or the  surgeon could do the micro-surgery. It really is like this incredibly Utopian thing. And I think there is that element in Darren that he wants to change the world for the better. It's this military application has to be the most lucrative. 
As you know, he made the wrong choice. But he can identify with the family side of the film such as Michael Douglas playing the father figure, that was very easy to sort of identify with wanting to get this approval. As as a youngish actor, I would like his approval."-Corey Stoll
He then went to play with his action figure on the table and tell us that he will definitely be buying these, especially for his new child! So sweet..He told us that day he was going to be a dad. That kiddo is going to be lucky to have such a talented dad!
He then went on to tell us a while ago he had a meeting with the director at Marvel Studios and told him he would love to play a villian.  He joked with us that playing the hero, that the contract would generally last longer. He told us he had a wonderful experience and he will see what the future holds. He would love to reprise his role if that is what is meant to happen.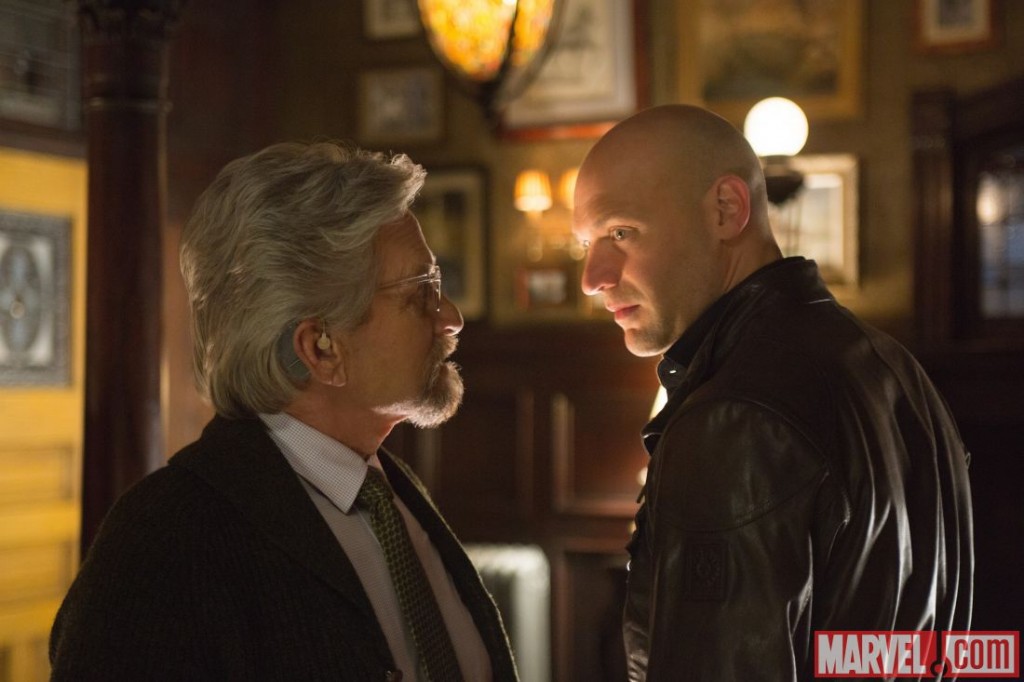 I loved interviewing Corey Stoll and found him to be so endearing. He is absolutely wonderful as YellowJacket in Ant-Man. Be sure to order your tickets now because Ant-Man opens this Friday!!! Are you all excited?
You can see my other interviews here about Ant-Man: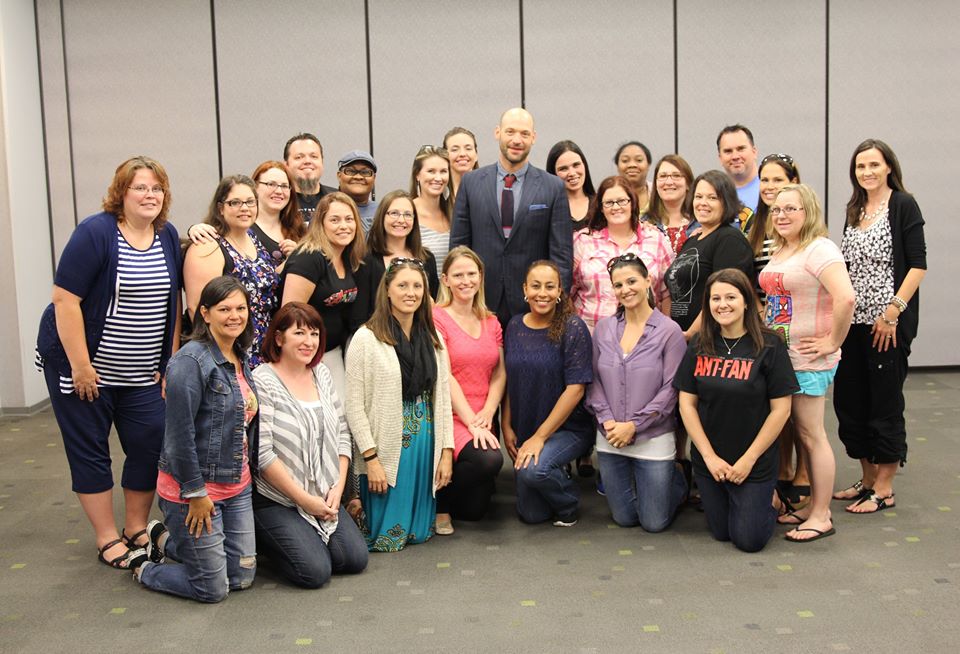 Michael Pena, T.I. & David Dastmalchian