**I received an all expense paid trip thanks to Disney and Marvel Studios. All my opinions are my own and not swayed by outside sources. Photo credit to Louise Bishop and Disney pictures.**

Fatal Attraction…Wall Street..Beyond The Reach are just a tiny fraction of the work Michael Douglas has done as one of the most famous actors of this century. Now, Michael Douglas is taking on the role of Hank Pym in his very first Marvel movie. Hank Pym is the creator of the Pym particles that uses technology to shrink things and in this case, become a superhero in an insect-sized form.
When I was told we were going to interview Michael Douglas, I kept saying," Really the one and only Michael Douglas."  This extraordinary actor was so very gracious, humorous, and wonderful during our interview with 25 bloggers and myself. It surely was a day I will never forget. As Hank Pym in Ant-Man, he was absolutely amazing, as he always is in any of the movies he acts in. You do not want to miss seeing him take on the role of Hank Pym in Ant-Man. I can assure you of that!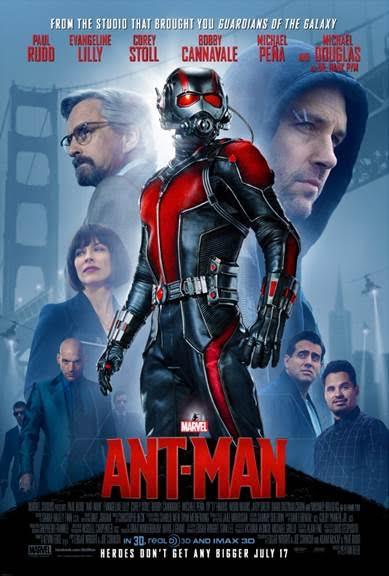 We started the interview asking Michael Douglas if he did any research to prepare for this character in Ant-Man? He started out by telling us that he was not historically a comic book guy as a kid. However, it all changed once they sent him the leather bound book with two of the Ant-Man comics. He started reading and familiarizing himself with the characters and background.  With the character of Hank Pym, he got so much character background that he loved such as dealing with loss of his wife and the relationship with his daughter.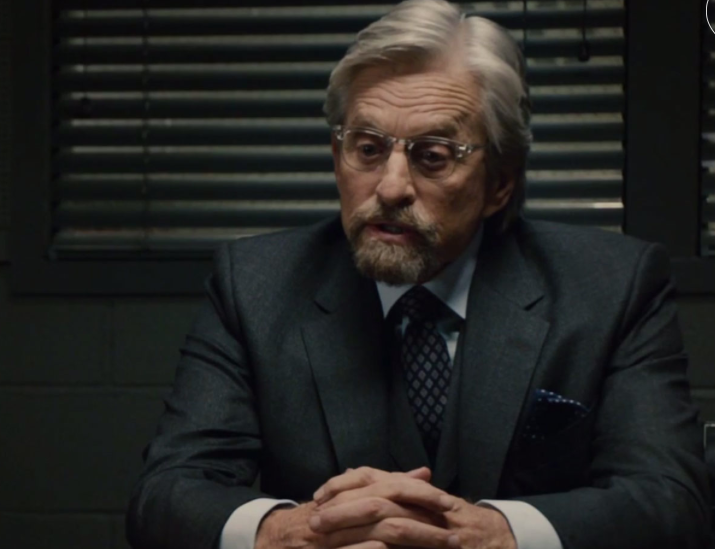 We then wanted to know how the technology in Ant-Man was different than other movies he has done in the past?  He told us that he has never done any special effects movie before. He told us his entire career was contemporary story lines for the most part. He was amazed by how many units they used for shooting.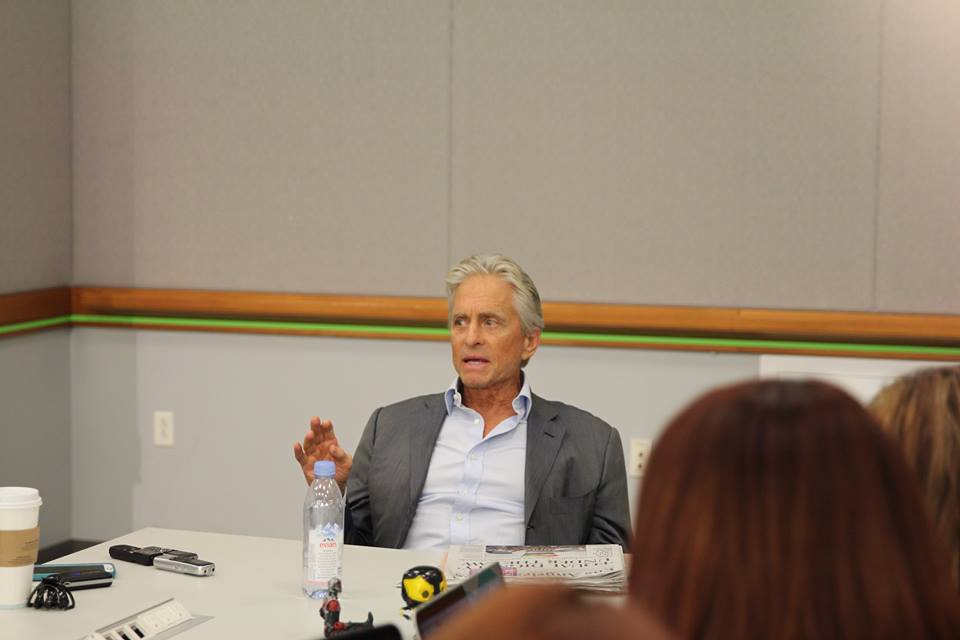 "We were the first unit, then you had the second unit which was our stunt unit. Your third unit, which was your special effects, your green screen, and then your fourth unit was that macro unit, which was shooting these perspective ant shots from all over.  It was fascinating. So, for me to see how this was done was fascinating. I was just dealing with the first unit. In the first unit, we were doing stunts and this and that, but to see how they put four units together using the story boards was  inspirational. And it was a lot faster. I mean, how often too do you get to do a movie where you get to see yourself 30 years younger. I remember the day they put these little dots all over my head. When I was doing dubbing for a couple of lines, there's one scene and they had done half, half the scene is with the special effects where they made me younger, and the other half I still have the dots on my face, you know.  It's been the wildest experience I've ever had."- Michael Douglas
When he was talking about making him look younger, there are parts when he first started out playing Hank Pym in the times when he developed the Pym particles. Then they progressed him to look older when he met up with Ant-Man later in life. Those special effects were amazing!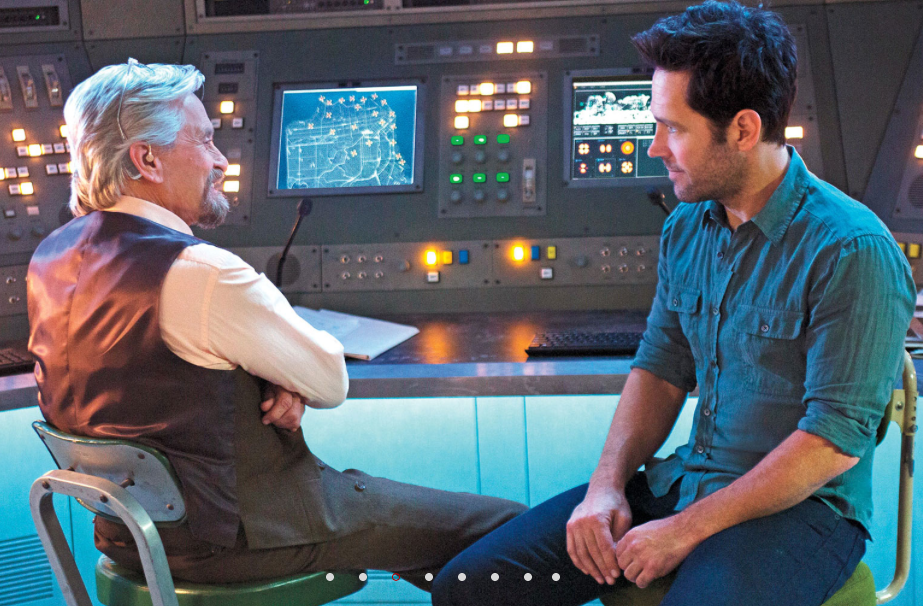 We asked him about his favorite scene to shoot?  He first answered his least favorite scents were the ones where he had to carry a lot of the exposition of plot in terms of explaining how things worked and everything. There's no rhyme or reason for those he told us.   He told us after that his favorite scenes were the one with the Pym technology. He loved seeing the picture of him on the wall heading up the Pym Technologies.
Since Paul Rudd mentioned in his interview that the cast got along so wonderfully, we were interested in knowing who Michael Douglas had the most fun with on set?
"When I get hired to do a movie, I look at the whole picture. He loved working with Kevin Feige and the entire productions team, as well as being really happy with Peyton Reed as the director. There are so many elements that you love going in including strong producing background, script, and your director. Everybody was solid. I think the biggest surprise was Corey. Corey was a great heavy. He was a great, great villain and he brought the scenes I had with him, he brought much more strength and dynamo than I ever had anticipated. He was great, and he had this whole subplot of kind of me being his father figure and reaching out for  my acceptance, which was like haunting. Paul, I knew from the beginning and he's just as easy and wonderful as could be. He's lovely. And then Evangeline I did not know her range, and so you go wow. There's no weak spots here. Everybody's solid. So I felt really optimistic about this whole project right from the get-go because I did not see a weak link anywhere."-Michael Douglas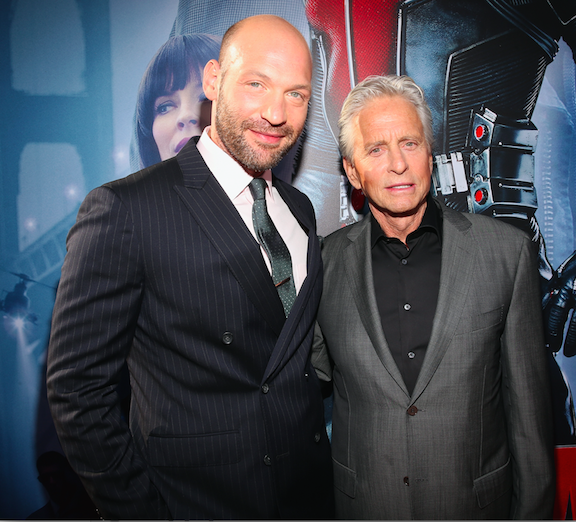 He joked with that while he never put on the costume, he eyed it the whole time and joked that maybe it was actually him in the costume. Michael Douglas is so funny! I never knew that about him. He went on to say that he loved that he had the least action of all the superheroes, especially in a Marvel film.
Next we asked how it was working with Paul Rudd? He told us Paul Rudd was the sweetest person and actor. He was very unassuming.
" Sometimes I would get frustrated where I'd have one of these five minute long monologues explaining everything, and of course, he would have a one-line punch line. Damn, you get a good laugh and all of that. I go sure. I'm working my ass off. He has a true quality about him. He  worked it out, maintaining, staying in shape, and then putting in the whole day. So  my heart went out to him, but he we was  fabulous.  Interesting casting again on Marvel's part. Every film is sort of interesting. I mean, Paul now looks to me like Robert did before the first Iron Man. Also an excellent actor. And I'm sure this is going to be great for Paul."-Michael Douglas
Since Michael Douglas was a newcomer to the Marvel films, we were interested to know where he thought his character would go in the future?
It was funny because Michael Douglas thought from reading the script that he died on page 70. He was upset because he had visions of Ant-Man 6 and 7. Haha! When they told him, that he did not die, he was much more excited:)  So initially he thought his character went kaput in the movie, which is not the case at all.
Michael Douglas then went on to tell us he joined the Marvel Universe because he wanted something different.
"Two of my best buddies are Jack Nicholson and  Danny DeVito. Each of them had a great time  as the Joker and as the penguin. I remember them talking about it. And I just never having been offered anything in this realm before when this came up, I thought this will be great. This will be cool. I am always trying to think of doing something different and I was really curious about effects movies." -Michael Douglas
We were then interested in knowing how much research he did to prepare for this movie since Ant-Man is the 12th movie in the franchise?
"Not much. I got some sense with Ultron sort of before this. I knew this would probably be more humorous than most all of  the Marvel pictures. Guardians of the Galaxy had in the beginning with comedy, and I think everybody sort of enjoyed that part of the picture. I'm surprised by just how many laughs there are and sort of that element and the idea of going small rather than trying to compete and go any bigger and bigger. This has made a  big difference. I had not done a lot of research on the whole Marvel history."- Michael Douglas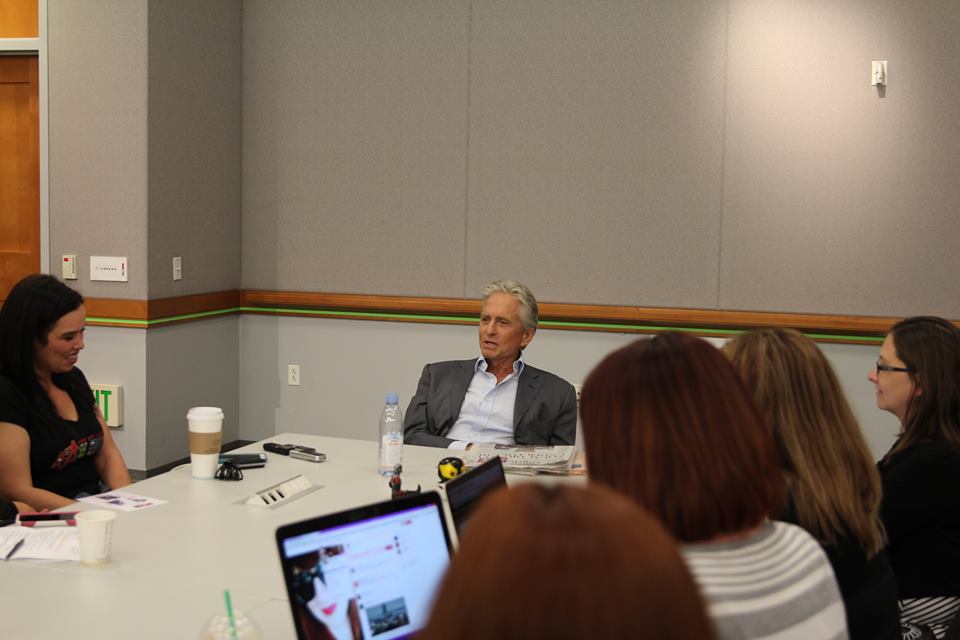 He didn't really realize how big of the universe the Marvel universe truly was. He was truly fascinated and interested in the whole process of making a Marvel film.  When one Marvel film ends, one begins and it continues on and on. He loved this about the Marvel films, as I am sure we all do! He loves being in a film where they just make great films with unbelievable talent. He ended the interview by telling us he was so very happy to be in the Marvel Universe!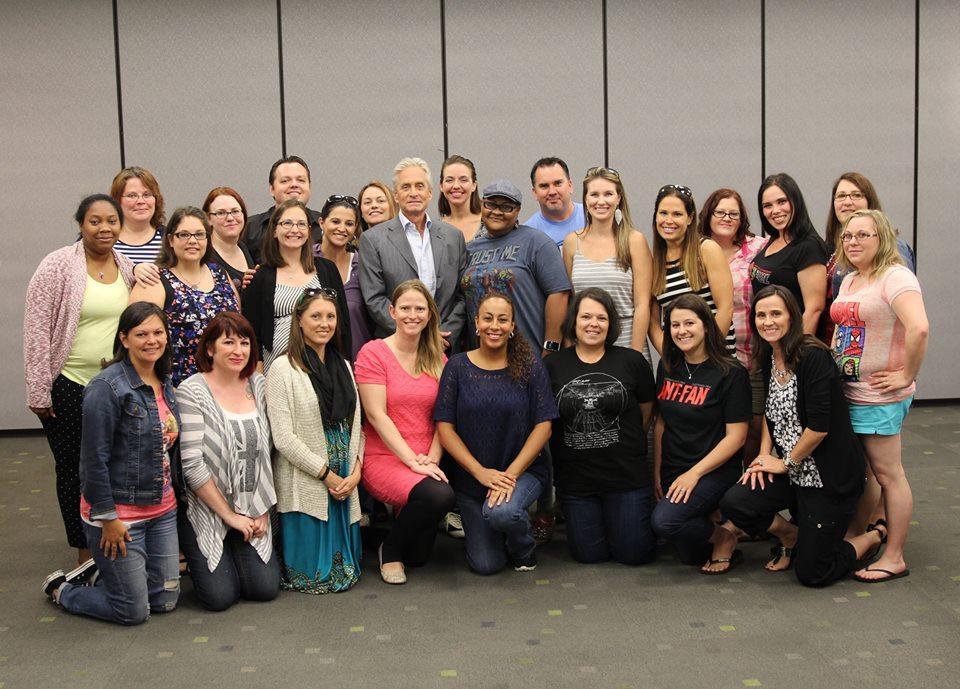 Michael Douglas was a true class act the day we interviewed him. It was so much more than I ever imagined! He is unbelievably good as Hank Pym in Ant-Man so make sure you buy your tickets because Ant-Man comes out a week from today on July 17th!
Interested in learning what Paul Rudd and Evangeline Lilly said to us about Michael Douglas, click here: Dynamic Duo!