**I received an all expense paid trip thanks to Disney and Marvel Studios. All my opinions are my own and not swayed by outside sources. Photo credit to Louise Bishop and Disney pictures.**

Let me take you back to June 29, 2015 when I had the chance to interview Michael Pena, T.I. & David Dastmalchian. Of course these are household names but do you know just how funny this fabulous trio is?! I have been fortunate to do interviews with some stellar actors but this definitely topped the cake as the funniest interview to date. I remember having to go to the bathroom and I was afraid that an accident would happen. That is how funny these actors were! I never laughed nor cried (from laughing) so much in one 20 minute interview. The dynamic trio were just fabulous to interview and you will see in Ant-Man that they provide some incredible comedic scenes throughout the movie!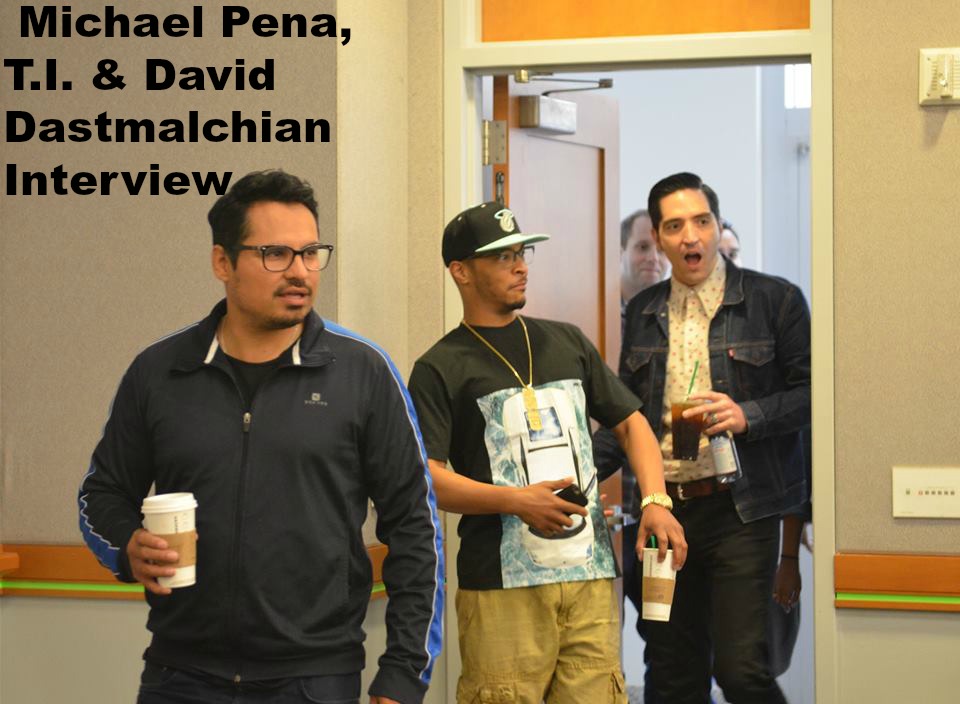 If you did not know already, all three of these wonderful men are also fabulous actors. Michael Pena has appeared in such films as World Trade Center, Crash, and Fury. T.I. is the world famous rapper who also appeared in movies such as Identity Thief. Lastly David Dastmalchian has been seen in The Dark Knight, Prisoners, Horsemen, as well as many TV shows.
In Ant-Man, these three actors play the roles of Luis (Michael Pena), Kurt (David Dastmalchian), and Dave (T.I). Their presence on the big screen is tremendous and they definitely add character and flair to the already awesome Ant-Man cast. They refer to themselves as the Antourage‬ for their all of their male bonding:)
When they entered the room, they loved all the applause and asked if they could tell their wives to do that! I thought that was so funny! They well deserved all the applause! Michael Pena was taking selfies in the background with all of us and Instagraming all the action during the first few minutes of the interview. They wanted to take in the fun interview as much as we did!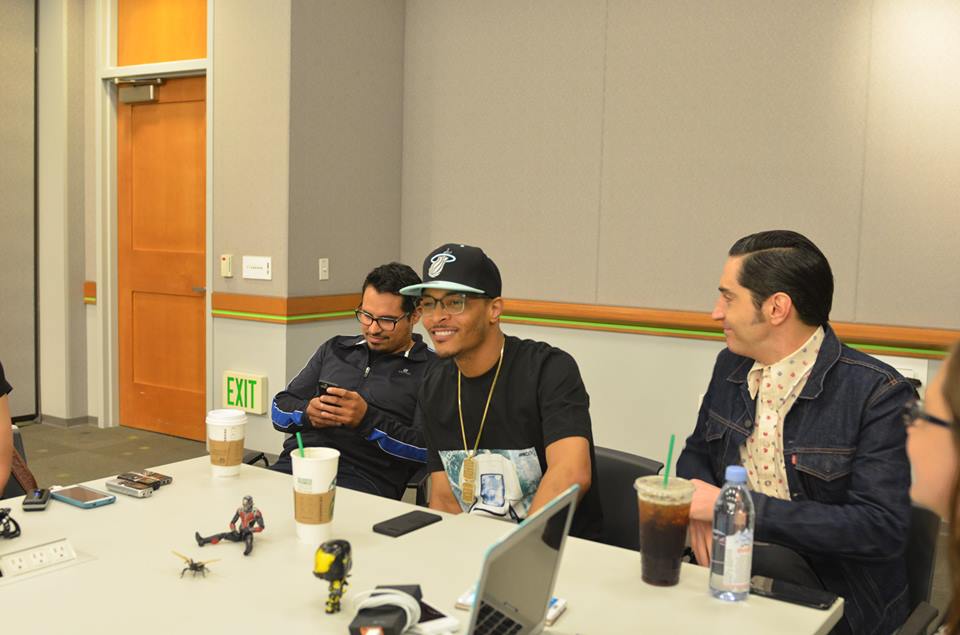 Then it was on to the interview. We started with a funny question first for David Dastmalchian. His hair is so incredibly awesome in person and on the big screen, so we wanted to know how long it takes him to do?  He told us to play Kurt it took him about 1 hour and 45 minutes to get hair and makeup done. He said it took awhile in the beginning to perfect it but by the end they got it down. He mentioned that the amazing Make-Up Artist Greg Funk did the tattoos for Ant-Man. He loved the way his character looked each day after going in for wardrobe, hair, and makeup.
Then T.I. went on to tell us about the scenes they did together. He told us that all the scenes were funny to him. In Ant-Man there are a lot of van scenes (that are MEGA funny) where they are all together and this was one of his favorite times and funny scenes to him. The other actors also agreed. There was also many other hysterical scenes that got cut because it was not in Ant-Man fashion, if you know what I mean. Not every funny scene can make it into a 2 hour movie, David told us. They also apparently had some fun dancing together off and on-screen.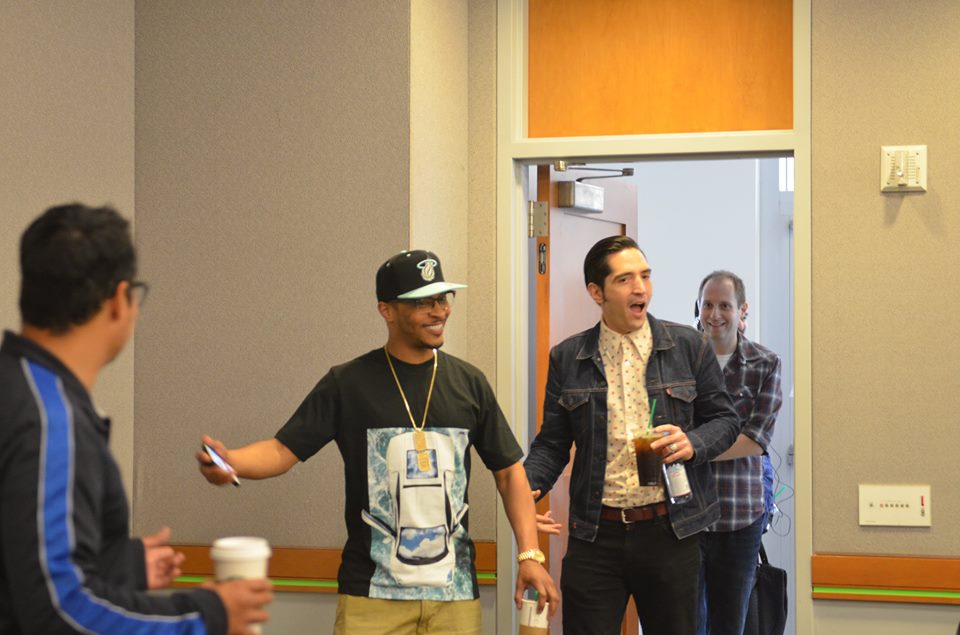 Then we asked Michael Pena if he is as funny off-screen as he is in movie roles including Ant-Man?
"I was always like a quiet kid growing up. I remember I got messages on Facebook and I'm like out of all people to be an actor you're the guy?  Yeah I'm like hey my best friend's here from Chicago and he was like.. You know he was the quiet kid.  I really made friends, but I was like kind of a nerd to be honest.. it's hard to believe what I'm like. I was Captain of the Wrestling team and Track Team and I loved sports and stuff. That's the only way that I really made friends."- Michael Pena
At this point, T.I. said he was a nerd too and they asked him if he was being serious. T.I. then said heck no, I was the cool kid in school. Made all us bloggers laugh! They were so spot on that day! Michael interrupted it and told us that he is a very smart guy (meaning T.I.).  The rest of the guys also agreed on this true statement.  They were not expecting T.I. to be as cool as he was! They all said he is absolutely brilliant in the film and I have to agree. All three of them though were brilliant!
Michael Pena then interjects and tells us a story about his friend Luis and  how Luis ended up in jail. In true Michael Pena fashion, he tells this story that has us all laughing in stitches. Every second of the interview with the three of them we were all in hysterics.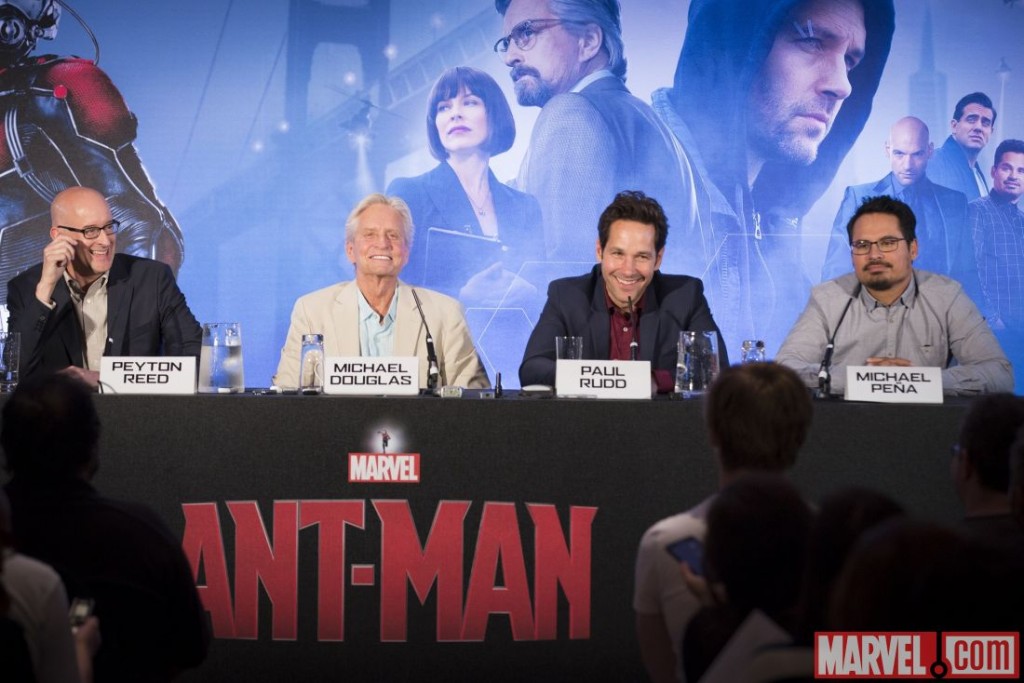 Then we asked them how they got to work on Ant-Man?
David Dastmalchian was the first to go and answer the question.
"I auditioned in January of 2014 for Sarah Finn who is the Cast Director for this film and when I auditioned for it I got the sides and the role description and it's so different than anything I've gotten to do before. And my immediate goal was like hey I'm a huge comic geek.  I've loved comics my whole life and  I want something that my mom can go to the cinema and watch and not be terrified 'cause I tend to play some  goofy guys. So I went after it and I created a voice and the character and then she liked it so she sent for the Director at that time and I got to read for him, and he liked it. And then I got to go to test. It was a very long process for me.  2 auditions and then a test and then I got the part and then everything started to change. I was like, "Oh my gosh am I still gonna' get to do a part in the film?" And then my Manager called me like 2 months after  we were starting and goes, "Great news. You're going to Atlanta to, to test. Uh to do tests."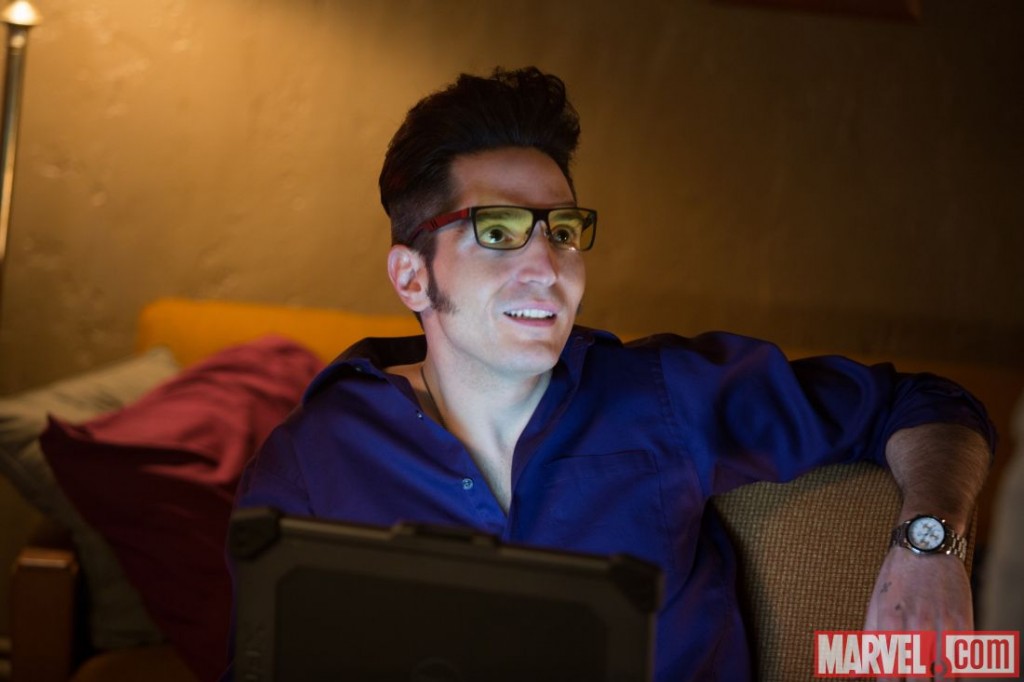 And I didn't understand what that meant and I had a newborn at home, and I was very frazzled, and I was very nervous. And I thought okay like I'm gonna' go and do another audition. So I went to Atlanta and Michael was there  and everybody else. And I'm meeting everybody and I'm so nervous. And I realize what they meant by that kind of test. I had the part. I was in." -David Dastmalchian 
Next T.I. told how he got the part.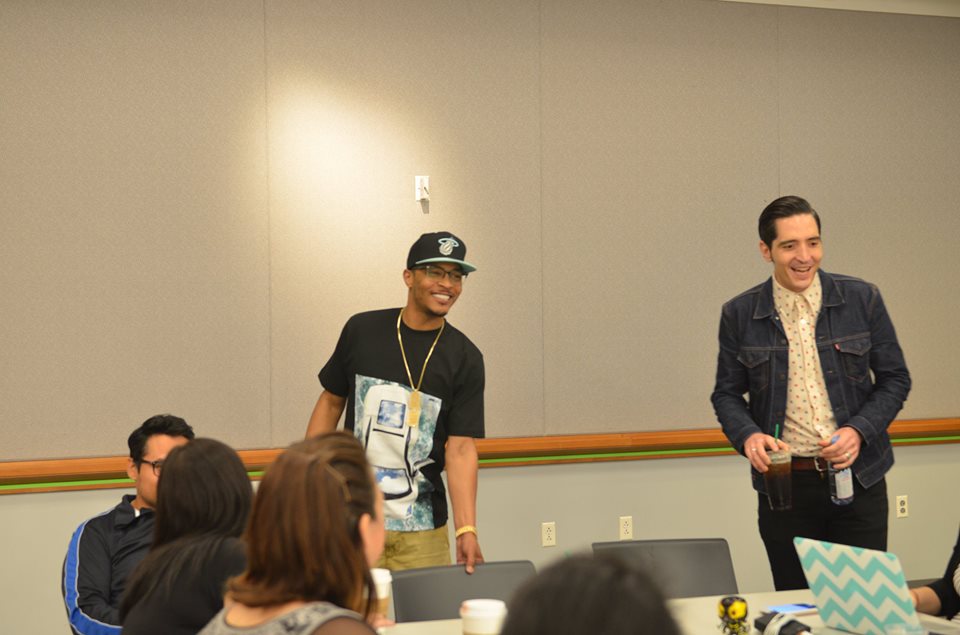 " When I first heard mention that there would be an Ant Man film someone  mentioned me in association with it and it went over the blogs and everywhere. Like, "Yo T.I.'s gonna' be in it." And I was like, "I have no idea what you're talkin' about."   I don't know who it was or what it was that associated me with the project, but I think over the years different people fell out and there were starts and stops and starts and stops. And so finally maybe 2 weeks or 3 weeks before they began shooting  I got a call saying, "Can you get over to Atlanta?" "Yeah." "Well can you go do an emergency reading for Ant Man .  Yeah okay, I guess." And so I go to Atlanta. 
" I go and read and they give me a bunch of anonymous scenes to read and  they called me back. And so then I have to find a way to re-arrange the rest of my schedule to actually take advantage of this great opportunity to do this film."-T.I.
T.I. was so happy to get the part of Dave and he had to work around his busy schedule for the wonderful opportunity. They mentioned he would be performing music in Africa on a Friday and have to report to the Ant-Man set on Monday. He did make it work though! He is extremely hard working is what I also got out of this interview.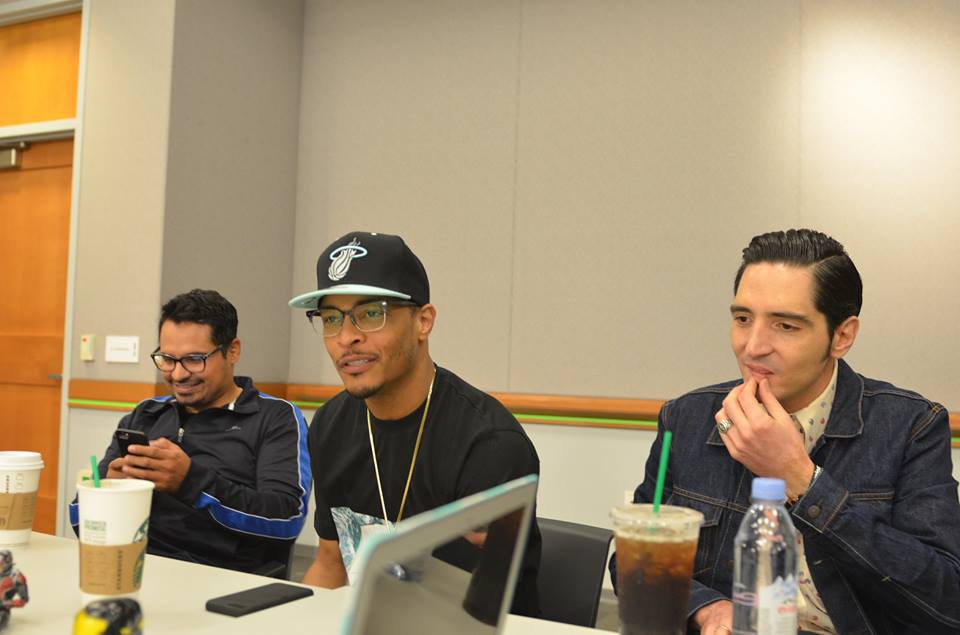 We all then mentioned to them that the synergy with the three of them in Ant-Man is one of the highlights of the movie and their scenes were so prominent and funny. They all mentioned they would love to see their characters go even further in the future and perhaps even get a comic book out of it. Marvel..Are you listening:) While they don't play superheroes, they are a leading force in the movie because they are funny and steal the movie at times. They are really good at humor! Like really really really good! David also mentioned that Paul Rudd is one of the funniest guys on the planet so there were so many good and comedic parts in the movie. While Ant-Man is a lot about superheroes and such, Stan Lee did like to add humor to the original comic books.
Someone in the room mentioned to Michael Pena, how did it  feel to steal the show in the comedy department?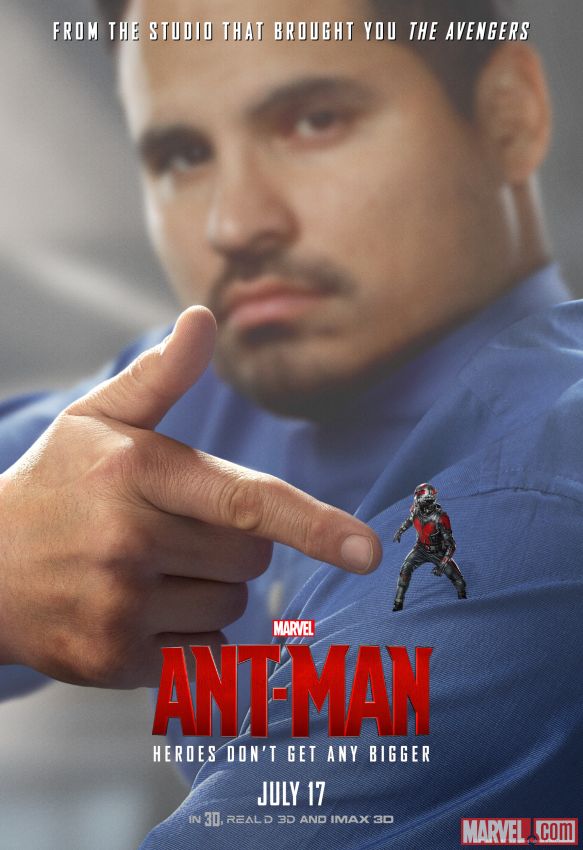 "You know whatever I did,  Paul Rudd had a lot to do. You can't really go for the joke when you're trying to propel the story. So I just would find stuff that the director would be like and I would get rid of the stuff that was too much. I  think it helped that I based it off somebody who you know that actually exists. In this case Paul Rudd."- Michael Pena
Then we asked T.I. what his kids said when they found out he was going to be in Ant-Man?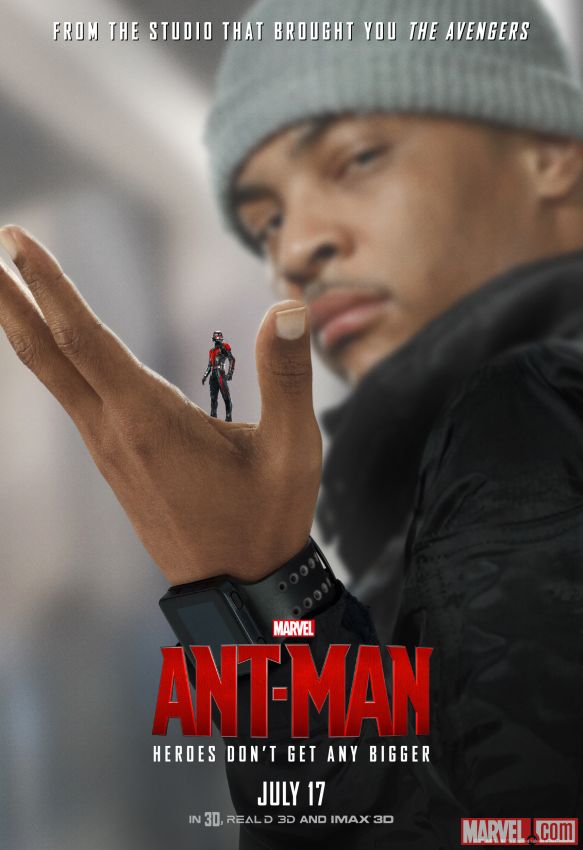 " I tell them that I'm going to work on Ant-Man. They respond, Ant -Man? What's that?" I then explain to them that it is a Marvel movie and  he's a Marvel character like the Avengers. The kids then say  "Oh you're gonna' be in the Avengers!?" At this point T.I. says, no I'm  not gonna' be in the Avengers. I'm gonna' be in Ant Man." The kid response, "I don't know Ant- Man is!  Is Ant- Man in  the Avengers?" Well technically in the comic– no the movie, we'll see it in the movie." "No, no." "Okay well you gonna' wear a costume?" the kids then asked.  No, not I'm not wearing a costume. You know just forget about it. Don't worry about it. I'll be back"-T.I.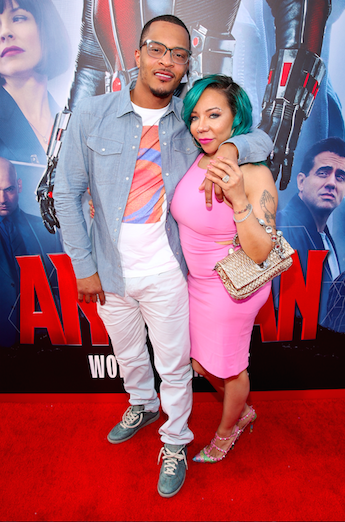 Poor T.I. explaining this to his kids. They wanted Daddy to be in the Avengers and they were like what is this Ant-Man. Well kids you will see just how cool Ant-Man truly is on July 17th! Trust me, you will then say daddy is the coolest cat in the jungle!
There is less than a week until Ant-Man opens so be sure to get your tickets today! This is going to be the summer blockbuster so don't miss out! To learn more, follow Ant-Man on Twitter/Facebook and follow the #AntManEvent hashtag to keep up to date with all things Ant-Man.