**I received an all expense paid trip thanks to Disney and Marvel Studios. All my opinions are my own and not swayed by outside sources. Photo credit to Jana Seitzer and Disney pictures. 
A few weeks ago I had the chance to interview two of my favorite actors ever- Paul Rudd and Evangeline Lilly! If you know me, you know that I am completely Lost obsessed so it was so unbelievably awe-inspiring to be welcomed in the same room as the one and only  "Kate". Also, if you know me, I have had a lifelong childhood crush on Paul Rudd since his Clueless days, so again when he walked in I had to pinch myself to make sure the interview was really happening.
Before they walked into the room, 25 bloggers were all so eager to conduct the interview with the stars of upcoming summer movie, Ant-Man. Trust me when I tell you that after seeing this movie and all the stellar acting, it will most certainly be a HUGE blockbuster and a great family film for everyone! Even the littlest Marvel fans will enjoy seeing Ant-Man right before their very own eyes. In this movie, Paul Rudd plays the role Scott Lang, who takes on the famous Ant-Man after Michael Douglas's character, Hank Pym, retires his suit. Evangeline Lilly  plays the role of the scientist and powerful force of Hope Van Dyne.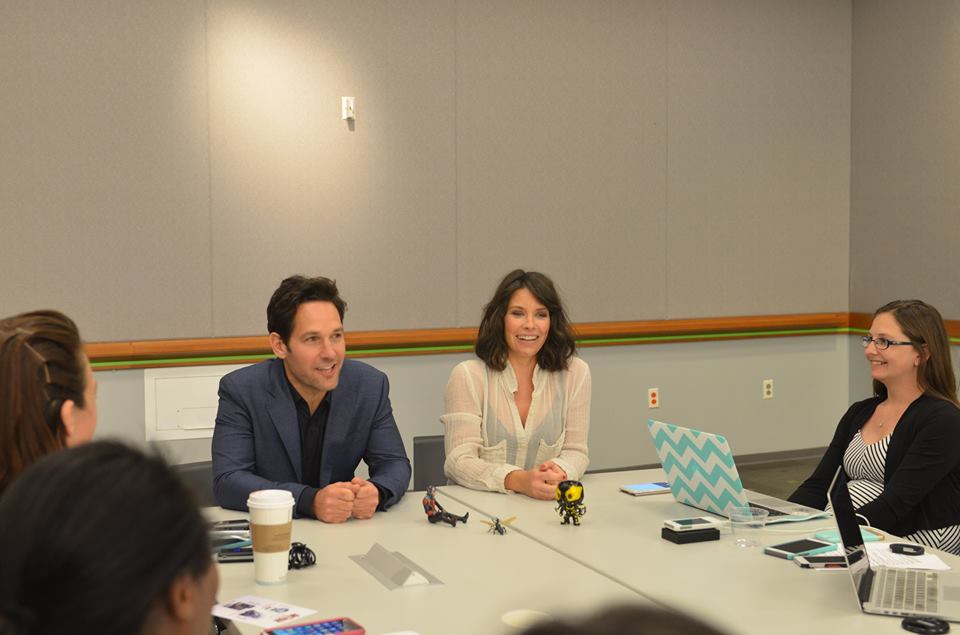 As they were entering the room, all of us bloggers were grinning ear to ear. Seriously, it was the one of the coolest moments of my life when they sat down to begin our interview. The very first thing I noticed besides both being gorgeous, is how gracious and funny they were. I always knew Paul Rudd was funny just by reading about him, but to see how funny he was during the interview made me  smile one of the biggest smiles to date. Evangeline Lilly was also hilarious and the dynamics between them were absolutely stellar!
Our first question was for Paul Rudd and we were interested how comedy played a role in this film and if it was a big departure from his normal comedies he played in?
"I always felt with Marvel movies, and especially this one,  that it was going to be funny.  They are good with levity.  All of their Marvel films have funny moments but they're not necessarily straight up comedies.  And, with this one I knew that the action was going to be really good.  I knew the visuals were going to be crazy good. But, I also knew that there was this relationship that Scott Lang had with his daughter and that there was the relationship that Michael Douglas had with his daughter . This whole thing with parents and children,  that was going to be really the thrust of the film.  And that's relatable and empathetic and something that you can hang the whole thing on.  And that's pretty dramatic."- Paul Rudd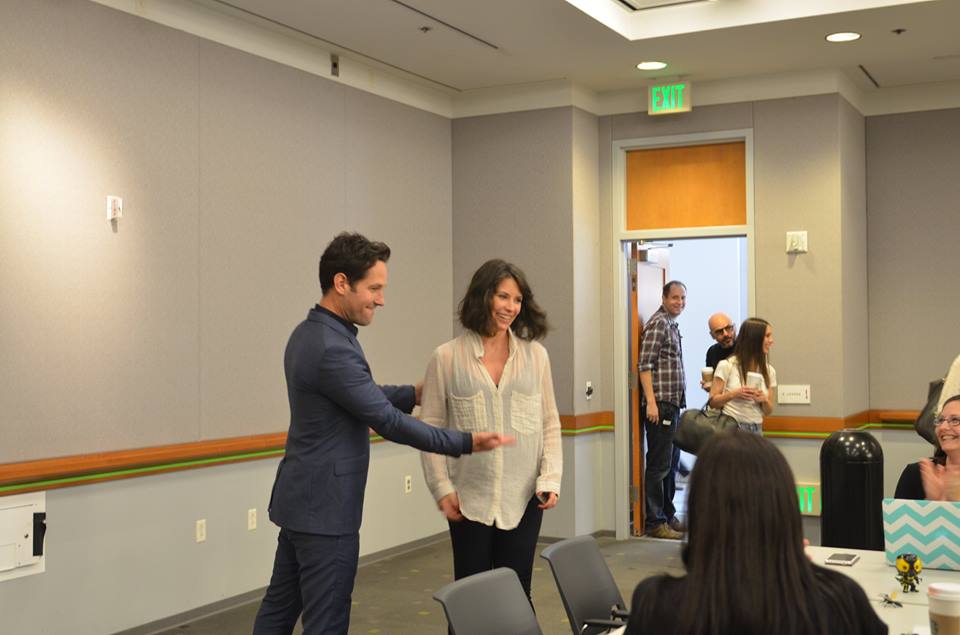 He went on to say that humor would be there in the end and it would make its appearance in the film.  Evangeline Lilly then told us that even though these were the themes, Paul Rudd made her and the rest of the cast crack up almost throughout the whole shooting of the movie. She told us that it was challenging to stay in character because he was just so funny! She also mentioned that between all the actors on the set including Michael Douglas, they were always riffing and doing things funny! She mentioned it was a fantastic cast to work with all around.
In Ant-Man, you will see that Hope Van Dyne gets a chance to punch Scott Lang. We were all interested in how fun that was to shoot?
"Everyone asks me that.  You know I didn't really punch him, right?  I didn't actually punch him.  I loved the take that they kept in the film because of course you never know what they're going to use and what's going to end up on the cutting room floor and one of his improvs was when he said "were you aiming for the face– for the head?"    I was so glad that it ended up in the film because I loved that line." -Evangeline Lilly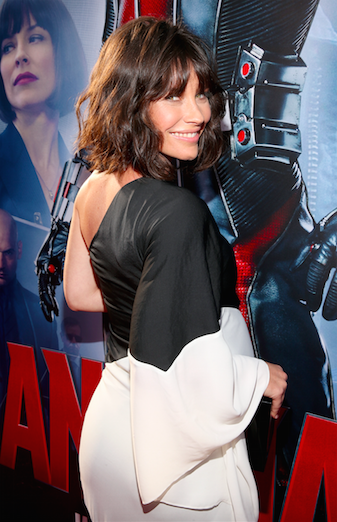 Since Evangeline Lilly played such a strong female character in Ant-Man, we were interested to know if she felt any extra responsibility of all the super girls in the Marvel universe or any sort of weight of that?
Evangeline Lilly mentioned that the girl power part really was none of her contribution. Marvel and Marvel fans love any women that can kick some butt and be able to do that onscreen. Her part just sold itself because she was a strong character.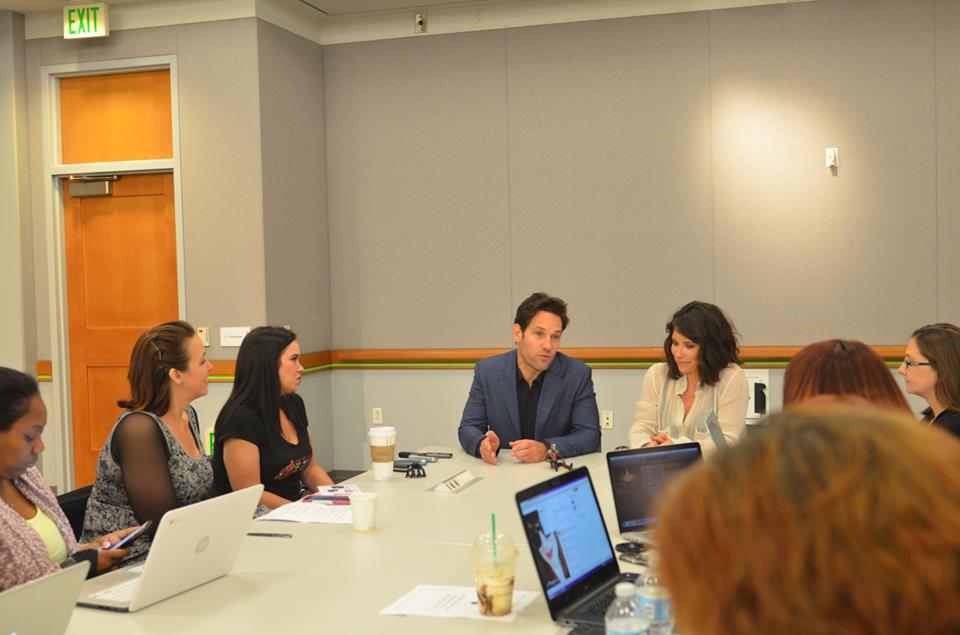 "I think that female strength has many more dimensions than that and I think that a lot of our strength comes from our women's vulnerability, our compassion, our maternal instincts, and I don't think that those things should ever be labeled as weaknesses.  And I think that's one of the things that I always look to put in and infuse these characters with is the sort of moments where you suddenly realize underneath that very hard facade, underneath what she's trying to project to the world because she feels she has to survive or she has to do what she needs to do is you know, a little girl is within all of us.  That needs love and wants to give love in order to receive love and I think that's what we're all doing.  That's the human predicament is how do we give unconditional love and just not losing sight of that. " -Evangeline Lilly
Paul Rudd went on to say that he was going to play the part well and hopefully it would shine on the big screen. This was Paul Rudd's first Marvel film and although he knows the unbelievably strong fan base, it was a bit overwhelming for him. However, I will tell you that not only is his character perfect but he is a fantastic fighting force in this film. He absolutely excelled in the role of Ant-Man. I would see him over and over again in this role. He was that good!
Of course, we needed to know from Paul Rudd what his favorite ant was. After all, the movie is called Ant-Man!
"I have a very personal relationship with Anthony, which was something that we kind of put in the film and I think even giving him the name Anthony kind came around later and I thought like oh, could it be Anton?  It was almost said early on when we were working on the script before we started shooting, maybe if we give him a number?  Anthony kind of stuck around and with that an idea that you can have a personal attachment to ants that you can see this film.  Ants are amazing and I really developed a real fondness for Anthony, my favorite."- Paul Rudd
Evangeline Lilly then told us the "Anthony" moment was when she realized that she loved Paul Rudd!
Next question was funny in that we asked them if they are planning to collect their own toy bobble heads once this movie comes out? Evangeline Lilly told us she had three figurines before while Paul Rudd told us of course, he will start collecting them. He was so excited to learn there was going to be an Ant-Man Lego set. He plans to definitely start a collection and have his kids play with them too. We had a figurine there on the table that day and Paul Rudd had fun playing around with his Ant-Man figurine. Again, he made us laugh!
Next up, we wanted to know what the most memorable moments of shooting Ant-Man were?
"That's the hardest question.  I had a moment  when I was doing a scene, a very intense emotional scene with Michael Douglas where for the first time since I had attached myself to the project, the penny dropped and I was like I am working with such a fantastic cast. I sort of read and I knew who was on and I was like great, good cast, everything's good, things are coming together. But I was thinking with an analytical mind of do I want to do this project or don't I?  And it wasn't until I was working with Michael Douglas and witnessing the sort of magic that is the legend of Michael Douglas and what he brings to a film set and how he performs and what he does to the energy in the room when he performs that made me suddenly sit up and take notice and go, oh my God.  I'd better bring it.  I'm working with Michael Douglas and he's a living legend and, and that was an honor.  That was my connecting and memorable moment." -Evangeline Lilly
Paul Rudd told us he never shook that time that he realized he was acting with movie royalty, Michael Douglas.
His memorable moment:
"But I remember uh the first time walking onto the set in the suit.  And the first time I ever put it on at a fitting was thrilling.  And I felt like I was 10 years old.  Every single time after that it was whoa, I can't believe this is so cool.  And then we shot the scene where I discovered the suit  for the first time, I'd stand in the bathtub. That was the first time putting it on when we were shooting it as well. And to go from the tent, because there was a tent that I went into and had a small pit crew helping me get into it, walk on set and the camera department and everyone stopped and saw Ant Man for the first time was totally exciting.  And I'll always remember that."- Paul Rudd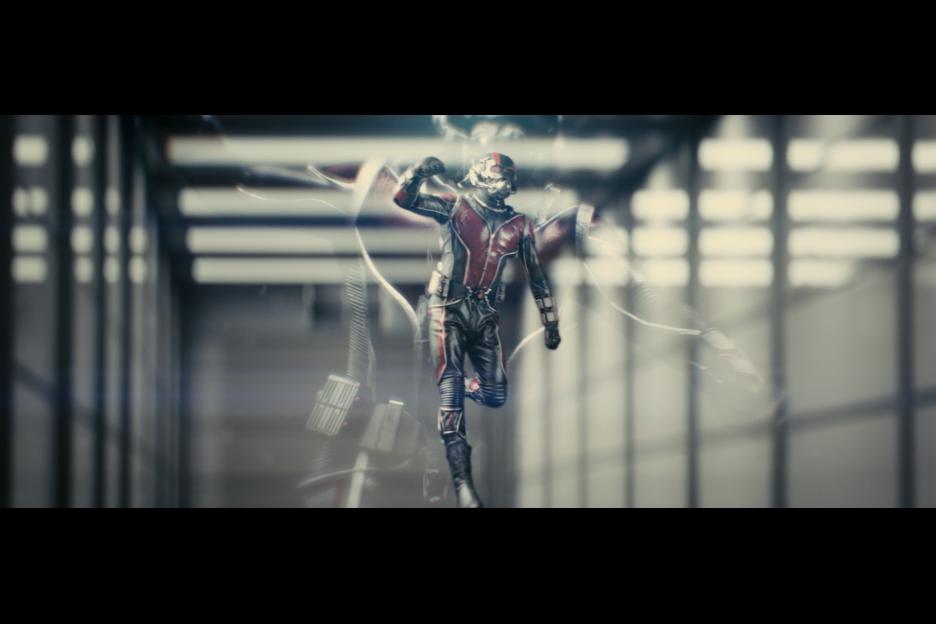 When you see Ant-Man, you will see that there is a main theme revolving around parent/child relationship. We were interested to know their take on this. Evangeline Lilly told us  for her, the main theme was redemption. The redemption between the father/daughter relationship is the powerful theme that anchors this movie emotionally. Paul Rudd added that while the visuals are stunning and it is a Marvel movie with superheroes, the theme of family and relationships is seen time and time again. People will relate that at all times relationships have had ups and downs and that is what makes relationships last in the long run.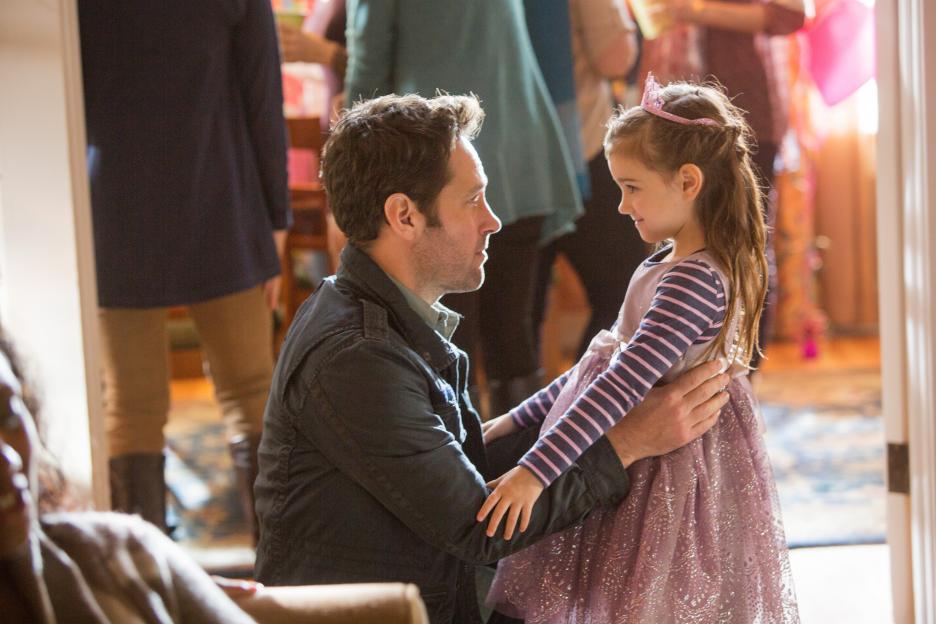 Our last question was about the dynamics between their characters and how they made that "opposite-atract" relationship work?
"For Hope, Scott coming into her life could not have more poignantly exasperated the issue of her need for control, to control everything, every little thing right down to her lipstick point and her haircut.  You know he just is so loose and and from her perspective he seems so out of control and  I think that's that rub that we draw to ourselves.  She drew in that energy because she needed to face it and she needed to deal with it and I think it's really appropriate that it's the Scott Lang character who helps Hope to realize what's truly going on in her relationship with her father because she couldn't see it for herself."-Evangeline Lilly
It was a fantastic day interviewing both of these amazing actors! The interview was one of the most fun ones to date because they made it light hearted and funny, all while getting to the point of us realizing more about their characters in Ant-Man. The entire cast in Ant-Man is stellar and if you don't believe me, then go see it for yourself July 17th when Ant-Man opens nationwide.

*The next evolution of the Marvel Cinematic Universe brings a founding member of The Avengers to the big screen for the first time with Marvel Studios' "Ant-Man." Armed with the astonishing ability to shrink in scale but increase in strength, master thief Scott Lang must embrace his inner hero and help his mentor, Dr. Hank Pym, protect the secret behind his spectacular Ant-Man suit from a new generation of towering threats. Against seemingly insurmountable obstacles, Pym and Lang must plan and pull off a heist that will save the world.
Marvel's "Ant-Man" stars Paul Rudd as Scott Lang aka Ant-Man, Evangeline Lilly as Hope Van Dyne, Corey Stoll as Darren Cross aka Yellowjacket, Bobby Cannavale as Paxton, Michael Peña as Luis, Tip "T.I." Harris as Dave, Wood Harris as Gale, Judy Greer as Maggie, David Dastmalchian as Kurt, and Michael Douglas as Dr. Hank Pym. Directed by Peyton Reed and produced by Kevin Feige, p.g.a., Marvel's "Ant-Man" delivers a high-stakes, tension-filled adventure on July 17, 2015.*
I will be back on Friday with the fabulous Michael Douglas interview but in the meantime, be sure to follow Ant-Man on Facebook and Twitter to learn more!