*The Red Robin information and gift cards have been provided by Red Robin.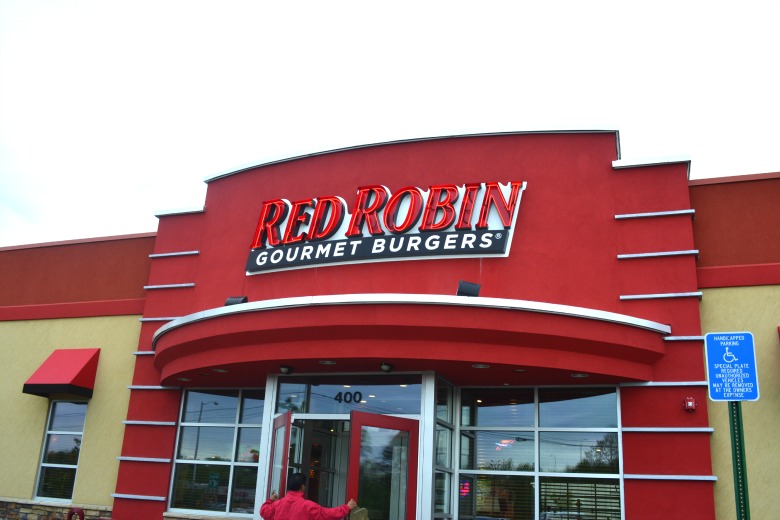 As most of you know, my son Zane has a severe peanut and tree nut allergy. We are actually heading up to Children's Hospital in Boston today to do his yearly scratch and blood testing. However, the doctor has told us it extremely uncommon that these allergies will ever disappear and we will have to find a way to make sure he never gets around any of these foods, or even foods that may be processed in a nut factory. It is a very scary allergy but one that we make sure to control, and have been since he turned 1. When I was recently asked to review the brand new Red Robin's new Interactive Allergen Menu, I was more than happy to oblige. So many restaurants don't cater to people with food allergies and Red Robin is taking the step to make sure moms/dads can be comfortable with their kids eating without ever having to worry!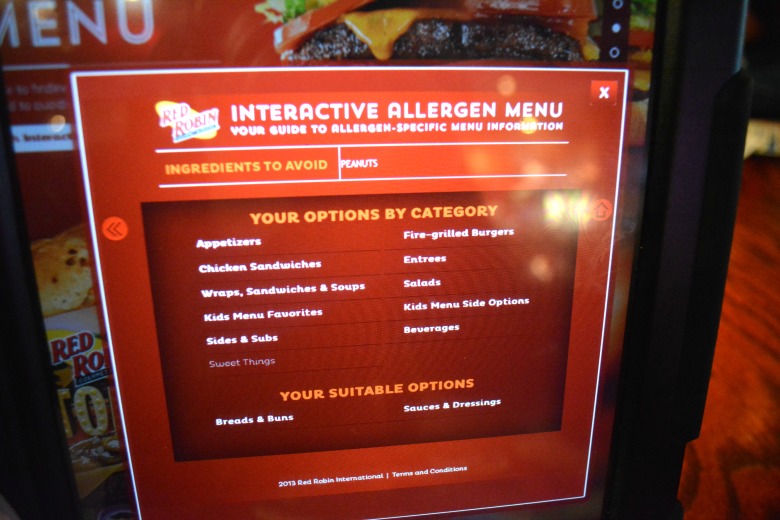 My girlfriend and I decided to head to Red Robin this week and take all the kids out to dinner. When we entered, we immediately told the nice staff that we wanted to use the Interactive Allergen Menu for Zane. They then brought over an iPad and all the specific allergy information was listed on there, along with what foods he could eat, that are completely peanut free. It was an awesome way to relay the menu to us and Zane loved that he could touch his own special screen, to find out what foods he wanted to eat. On the menu they had so many allergy-free choices such as Mac n' Cheese, corn dogs, chicken burgers, and more to name a few. Red Robin's Interactive Allergen Menu provides order recommendations based on guests' allergies and allows them to view a menu that is tailored to their specific dietary needs.  I was so impressed!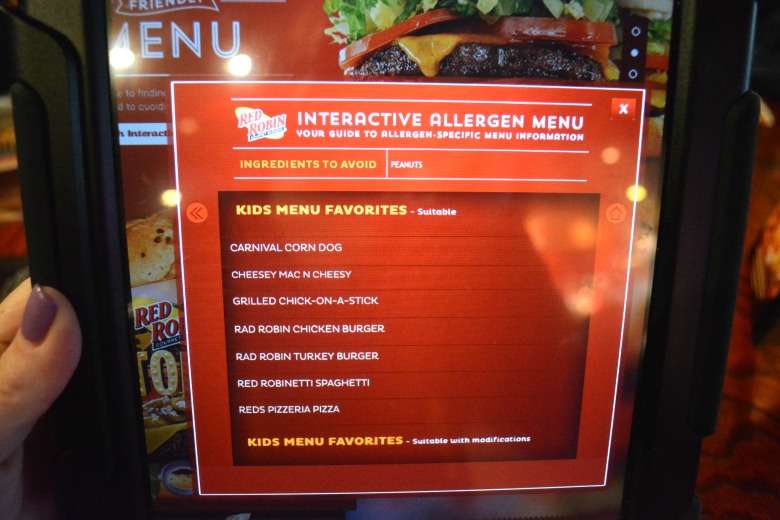 The waitress was also so accommodating and gave us suggestions on what foods on the specific allergy menu she would recommend. Red Robin trains all restaurant Team Members to allow guests to modify their Red Robin food or beverage order to suit their taste or dietary preferences. She told me that if a guest has a food allergy, the Red Robin team member will ring in the order with an allergy alert and bright type so it is clear on the table order.  This allergen alert appears in easily noticeable bright, red and bold letters on the order and notifies the kitchen that a special allergen kit is required for the order. Red Robin uses allergen kits to prepare all allergen orders. The kits include tools that are for use on allergen orders only and are purple to clearly distinguish them from other kitchen tools. Purple is the color of Allergen Awareness. As a mom, this makes me feel so comfortable with Zane eating there. We have so many restrictions where we could eat with Zane and now we know Red Robin is a place we could go to and feel safe!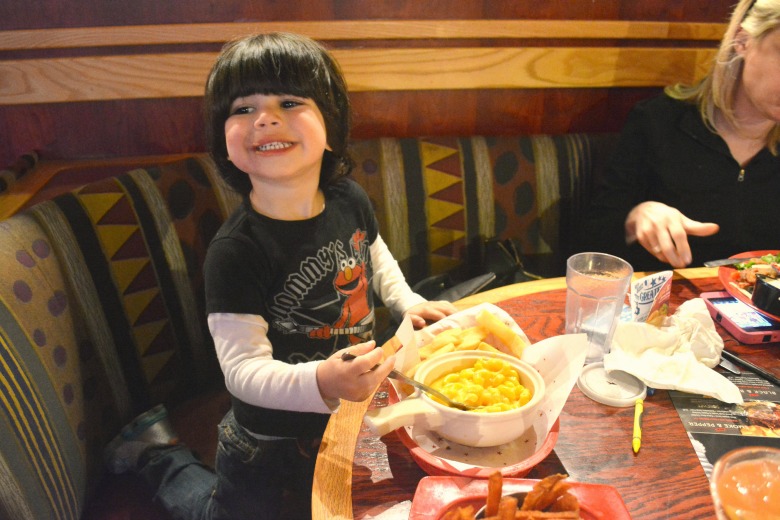 Zane ordered the Mac n' Cheese and loved every single bite of it! It came out fresh and hot, just the way he liked it! He even let mommy take a bite and I have to say, it was amazing! We will be sure to go back to test out all the other items on their allergen menu. I am pretty sure you can't go wrong with any of the choices on the menu.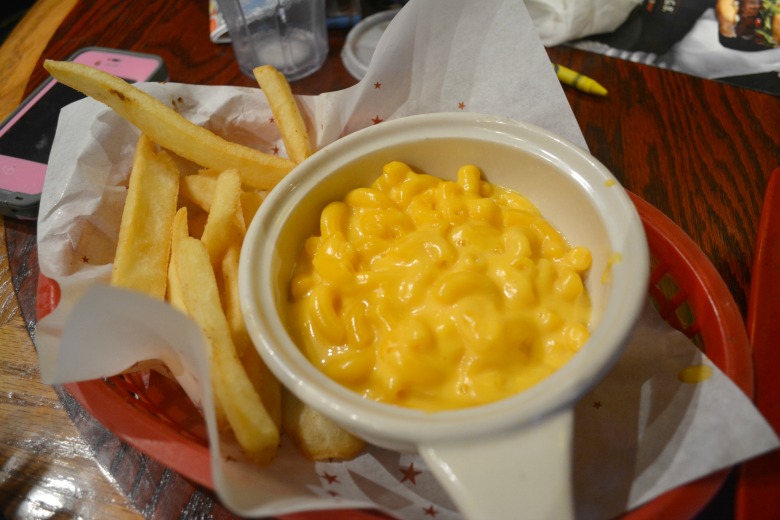 Red Robin's Customizer Hub on RedRobin.com allows Guests to test-drive different combinations of ingredients and enjoy their Red Robin menu favorites while keeping within their dietary restrictions. The Customizer Hub gives guest two options: "Customize Your Nutrition" and "Build a Customized Allergen Menu."
Red Robin has been a fan favorite in our household for quite some time. We love going there and now we can feel confident with bringing Zane. We know he can eat safety and enjoy himself without me having to hover over what he is putting in his mouth! If you have a child with food allergies, you will want to make sure you try out the Red Robin's new Interactive Allergen Menu today!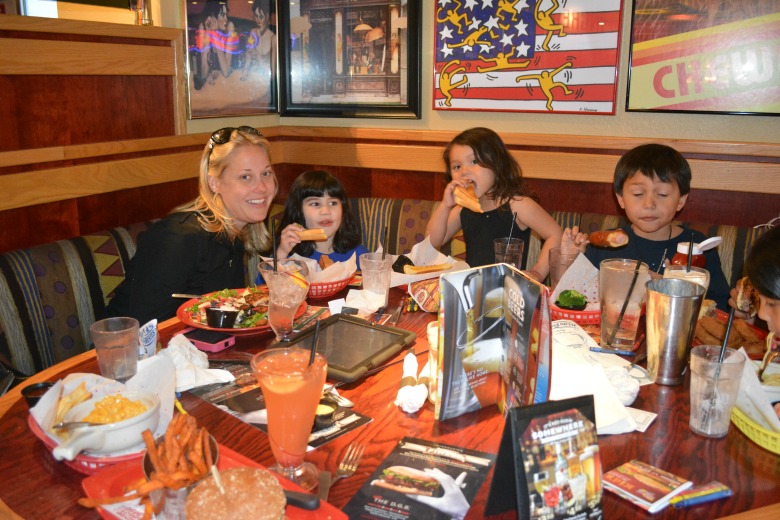 Win it: One winner will receive a $25 Red Robin Gift Card. This giveaway is run via rafflecopter, so click read more to see the actual giveaway. The only mandatory entry is to tell me if you have ever been to Red Robin and what you like best about it, in the comment section proceeding the post. While the other entries are optional, I highly suggest filling them out to increase your chances of winning. US only.