Hayley to Mommy: "Mommy, Can you please get me Stompeez for Christmas." Mommy to Hayley: "What are Stompeez?" Hayley to Mommy: " They are on the commercial; you know, those slippers that are fun!"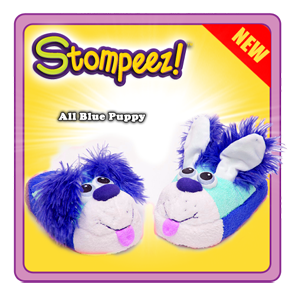 If you have not heard of Stompeez yet, they are adorable slippers that actually pop to life as your kids walk. Your kids can walk, stomp, and run with their Stompeez on. They are comfortable, fun, and a truly unique concept. They are made of quality material, are extremely comfortable, and are just plain darling! Hayley got a Unicorn Stompeez, and every time she walks, the Unicorn ears go up and down. Each Stompeez has its own way for the slippers to come to life!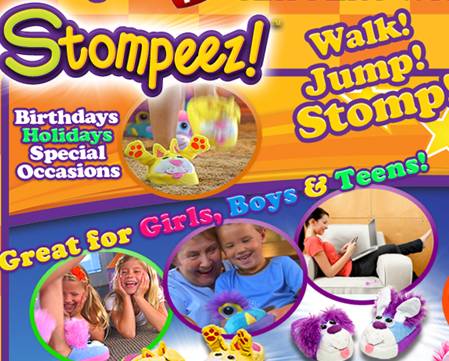 Some of the various Stompeez include All Blue Puppy, Unusual Unicorn, Growlin' Dragon, Perky Puppy, Be-Bop Bunny, Playful Puppy, One Eyed Monster, and Peek a Boo Bunny! They all retail for $19.95 and can be found on the Stompeez website. If you are interested in purchasing the Stompeez, they are offering a special promotion until Dec 31, so hurry!
 1) Get $5.00 off your order by entering promo code SLIPPER at check out
       2) Customers who order two or more pairs at StompeezClub.com enjoy free same-location shipping on the additional pairs (after S&H paid for 1st two pairs).
Last year Stompeez took over my storm and this year, they changed ownership and have a vast amount of inventory of these adorable slippers. ***Stompeez™ animated slippers skyrocketed in popularity last year during the holidays, thanks to the soft, playful characters kids wear on their feet for stomping fun. And while popularity is a good thing, it also overwhelmed the brand, which at that time was new. Now under new management, Stompeez has stepped up its production and distribution efforts to ensure it will be able to meet this year's holiday demand with ease. The company works hard to create, promote and sell products that children and parents will love.**
If you have not heard of Stompeez, this is a gift that your kids would love. Let them have fun with their own special slippers that come to life right before their eyes. I know Hayley absolutely loves her Stompeez and wants to wear them all the time. These slippers are soft, warm, comfy, and fun! Different sizes are available so order today!!
Giveaway: One winner will win their own pair of Stompeez slippers. This giveaway, is run via rafflecopter so click continue reading to see the actual giveaway. The only mandatory entry is to tell me which pair of Stompeez your kids want to win in the comment section proceeding the post. While the other entries are optional, I highly suggest you fill it out to increase your chances of winning. US only. Good luck!
a Rafflecopter giveaway

*I received the product above for review purposes. As always, all my opinions are my own and not swayed by outside sources.