If you are an avid shopper at stores such as Sears or Kmart, I am sure you have heard of ShopYourWay rewards. With ShopYourWay, you earn points every time you shop at these stores, and these points can be used and redeemed to save on your next purchase. I know for me, I already do a lot of shopping at Kmart and Sears, so it is nice to earn points simply without any extra effort, which can then be used to save me money on my next shopping trip. I love this program and highly suggest you check it out, if you are new to ShopYourWay.
ShopYourWay now has a pretty awesome app called Win Your Way! If you are a sweepstakes fan, this app is the one you need to make sure you bookmark.  To get to Win Your Way app, simply register for ShopYourWay which literally takes two seconds and then head on over to this page for the app: Win Your Way.

On this app, members will find a constant stream of new and unique sweepstakes to enter. Prizes vary with each sweepstakes but include ShopYourWay reward points, vacation, jewelry, clothing, and so much more. There is ZERO catch except for the fact, that you need to enter the sweepstakes quickly because they have a high turn around time. If you see a sweepstakes you like, enter it then because Win Your Way is constantly updating with new sweepstakes.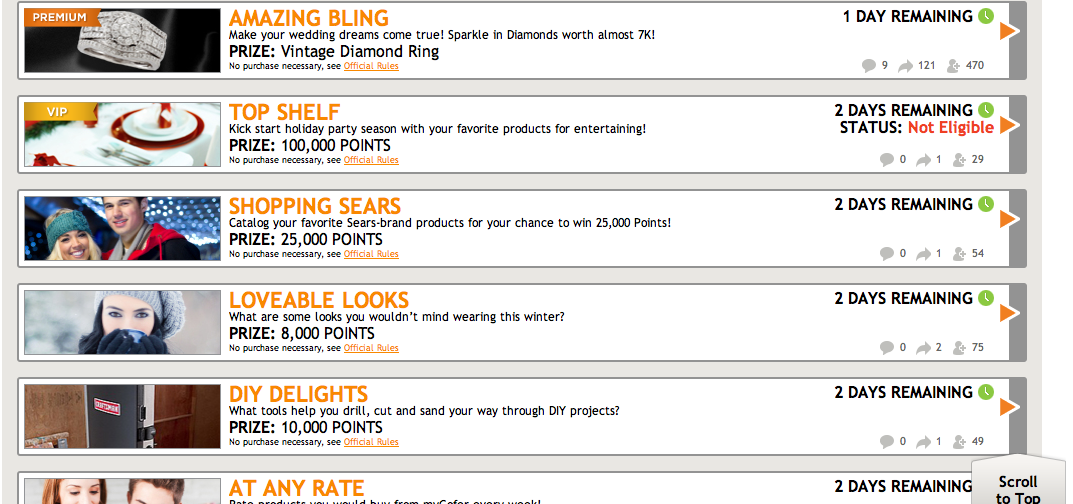 I am highly addictive to Win Your Way and could literally spend all day entering their sweepstakes, if I had time.  Some of the sweepstakes I entered today was Reap Your Rewards and Spray and Tell sweepstakes.
With the Reap Your Rewards sweepstake,  I entered myself in to win a VIP trip to LA valued at $4,000 including seeing a Broadway show, airfare accommodations, trip to LA, and more! See how simple it is to enter: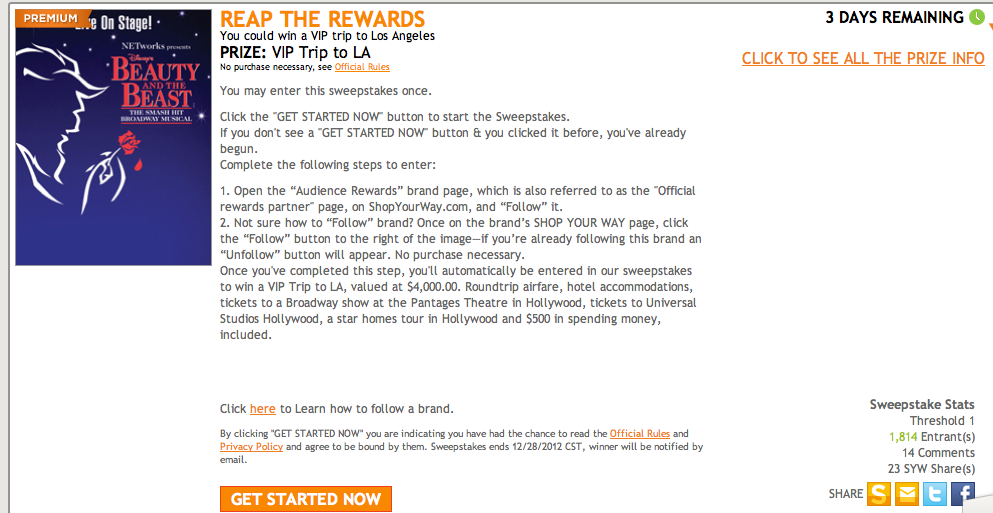 I also entered the Spray and Tell sweepstakes which put me in the running to win men's cologne ,which I know my husband would like:

This holiday season, go ahead and check out ShopYourWay to learn about the fun rewards of shopping at great stores including Sears and then head on over to Win Your Way, to enter to win some fantastic sweepstakes!  **No purchase necessary. See http://bit.ly/RdfB8K**  for details.
Have fun!