Disney-Pixar new movie, Luca comes out on 6/18! Just a couple more weeks till we can all see it. I was recently invited to sit down with the director and producer of Luca. I hope you enjoy my interview as much as I enjoyed sitting down with them.

Interview with Enrico Casarosa (Director) and Andrea Warren (Producer)
1. Can we talk about the Vespa for a bit? How did it get inserted as the symbol of freedom and Luca's wish to move forward with his life? And then I also wanted to know, did you have a Vespa, either of you, or maybe are you getting one in celebration of this film from seeing your Vespa himself?
Andrea said he wished they were getting Vespas but they are going to put it out to the universe. He said Italy is very much a culture of scooters. So he grew up with a little Piaggio Si, which means 'yes.' That's when he was 14. And it's kind of something between a Vespa and a bicycle. It is a tiny two strokes engine. So, he started on a Piaggio very early on and then he actually got more into motorcycles.
Being on a motorcycle, he said it felt like such a great symbol of freedom in the silliness. So the idea that they can ride into the sunset and live on a Vespa, it's perfectly great. 
2. So, the characters are all called sea monsters, but they don't look particularly monster-ish, in my opinion. Was it hard to come up with a design that would look sufficiently in human to be called a sea monster, but not come across as too scary for a younger audience?
Enrico said it was not something they delved into. 
"I guess it's just not my sensibility, to be honest, to go to something truly, truly scary. Or draw something slimy. I think it's a bit of a preference, and I thought that it could still be fantastical, but appealing. And that's a little bit how we kind of came to this design. I was thinking a little more about their characteristics. I love the idea of that, for example, Luca's all eyes because he's curious."
"And that's actually a little something that I did in the La Luna short, too, where there was another curious character that is looking at the world. And we are looking at the world through their eyes. So those were some of the factors that kind of brought that in. There's definitely one scary sea monster, but that one, which you might've seen in the 30 minutes with the Uncle Ugo, the one that we wanted to make as scary as possible to make it as dreadful as possible for Luca to have to go with him."- Enrico
3. What was the one element when making Luca that caused you the most sleepless nights. That you knew you had to get this particular element correct, or perhaps all, in your mind, might be lost?
Andrea said it was the story. The story was the trickiest part to figure out. It takes a lot of effort to do that. Andrea wanted to get the nuances of it right. Enrico agreed too as he came from storyboarding.
4. I've read in some books that Mediterranean Sea has mythical sea monsters. Do you guys use this myth as the reference to sea monster and is the Mediterranean Sea the main background of the story? And, as you said before that, this movie is all about children, happiness, and friendship. How do you convey that message so that the younger audience will get it easily and very well? 
Enrico said there wasn't too much of a specific myth. There were a few different ones. There is a wonderful town that is right next to La Spezia, which is close to Cinque Terre that has, for example, a legend of a helpful octopus that rang the bell when the pirates were coming. He always found it fascinating, but you visit the place and the bell and the church is right on the sea. So, you can see why people would think an octopus can definitely walk out and ring the bell.
Other places had dragons.  There's a big history of sea dragons. And, for example, one is San Fruttuoso, which is a famous abbey, a beautiful place that they definitely took a lot of reference from. And that one was known as, "Don't go there. There's a dragon that lives there." And that is, actually, the one that they totally thought, they must've had great fishing here and that is a bit what we found. Some of these different ideas that brought the sense of it.
Also this movie is about friendship. He just really hopes that they are getting some kids to really think about those friends.  This is a movie that really talks about a specific and important kind of friendship. Someone who's very different from you. And someone that you're actually challenged by, in good ways.
5. When you started this project, you didn't know there would be a pandemic coming up. But now the movie comes out when we are leaving that pandemic, hopefully, as a world. Can you talk a little bit how inspirational Luca will be for a world slowly coming out of a pandemic, with its wonderful message of embracing life, friendship, and, yes, sharing meals together. 
Andrea said that it is absolutely true and he hopes this film and the beautiful setting is well received. 
"That beautiful sense of getting to go somewhere that we all have been missing so much. We hope that it feels like being transported to this beautiful place that you would love to visit for real, but that you can visit through Luca. So, I think that's one piece of it that we're hoping just to transport people out of our homes to feel like we went somewhere."- Andrea
Enrico hopes this inspires a sense of being willing to put yourself out there. And, of course, feeling different is part of our movie.  Generosity and acceptance is another part of it. He hopes to give a little bit of joy to the world. 
6. What connection do you guys have with the real city of Porto Rosso, and why did you choose that name?
Enrico says he wanted to make their town sum up the Cinque Terre. 
"We mix and match a little bit to make something that feels of the place but isn't one specific town. We wanted to have the essence of it all, of the place while creating our own town with its own geography. But we took a ton of fun design cues from a lot of different towns. So, that is the reason that we ended up with-with that name. 
Portofino is actually really close by too, which is actually a town that's quite well known, slightly more fanciful. I always think of Cinque Terre as more of a blue-collar side of it. That was a big inspiration. Camogli is another town that I absolutely love. They used to be ship makers, so we visited Camogli too. My grandma lived right next door, so we were in that town a lot. They have the best focaccia al formaggio in Italy. Someone will probably have a problem with that." – Andrea
7. There's been a lot of filmmakers who had the opportunity of taking their live short films and turning them into big feature films. For you, what was the biggest challenge of taking your animated short and turning it into a major animated film?
 Enrico said there isn't really a whole lot of a connection between the two worlds other than his influences and what he loves. 
In terms of short, they are very, very different he says.  Luna was something that came together relatively easily. The production was rather without tribulations he said.  He mentioned making a movie like this is a bigger puzzle. So, it's a journey. And that's honestly been what's wonderful and also what's difficult about it. 
8. What are your other goals of making this movie apart from to convey the beautiful messages about friendship, family, and et cetera. I mean, certainly, with the exceptional animation, production, cinematography, basically the technical aspects, certainly it sparks inspiration for animators or filmmakers out there to take away something from Luca.
"To me, at the heart of what we do with our films, you want to move. You want to bring some joy, you want to bring some tears. You want to move, you want to bring emotion. I think especially now, my biggest hope is that we bring some joy. This is a playful movie. It's a nostalgic movie. So I hope it can bring some warmth, and some joy, and light. It talks a lot about wonder, and looking at the world. So, there's so many hopes I have."- Enrico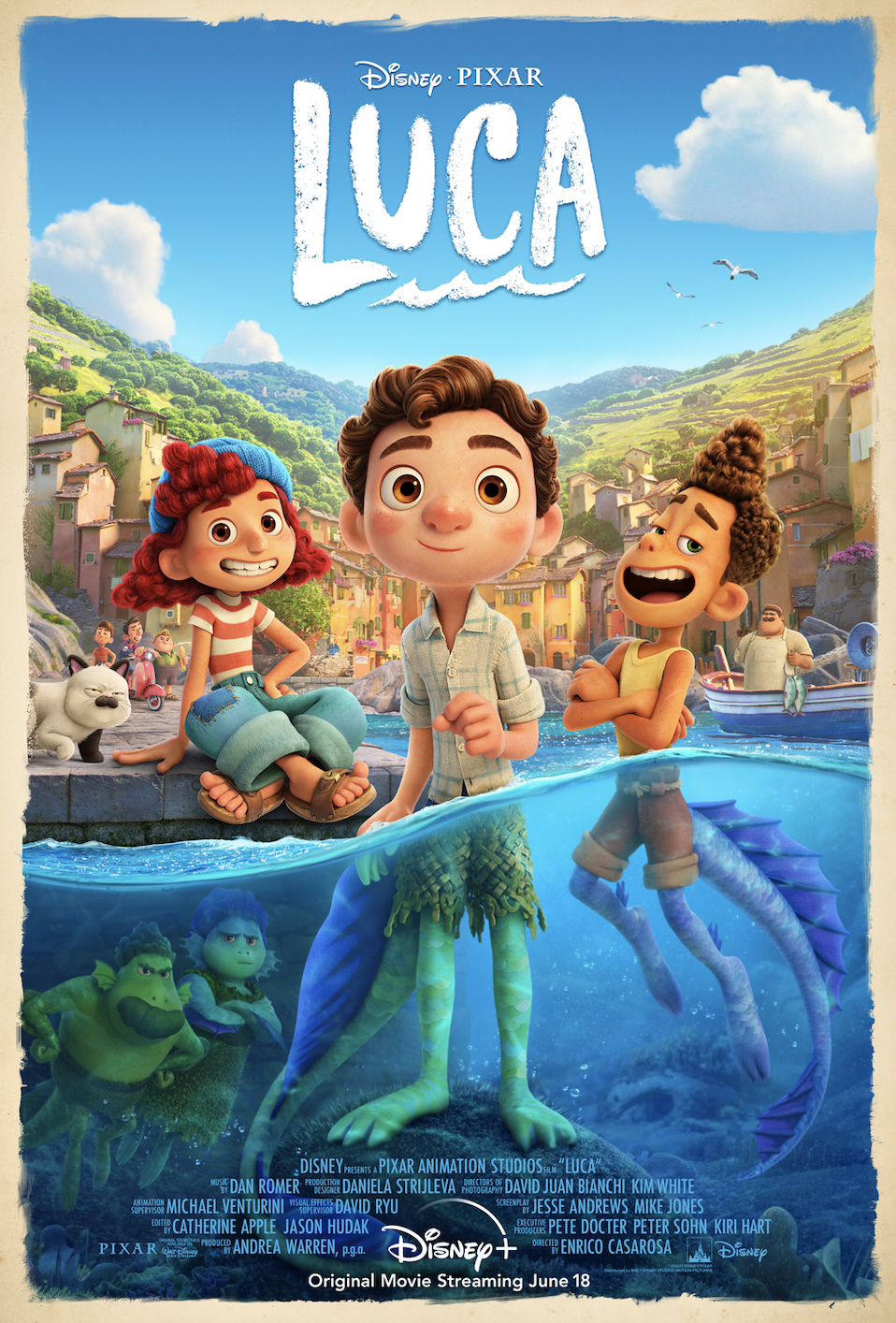 SNYOPSIS:
Disney and Pixar's original feature film "Luca" is a fun and heartwarming story about friendship, stepping out of your comfort zone and two teenage sea monsters who experience a life-changing summer. "This movie is about the friendships that change us," says director Enrico Casarosa. "It's a love letter to the summers of our youth—those formative years when you're finding yourself."
Adds producer Andrea Warren, "It's a magical coming-of-age-story. It's about remembering the people who shaped us along the way."
Luca comes out on June 18th! Mark your calendars.
*Thanks to Disney for inviting me to the press conference. All opinions are my own and not swayed by outside sources.*