Disney has a new Pixar movie coming out on June 18, 2021! I had the pleasure to attend the virtual press day for Luca and learn all about this upcoming movie. It is coming of age, comedy by Pixar Studios, distributed by Walt Disney Animation. Cast include Jacob Tremblay, Jack Dylan Grazer,  Maya Rudolph, Jim Gaffigan and more.
SNYOPSIS:
Disney and Pixar's original feature film "Luca" is a fun and heartwarming story about friendship, stepping out of your comfort zone and two teenage sea monsters who experience a life-changing summer. "This movie is about the friendships that change us," says director Enrico Casarosa. "It's a love letter to the summers of our youth—those formative years when you're finding yourself."
Adds producer Andrea Warren, "It's a magical coming-of-age-story. It's about remembering the people who shaped us along the way."

Set in a beautiful seaside town on the Italian Riviera, "Luca" is a story about one boy experiencing an unforgettable summer filled with gelato, pasta and endless scooter rides. Luca shares these adventures with his newfound best friend, Alberto, but all the fun is threatened by a deeply-held secret: they are both sea monsters from another world just below the water's surface.
"Luca is a shy, polite, introverted, rule-following kid who has a secret desire to see the world and learn all he can," says screenwriter Jesse Andrews. "But he's been told his whole life that sea monsters should never go above the surface of the water where all the interesting stuff seems to be happening."
Q+A for LUCA:
1. Pixar has been known for breaking barriers in terms of animation, especially, back in 2003 when it changed the game in terms of animating water, and obviously Luca's a very water heavy film.  I'm curious, how far would you say the studio's come since 2003, and how does Luca continue to push the boundary of animating water?
" We wanted to work on stylization and beautiful shades and lyricism. So, that is the bit where we pushed the tools to do something  that they don't necessarily want to do.  For me it was a lot about just trying to make a beautiful shape.  I find that sometimes, a lot gets thrown at us in detail, and I was really just trying to make it rich, but also trying to make it designed and beautiful. So much of this movie is about a kid experiencing things for the first time and I wanted a sense of the light and wonder to really be part of this movie, in all its details, because it's really someone who's in love with discovering the world.
We looked at the water. And the other side of it is emotion. We always think about emotion. And so, when I think about water and effects– "How does this support an emotional moment?" We have wonderful, wonderful stuff that you haven't seen yet, but, in moments of the movie where the emotion comes out, where the water supports it. Where the waves support it. Where the weather supports it. We have more control, and we were able to really try something a little bit different, that looks a little different. To feel the most emotion and have it a little less realistic and more stylized." -Enrico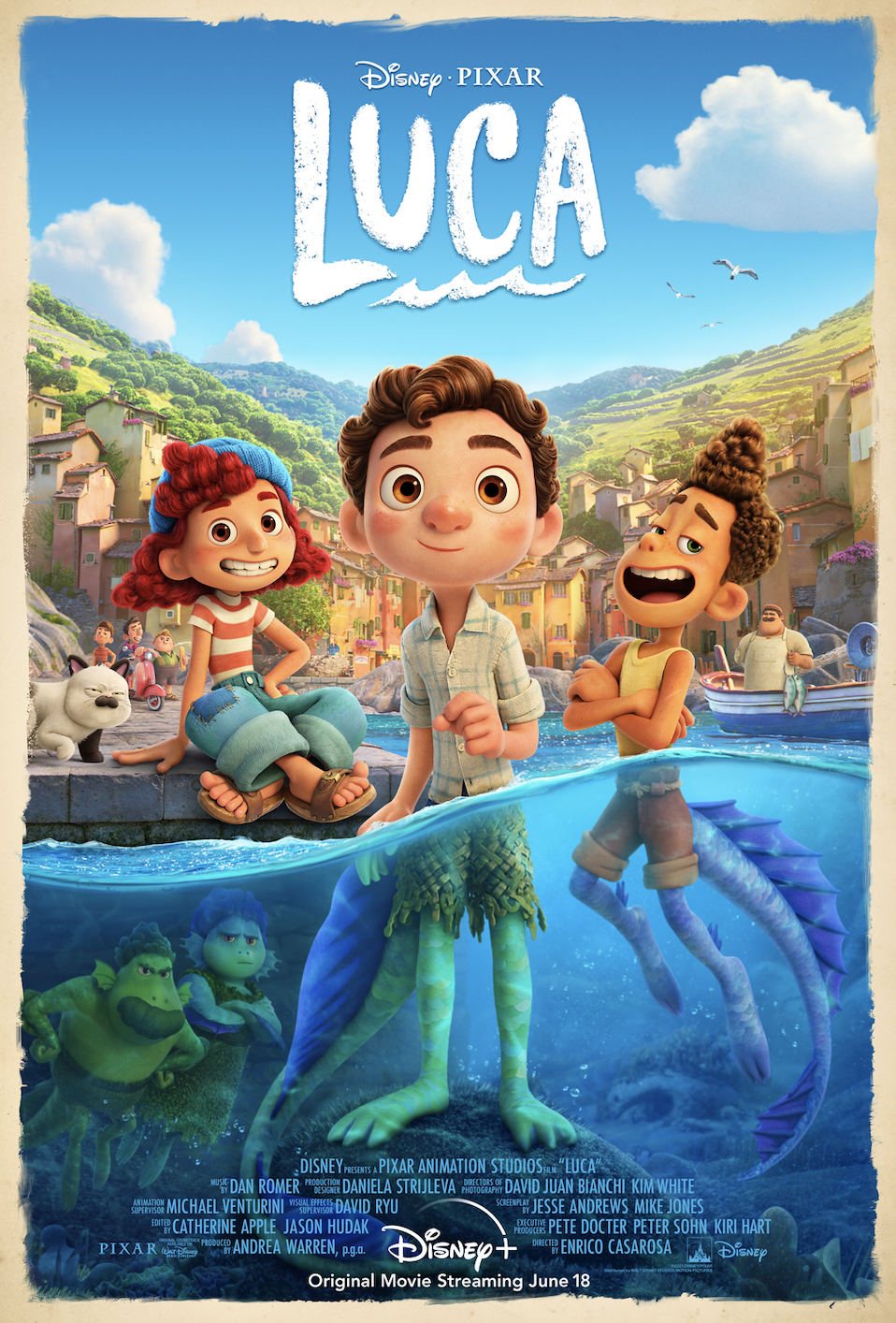 2. I'm curious, how does that time period setting impact the narrative? And I'm also curious if and how those films served as tonal inspirations for this film?
"So I feel that in this idiosyncratic way, I'm about to say something that doesn't make sense, but when you make something very specific and timely, it can be timeless.First of all, I was after a period that I love. So, part of it is just my love of that golden era of film and cinema in Italy. I love the music in all these coming-of-age stories of summer, music is a huge, huge part of a movie. So, I just love the music of the 50s and 60s in Italy, so we're using a lot of that. And then the design, the old Vespas, the old, little carts-bicycle, I just love the sense that this has an old feel.
So, we really, were inspired by so many of these little details. I just think that there's a little bit of a timelessness and a nostalgia to it. Those were the things that we really chased as far as the period. And I'm making it feel a little less specific, but also specific, which is an idiosyncratic thing there."- Enrico
3. How did you come up with Silencio Bruno?
Silencio Bruno is from our writer Jesse Andrews, our amazing writer. One of my favorite things is that the movie talks about the voice in your head. I have plenty of it, I don't know if you guys have it, but  the insecurity, the voices that tell you, "No, you can't." And we thought, "But what's an Alberto way of describing it?" We didn't want this to be,  in any way, pop psychology. This is a silly kid, but how can he give him a good suggestion? Right?
Don't pay too much attention to those voices, but in his own very silly, crazy Alberto way. And, it came out of Jesse Andrews, who's an amazing writer. You might know him from Me and Earl and the Dying Girl. That's the movie we love, that he wrote.
 And to be honest, I really hope it's something that kids, as they watch this movie, glom onto as a concept as they grow up. How great would it be for them to recognize that voice in their head and question it as they're making decisions and deciding whether to take risks in their own lives as they're growing up. So, we do hope it's something that becomes meaningful to our audience.
4.  I was wondering, actually going back and talking to the real Alberto, what were his thoughts about doing being part of this film?
I've been in touch with my best friend Alberto through the years, sometimes more than other times. I've been a little bit in between not wanting to tell him too much, but then having a lot of conversations about our friendship, which have helped the movie immensely.
It actually influenced what the movie was talking about, how was our friendship? What was it? Why was it so helpful for us? He had a family that wasn't there for him, and I had a family that was a little bit too much there for me. And I was timid and kinda shy and he was following a passion every week.
It felt like it was really about being willing to scrape a knee and being out there and taking some chances was his thing. And he was passionate. He was very much about embracing his fears.
5. As an immigrant, what kind of pride do you feel in bringing your hometown to a big stage like this?
Oh, it's such a pleasure. I was talking a little bit about the details we're putting in the background, and the pleasure of even talking about our dialect, we have a Ligurian dialect, it is very specific. Of course, all of the regions of Italy have a dialect, most of the world does. But we're putting little Genoa in. We wanted was much focaccia in this movie as possible. Focaccia is our bread.
We are one of the few people that dunk it in their coffee, by the way. I could not fit in a dunk in the coffee in the movie, but I wanted to. I have so many little details that I'm, like, "Ooh, this one is very specific and people in Liguria would probably understand." It's a wonderful city, it's a wonderful area of the world. 
We want to take people in an authentic way to a place. So, I've a lot of pride as an immigrant, as you were asking, I think the more you're far away from you roots, the more you appreciate them, and honestly making films has really become my way to embrace my roots as much as possible.
6. I just thought it would be interesting to explore how you saw that visual storytelling concept informing Luca's story. Can you tell us more about that?
An interesting question. Among the traits that we gave Luca is this huge amount of curiosity, imagination, the sense of paying attention. It's a question I haven't heard before. The first thing that really flashed through me is this sense of paying attention, because I can connect it to drawing. And drawing, you know, sketching and making comics, is where I come from. And that is where that idea comes from. Is there any way that we can retain some of the sketched watercolor, wonderful expressiveness, through the process? How do we not polish something and make it a little more alive? Feels rougher and alive with the imperfections of our hand.
And so, it makes me think a bit about Luca himself being a keen observer. We have a story of a fish out of water. If you think about La Luna for example, I had a kid who was experiencing his family's job for the first time. And so, these first timers, or these outsider characters, are the characters I'm always looking for, because I want to see that world with a bit more attention. Can we appreciate the moment of breeze into the trees and the waves lapping?
And so, that's the closest connection I can make to that, because in many ways that is a bit where this comes from, our love of stopping and enjoying the moment and sketching something, and we're travel logging. I think there is a lot of me in Luca and that I connect to Luca especially. And, of course, then it goes into his imagination world which is very rich. Making stories, storytelling, drawing, comics– it's the world I come from.
7. What was the one element when making Luca that caused you the most sleepless nights. That you knew you had to get this particular element correct, or perhaps all, in your mind, might be lost?
I always feel like that's the trickiest thing to figure out. And I think,  it does take us a while to make our movies, and we care so deeply about getting the story. And I think that it takes a tremendous amount of effort to do that. I would say that that was the thing that kept me up sometimes, really trying to get the nuance of it right, and to really capture the spirit of Luca, his character, and his journey that we wanted.
I come from storyboarding, I'm from story. But even with that expertise, it's still the hardest. They're hard puzzles, and it takes a long time to put them together. Our process, by now you might've heard about it, but we put up a storyboarded version, like a blueprint of our movie, roughly every three to four months.
And every time we do this, we look at it, and it's almost like, if we're building a Vespa, we put it together , we look at it, and we're like, "Okay, the wheel is actually running, but everything else is a mess." Let's disassemble it, rewrite it, reassemble it, and we look at it. We did that many, many times through the last four years. You're putting your heart out there, and you get the feedback, but there's a lot of great feedback. There are wonderful directors here that give us feedback.
And so, that is still the hardest part of the process. You kind of get knocked down sometimes, and you get back up and roll up your sleeves. That's the biggest part of the job. And then, truthfully, it starts to work all together and the engine starts to work.
8. What are your other goals of making this movie apart from to convey the beautiful messages about friendship, family, and etc? With the exceptional animation, production, cinematography, basically the technical aspects, certainly it sparks inspiration for animators or filmmakers out there to take away something from Luca.
To me, at the heart of what we do with our films, you want to move. You want to bring some joy, you want to bring some tears. You want to move, you want to bring emotion. I think especially now, my biggest hope is that we bring some joy. This is a playful movie. It's a nostalgic. movie. So I hope it can bring some warmth, and some joy, and light. It talks a lot about wonder, and looking at the world.
 But I think my biggest hope is that a piece of film can bring some joy. And certainly, the ups and downs of a little roller coaster ride that I can't wait for you to fully experience.
STREAMING ON DISNEY + BEGINNING JUNE 18- DISNEY AND PIXAR'S ORIGINAL FEATURE FILM "LUCA"
*Thanks to Disney for inviting me to this press junket. All opinions are my own and not swayed by outside sources.*