Maleficent 2 (the sequel to Maleficent) is coming out next month! October 18th is your release date! To get excited for this release, I have a fabulous recipe for Maleficent Doughnuts. I hope you enjoy them!
Ingredients for Maleficent Doughnuts:
Makes 15 donuts
Donut ingredients:
1 C flour
1/3 C sugar
1 tsp baking powder
1/2 tsp salt
2 tbsp unsalted sweet cream butter, melted
1 large egg
1/3 C + 1 1/2 tbsp whole milk
1 tsp pure vanilla extract
Directions for Maleficent Doughnuts:
Preheat your oven to 350 degree's and spray a donut baking pan with pam baking spray
In a large bowl, whisk together the flour, sugar, baking powder, and salt
In a small bowl, whisk together egg, milk, butter, and vanilla extract
Combine the wet ingredients in with the dry ingredients and mix until well combined
Spoon batter into donut pan and bake for 10 minutes
Remove from oven and allow to cool for 6 minutes before removing and placing the donut's onto a wire rack
Repeat steps until all batter is used
Maleficent

 Fondant ingredients: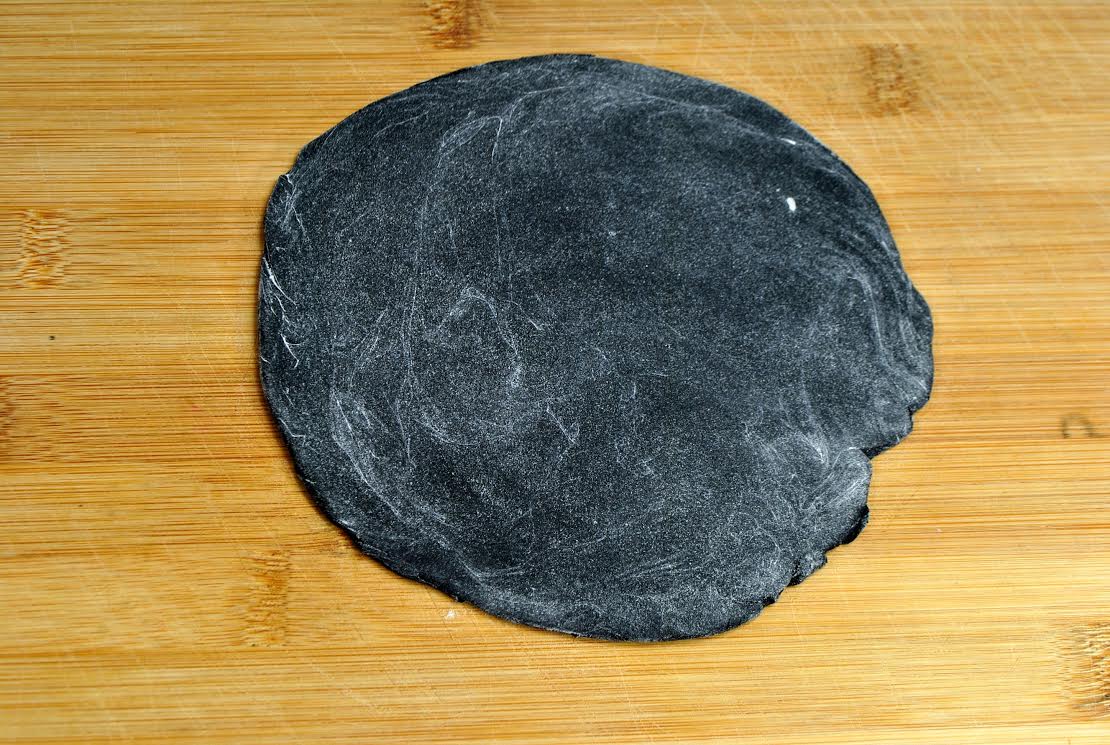 1 box of Black fondant. This can be bought from Michaels, Hobby Lobby, or Walmart in the cake decorating section.
Google image cut out of Maleficent's horns
2 C powder sugar
1 exact  knife or pairing knife
Rolling pin
Cutting board
Decorating directions:
Lightly sprinkle powder sugar onto a cutting board, the rolling pin and onto the black fondant
Place the black fondant onto the middle of the cutting board and roll out the fondant to 1/8-1/4 inch thickness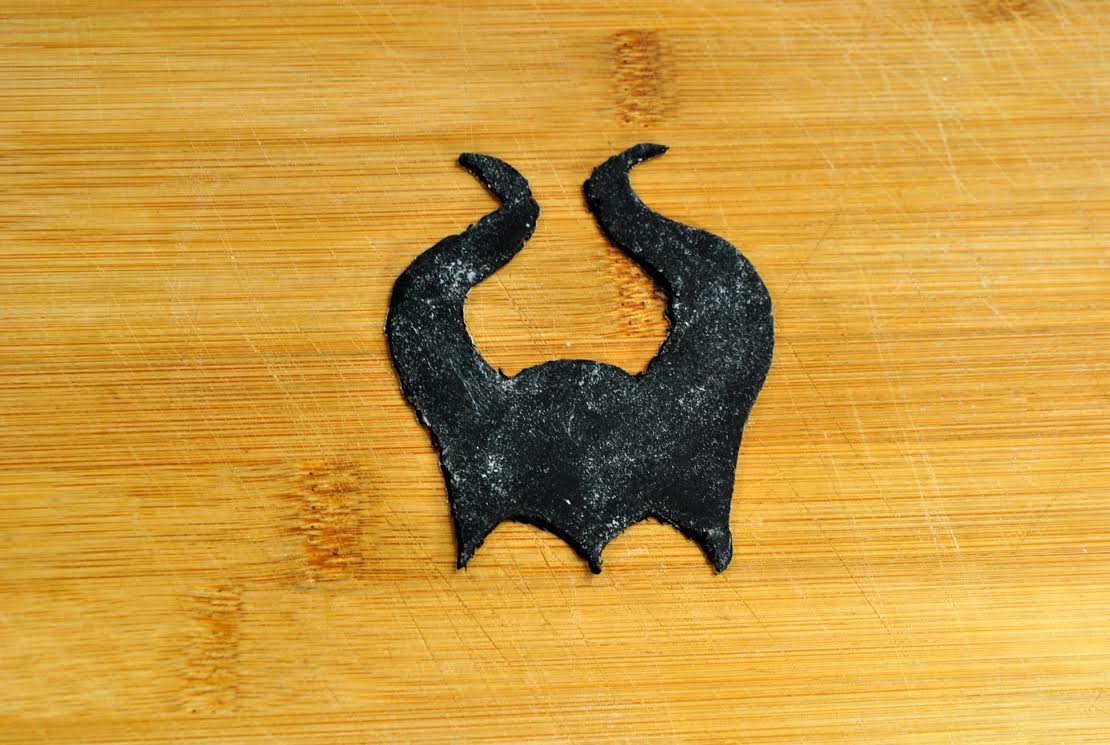 Cut out your Maleficent horns and place the cut out onto the fondant
Use the Exacto knife or pairing knife and carefully run the blade along the edge of the cut out
Repeat steps and cut out 14 more Maleficent horns out of space that you have left of the rolled out fondant.
Lay out your 15 fondant pieces to dry for an hour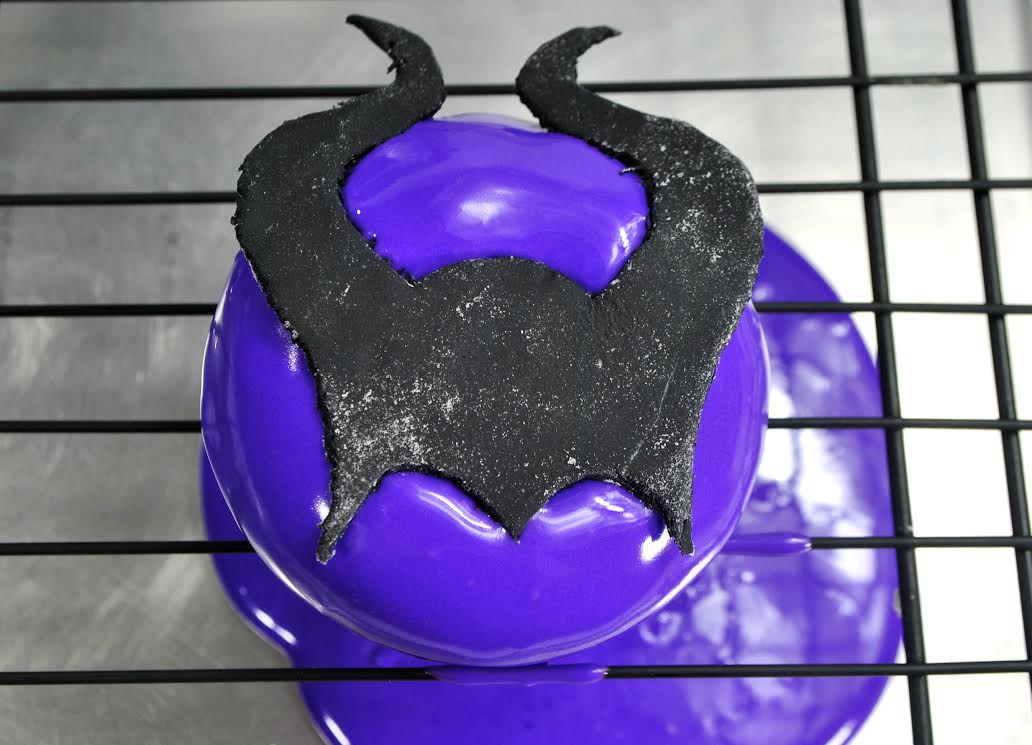 Vanilla donut icing ingredients:
4 C powdered sugar
1 tbsp clear corn syrup
1/2 C whole milk
1 tsp clear vanilla extract
Leaf Green and Purple gel food coloring
1 disposable piping bag
Icing Directions:
Using a standing mixer, combine the powdered sugar, corn syrup, milk and vanilla extract and mix on medium to high speed until smooth and thick
Scoop about 1/4 C of the icing into 1 bowl for the green icing
Add a few drops of Purple to the remaining white icing
Add a few drops of Green to the small bowl with the 1/4 C icing and mix until combined
Scoop the green icing's into the piping bag and set aside
Decorating Directions:
Place your donuts onto a wire rack with a cookie sheet under it
Using the purple icing, pour the icing onto the donuts so that the icing completely coats the doughnuts
Allow the purple icing to dry for 10 minutes
Place the fondant horns in the center of the donut
Using the green piping bag, cut the tip of the piping bag and fill in the bottom part of Maleficent's horns for her face.
Allow icing to dry for an hour before enjoying!