This is a sponsored post on behalf  of the Robert Wood Johnson Foundation. However, all thoughts and opinions are my own. 
Better health for my kids has been my goal since I gave birth to my first child. That's because I know that better health for my kids' future starts in their present. Establishing good health habits when kids are young helps them make good decisions about their health as they get older. Decisions like what they drink and eat can drastically affect their overall health now and years into the future. That's why it's so important to me to share what Healthy Eating Research has found concerning young children's drinking habits and what parents need to know to help keep their children as healthy as possible.
Healthy Eating Research created an expert panel from members of the Academy of Nutrition and Dietetics, the American Academy of Pediatric Dentistry, the American Academy of Pediatrics, and the American Heart Association, as well as a scientific advisory board to review over 50 existing documents from US and international bodies to help study childhood beverage consumption and what parents can do to help encourage healthier habits.
Better Information for Better Health
Research shows that what children drink from birth through five years of age has a huge impact on their health far into the future. Many parents don't realize that they are giving their children unhealthy beverages. Of course, some things like soda are overtly bad for kids, but there are many other beverages out there that many parents don't realize have a negative impact on their children's health.

For example, many infants are given milk and 100% juice before their first birthday. While whole milk and a limited amount of 100% juice are both acceptable in children starting around 12 months of age, many parents give these sooner, not realizing that this opens up their children to nutritional deficiencies. Worse than accidentally giving milk or juice too early, however, is the fact that many children, almost half of 2 to 5-year-olds, in fact, are given at least one sugar-sweetened drink daily. Here's what you should know.
Children aged 5 and under should never be given flavored milk such as chocolate or strawberry milk; toddler formulas; plant-based or non-dairy milks like almond, rice, or oat milk; caffeinated beverages; sugary beverages; and low-calorie or zero-calorie beverages.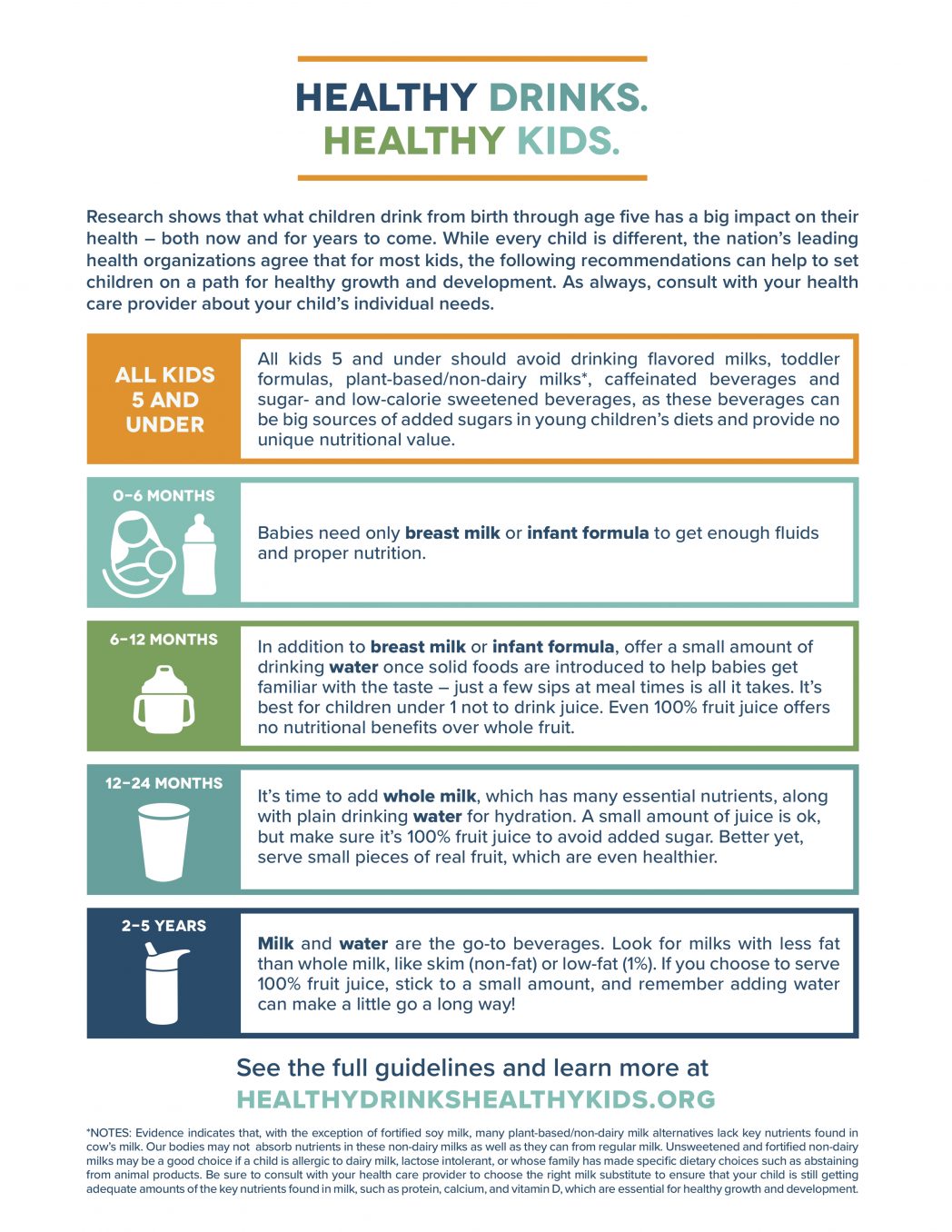 Here's what parents should be giving their kids.
Babies up to 6 months of age only need breast milk or infant formula. Babies aged 6 to 12 months can have small amounts of water once foods are introduced. Babies 12 to 24 months of age can have whole milk, water, and a small amount of 100% juice. Limit juice to no more than 4 ounces per day. Children aged 2 to 5 years can have skim or 1 % milk, water, and small amounts of 100% fruit juice.
Tips for Getting Back on Track
If a child is already used to drinking unhealthy drinks, there are steps parents can take to get their kids back on the path to better health now and in the future. Children can be slowly weaned off of flavored milk by adding regular milk to their flavored milk. Gradually increase the amount of regular milk over time until the kids are only drinking regular milk. Likewise, watering down juice is a great way to help get the kids away from drinking juice all the time.
Additionally, clear boundaries are excellent for ensuring better health. The panel recommends that as kids age, they only drink milk at mealtime with water between meals for thirst. This ensures that children are fully hydrated and not drinking too much milk. Also, a nice compromise to juice is adding fresh sliced fruit to plain water or squeezing lemon or lime juice into the water. +
Better Health for the Future Starts in the Present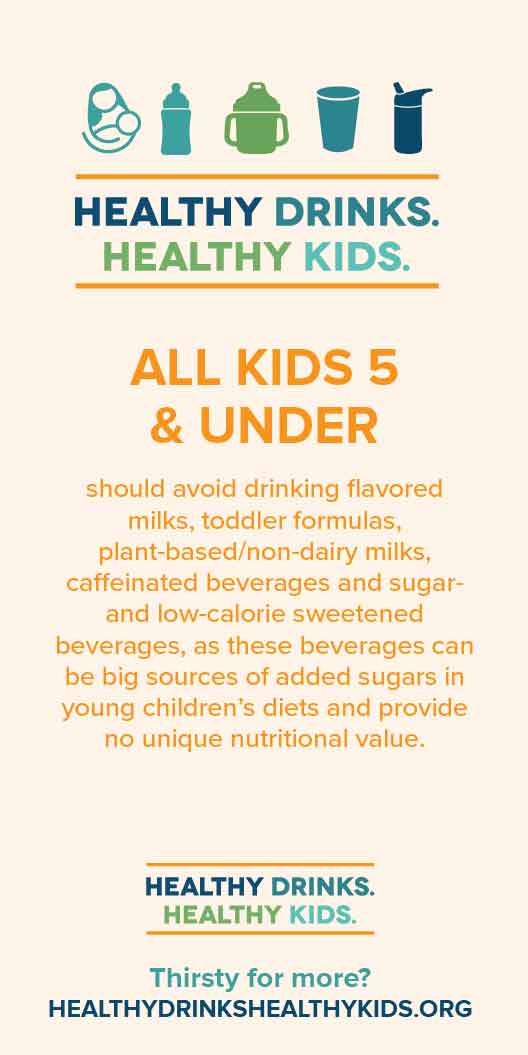 It can be hard to say no to our kids, but it's easier if we never say yes. The easiest way to ensure better health for our kids now and in the future is to instill healthy habits now. Never give them sugary drinks, whether it be soda, flavored milk, or another sweetened beverage. Encourage water for hydration rather than fruit juice. Keep milk limited to mealtimes. If we raise our kids with better health habits now, they'll be healthier adults in the future.