*I received the DVD for review purposes from Disney. All my opinions are my own and not swayed by outside sources.*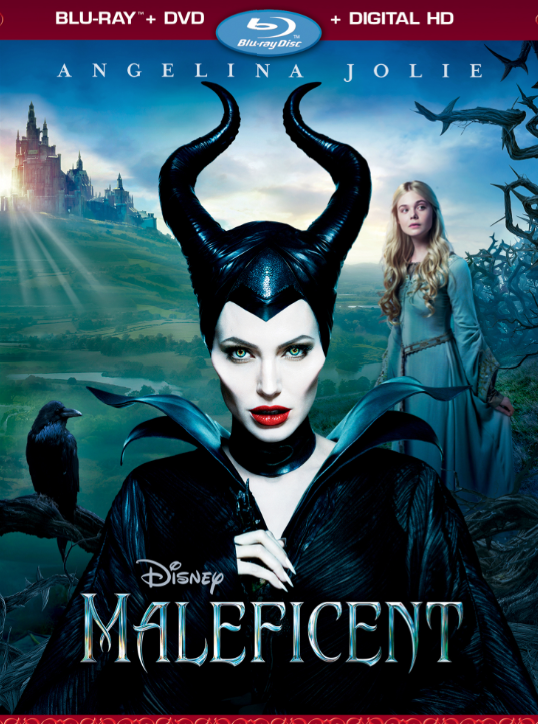 A few months ago, Hayley and I saw Maleficent in the theatre. I was skeptical about bringing her because of her age (she was 5 at the time) but based on friends who saw it with kids similar ages, I took her and we both ended up absolutely loving Maleficent.  If you are not familiar with Maleficent, it is the story of how how Disney's animated classic "Sleeping Beauty" was re-imagined as an innovative, live-action epic in "From Fairy Tale to Feature Film."  This is a film that is absolutely breathtaking and the cinematography in it is truly second to none.
Starring Academy Award®-winning actress Angelina Jolie (Best Supporting Actress, "Girl, Interrupted," 2000) as Maleficent, this wickedly fun twist on the classic "Sleeping Beauty" will be made available on Disney Blu-ray™ Combo Pack, Digital HD, Disney Movies Anywhere, DVD and On-Demand platforms starting on November 4th.

After enchanting audiences around the world and grossing more than $700 million in worldwide box office, this live-action, fantasy adventure casts a wondrous new spell on Blu-ray and Digital HD, featuring stunning high definition picture and sound, plus spellbinding, all-new bonus features, including several deleted scenes and behind-the-scenes featurettes that take viewers deeper behind the scenes of the filmmaking magic.
Discover how King Henry and Maleficent's opening battle scene was created using gigantic wire rigs and elaborate choreography in "Building an Epic Battle." Learn how playing Aurora was a fairytale come true for actress Elle Fanning in "Aurora: Becoming A Beauty." And find out more about the meticulous detail that went into creating Maleficent's elaborate head wraps, rings and other accessories in "Classic Couture." Viewers can also relive the film's journey to the screen through concept art, layered visual effects and behind the scenes footage in "Maleficent Revealed."
"Maleficent" stars Angelina Jolie, Elle Fanning ("Super 8," "We Bought a Zoo"), Sharlto Copley ("District 9," "Elysium"), Sam Riley ("Control," "On the Road"), Imelda Staunton ("Harry Potter" series), Lesley Manville ("Another Year," "Secrets & Lies"), Juno Temple ("The Dark Knight Rises," "Atonement") and Brenton Thwaites ("Oculus"). It marks the directorial debut of two-time Academy Award® winner Robert Stromberg (Best Achievement in Art Direction, "Avatar," 2010; Best Achievement in Art Direction, "Alice in Wonderland," 2011). It was written by Linda Woolverton ("Alice in Wonderland," "The Lion King") and produced by Joe Roth ("Alice in Wonderland," "Oz the Great and Powerful").
Bonus Features:
Blu-ray Combo Pack, Digital HD/SD & Disney Movies Anywhere
From Fairy Tale to Feature Film – Reimagining Maleficent for a new generation
Building An Epic Battle –Creating the clash between Maleficent and King Henry's Forces
Classic Couture – Examine Maleficent's spellbinding head wraps and jewelry.
Maleficent Revealed – Explore the layers of extraordinary special effects.
Aurora: Becoming A Beauty – Elle Fanning reveals her lifelong love of Disney's original animated classic.
Deleted Scenes:
o   "Stefan In King's Chamber"
o   "Pixie Idiots"
o   "Diaval asks about the Curse"
o   "Pixies Seek Asylum"
o   "Suitor"
Maleficent is so unbelievably good! I have to say that once we got past the opening scene with Angelina Jolie and her wings, Hayley was not afraid in the least. Since we received Maleficent last week, her and her girlfriends have watched it at least 3 times. Be sure to pick up Maleficent next week and add it to your DVD collection. You will be glad you did so!
Here is some Maleficent Halloween fun: