In my profession I find myself telling dozens a patients a day how important it is to maintain proper daily oral hygiene. As a dentist, I can't stress it enough that my patients floss, rinse and brush several times daily and you'd be surprised at how many adults are just as guilty of forgetting as children are. In many cases it's not even purposeful neglect but so many are caught up in their day to day routine that they may simply forget or even run out of time to stick with the same routine. The results can vary from cavities, malodorous breath, gingivitis, plague build up and more. Finding a good oral hygiene plan and kids toothpaste is essential!
As a dentist I'm great with my patients, however, as a parent you'd be surprised at how hard I have had to fight with my own children to build a healthy oral hygiene routine. There have been tantrums, tears, begging, etc. all during the struggle of my little ones earlier years when trying to coax them into brushing, flossing and rinsing. These days it's much easier and less of a struggle but make no mistake, it doesn't matter if they know all of the benefits of/repercussions of not following through with their routine, there is resistance from time to time. There are nights and mornings where brushing is forgotten and there are times when I buy a brand or flavor that doesn't go over well.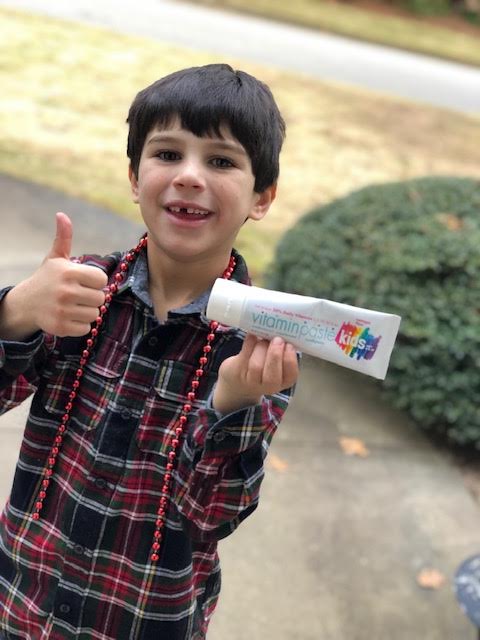 I was approached recently by a company who offers a rather unique product that as both a parent and dentist, I can get behind. Known as VitaminPaste, this product is one that should be put in place of your old kids toothpaste asap. Unlike many toothpaste brands, Vitaminpaste Kids cuts out all of the not so great ingredients (fluoride, gluten, parabens, etc.) and replaces them with all of the good stuff, including 50% of their daily dose of needed vitamins. This kids toothpaste was created for little ones ages 4 and up, when used 3 times daily, Vitaminpaste serves not only as a source of great nutrients but also as a great routine establishing tool.
Invented by Dr. Bruce Golden, a dental professional of 30 years, Vitaminpaste Kids is an innovative product that has changed the game for traditional toothpaste which focuses on artificial coloring & flavors, drawing buyers (parents like myself and my readers) into buying products that sparkle, and often feature favorite characters of children. Knowing that traditional toothpaste was lacking important health benefits as well as knowing how widespread the danger of tooth decay has become, Dr. Golden made it his mission to create something multi-functional. Thus Vitaminpaste Kids was born!
Children's Toothpaste:
Containing key vitamins that help fight against common dental problems in children, Vitaminpaste kids toothpaste is the number one product to bring into your home. This is especially true now that the holidays are upon us and the amount of sugary, sweet goodies that are being consumed will undoubtedly double. When using Dr. Golden's innovative formula for your little ones, they'll get the benefit of Vitamin's D, E, B3, B5, and B6; with how hard it can be to coax our kiddos into eating fruits & veggies, on top of staying on top of their brushing routines normally, this new formula for children's toothpaste is a great way to ensure they get the vitamins they need!
FLUORIDE FREE TOOTHPASTE:
If you've been looking for a great new way to help your little ones stay on top of their oral hygiene routines, without the fuss and WITH the added benefits of some of the most beneficial vitamins available to them, I would definitely recommend heading out and grabbing a tube or two to test out. You can visit Vitaminpaste online to learn more about the benefits of each vitamin, have Vitaminpaste delivered straight to your door or even become a follower of the Vitaminpaste social media sites such as Facebook|Twitter|Instagram.
GIVEAWAY: One winner will receive 10 kids toothpastes. This giveaway is run via rafflecopter so click read more to see the actual giveaway. The only mandatory entry is to tell me why you want to win in the comment section proceeding the post. While the other entries are optional, I highly suggest filling it out to increase your chances of winning. US only. Good luck!
a Rafflecopter giveaway

*This is a partnered post with Vitaminpaste kids toothpaste. All opinions are my own and not swayed by outside sources.*