*12 STRONG is a wonderful movie from Warner Brothers Film. This giveaway is partnered with Warner Brothers. All opinions are my own and not swayed by outside sources.*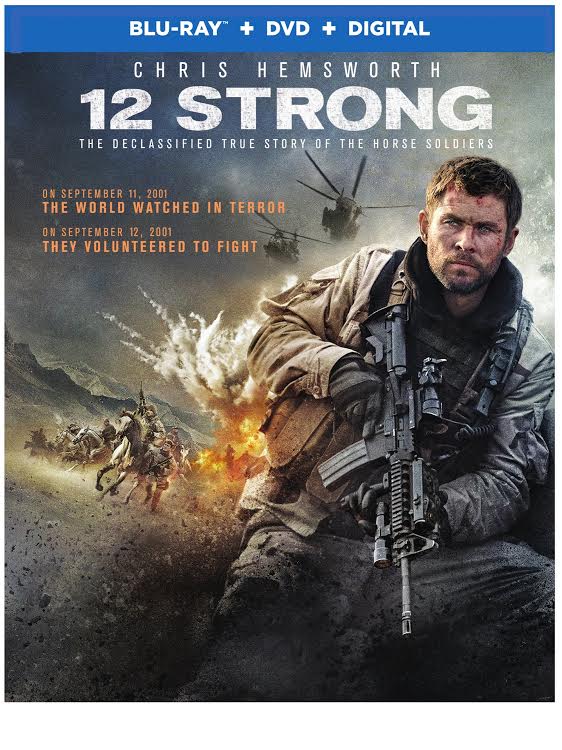 12 STRONG is one movie that I absolutely loved watching in the theaters. Not only is it a thrilling and draw dropping movie, but is it a true story and one that must be watched by all!  12 STRONG is out on DVD now and one you should purchase if you are looking for a truly great movie.
"12 Strong" is set in the harrowing days following 9/11 when an elite U.S. Special Forces unit, led by their Captain, Mitch Nelson (Hemsworth), is chosen to be the first U.S. soldiers sent into Afghanistan for an extremely dangerous mission in response to the attacks.  Leaving their families behind, the team is dropped into the remote, rugged landscape of northern Afghanistan, where they must convince General Rashid Dostum (Navid Negahban) to join forces with them to fight their common adversary: the Taliban and their Al Qaeda allies.
In addition to overcoming mutual distrust and a vast cultural divide, the Americans—accustomed to state-of-the-art warfare—must adopt the rudimentary tactics of the Afghan horse soldiers.  Despite forming an uneasy bond and growing respect, the new allies face overwhelming odds: vastly outnumbered and outgunned by a ruthless enemy that does not take prisoners.
BLU-RAY AND DVD ELEMENTS
"12 Strong" Blu-ray Combo Pack contains the following special features:
12 Strong: The Making of an Impossible Mission
Monumental Effort: Building America's Response Monument
GIVEAWAY: One winner will receive 12 STRONG. This giveaway is run via rafflecopter so click read more to see the actual giveaway. The only mandatory entry is to tell me why you want to win in the comment section proceeding this post. While the other entries are optional, I highly suggest filling it out to increase your chances of winning. US only. Good luck!
a Rafflecopter giveaway