I am so excited for the Incredibles 2! Just in time for this awesome movie, be sure to make these Incredibles 2 Donuts!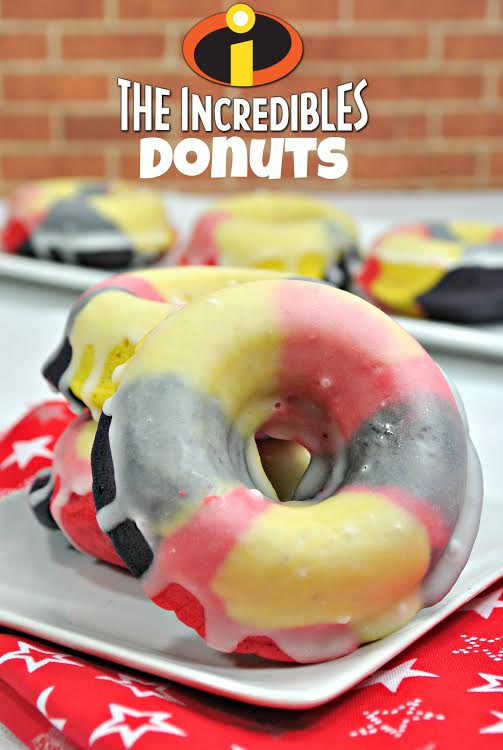 Incredibles 2 Donuts Ingredients:
2 2/3 Cup All-purpose flour
1 1/2 tsp baking powder
1/4 tsp baking soda
1 tsp cinnamon
3/4 tsp salt
3/4 Cup sugar
1/2 Cup whole milk
1/4 Cup melted un salted sweet cream butter
1/2 Cup sour cream
2 large egg (room temp)
1/4 Cup vegetable oil
Yellow, red, and black gel food coloring
Vanilla Glaze ingredients:
1/2 Cup milk
2 Cup powder sugar
2 tsp vanilla extract
Incredibles 2 Donut Directions:
Preheat oven to 400 degrees.
Use a baking spray to prep your doughnut pan.
Set the pan to the side.
Whisk together the flour, baking powder, baking soda, cinnamon, salt and sugar in a large bowl.
Whisk together the whole milk, sour cream , and eggs into a separate bowl.
Whisk in the melted butter, vegetable oil, and vanilla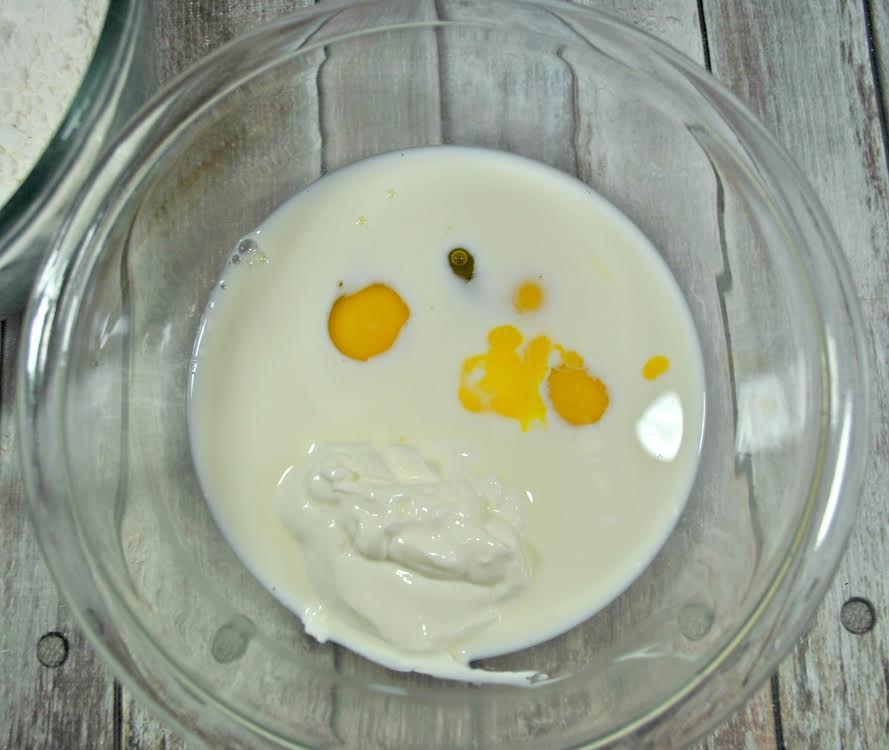 Gradually whisk in the wet ingredients into the dry ingredients and stir just until combined
Divide the batter into three bowls.
Add several drops of Yellow food coloring in the first bowl.
Add several drops of Red food coloring in the first bowl.
Add several drops of Black food coloring in the first bowl.
Spoon equal amounts of the 3 batters into the doughnut pan.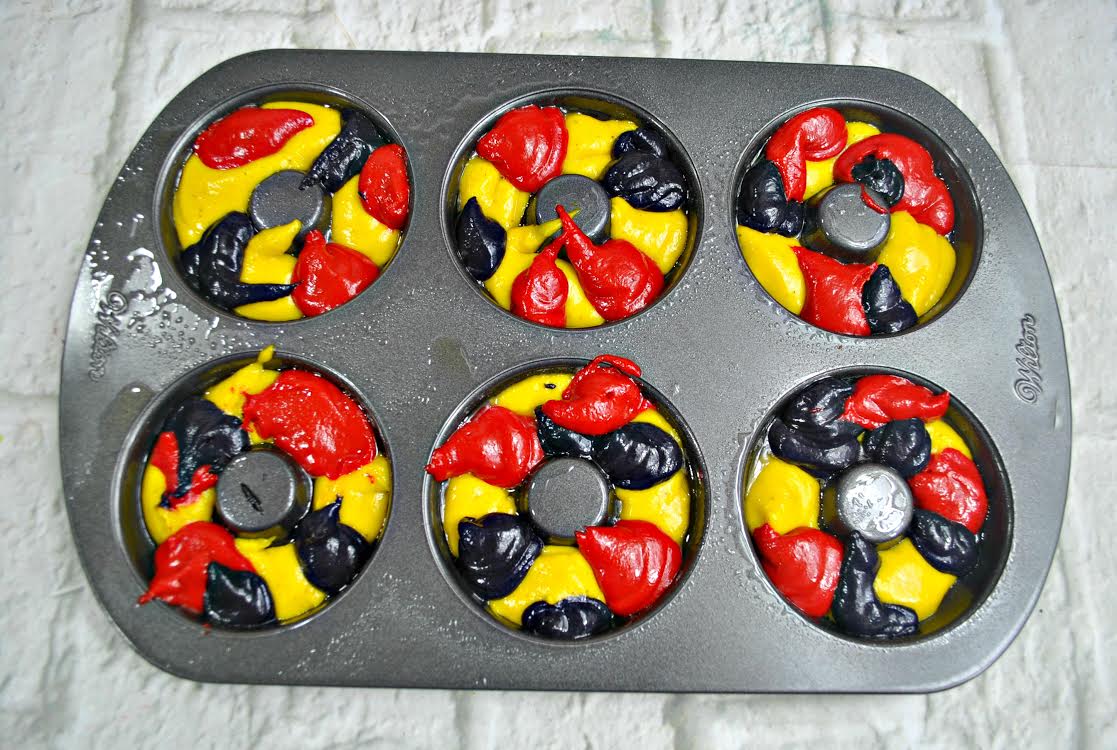 Bake at 400 degrees for 9 minutes.
Allow doughnuts to cool a few minutes in the pan.
Transfer the donuts to a wire rack to completely cool.
Glaze Directions:
Whisk together the milk, powder sugar and vanilla extract until smooth.
Split the icing into 2 bowls.
Gradually pour the yellow icing into the white icing.
DO NOT STIR!!
Dip the doughnuts into the icing and turn the doughnut 90 degrees
Place the doughnut back onto the wire rack and repeat the previous steps for remaining doughnuts
Let dry for an hour before enjoying!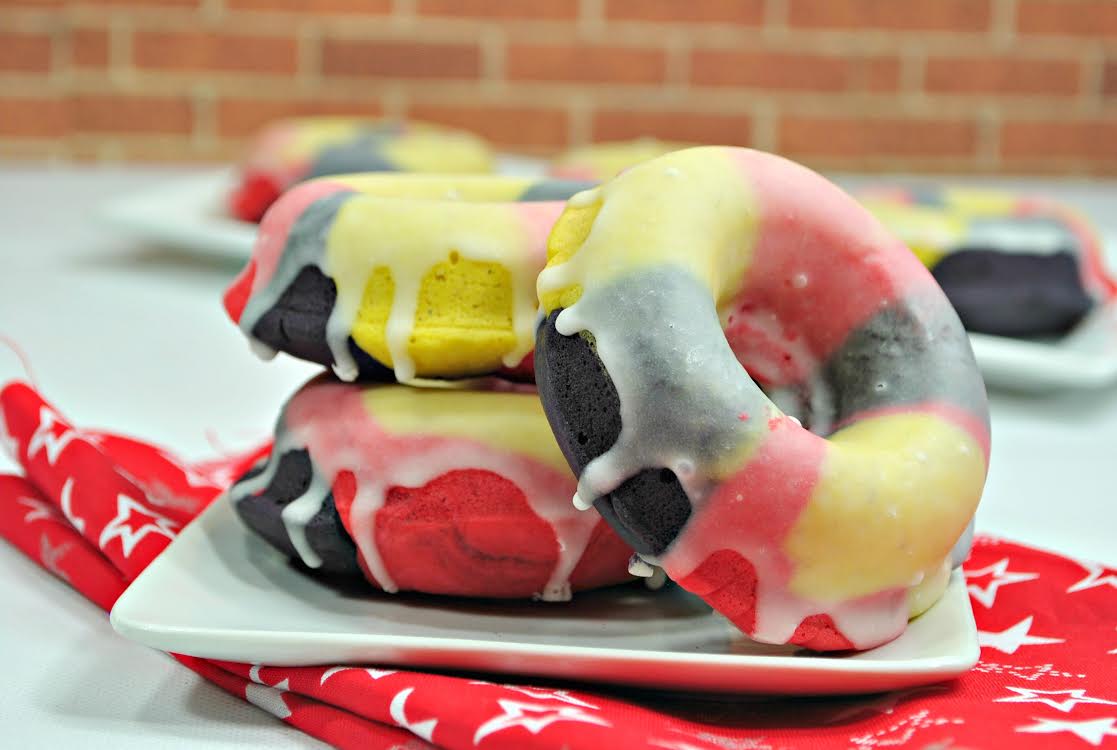 I hope you love these Incredibles 2 Donuts! These are perfect for the upcoming movie!