*The Evangeline Lilly interview (Hope van Dyne) was part of the Ant-Man and the Wasp set visit in Atlanta. All opinions are my own and not swayed by outside sources.*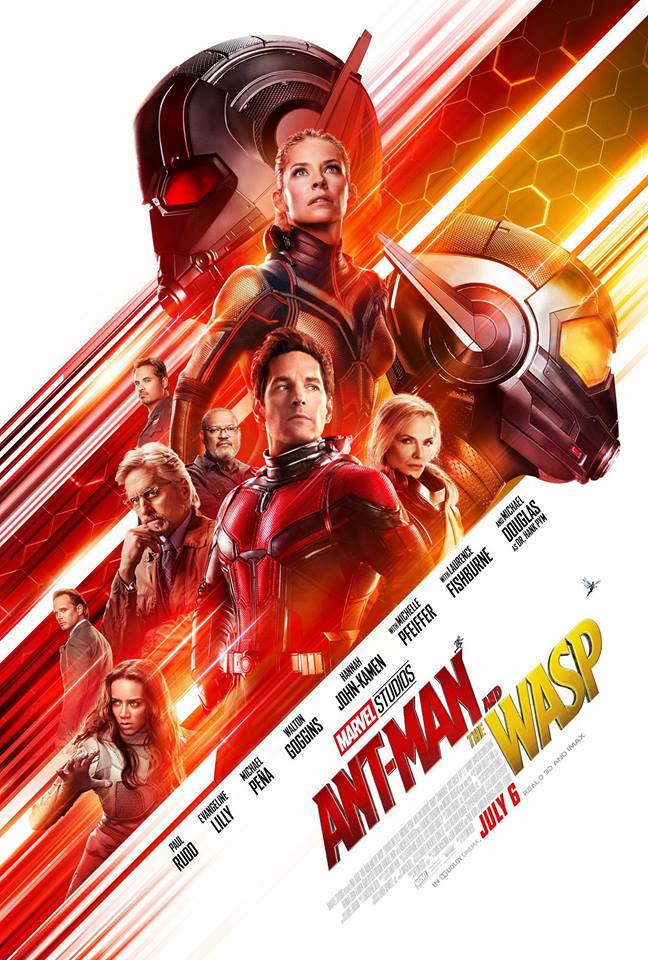 Evangeline Lilly is back in Ant-Man and The Wasp playing the role of Hope van Dyne/The Wasp. She is reprising her role from the first Ant-Man and it was a pleasure to interview her again for this role. I had the chance to interview her a few years back for the first Ant-Man and to be on set for the sequel was so exciting. I hope you enjoy the interview as much as I did that day on set!
My Interview EVANGELINE LILLY-Hope van Dyne
Question 1:    How excited were you when you saw the title, Ant Man and the Wasp?     
"I think that was the first time it really sunk because I know people were telling me even after the first time I was doing press and they were saying how exciting, you're gonna be the first,titled female character in a Marvel film and I don't think it sunk in. I was like but there's Black Widow and there's Scarlet Witch, there's other women and they're doing amazing things and they're in The Avengers and why is this so special?
And then I saw the title. This is kind of special and I think for the first time it sort of hit me what it meant for just the female population period, to see a woman's name in a title in Hollywood is a very unique experience and I think it's happening more and more but it's still a far cry from where it should. I got to tell you I don't know if you guys have been hearing all the news about Harvey Weinstein and that kind of thing.
It's timely for me because I'm here shooting this film and essentially I think at the bottom line this film is about female empowerment and a woman being powerful and it made me feel very weak and very vulnerable and very emotional and it was a really hard thing because I think we've all experienced some level of sexual, whether it's harassment or discrimination or abuse like all the time. We always deal with it and all those little things for me just came tumbling all together and hit me all at once and I think it was because every day it is seen.
It starts to kind of get chipped away and you start to feel the hurts and the wounds of the things you really go through all the time that you essentially brush under the carpet because you have to or because I feel I need to, to carry on with my work, to carry on being a mother, to carry on, building a career and a life and so it's been such an interesting thing to be the Wasp at a time when I've been feeling extremely vulnerable and emotional but I just hope in some way that really brings ultimately what is the most powerful about women to the floor in this film which is hope. Hope is the heart of the film.
I hope that she really drives the narrative of the people you care about and why you care and because ultimately you can have the greatest fights in the world but without caring about the people who are fighting the movie's, just gonna fight flat. And so I've been reminding myself that even though I feel loss hopefully that's going to actually be a powerful thing for the film."
Question 2:    When you got off the first roll did you know that eventually you would become the Wasp?
She said that she knew if the first film was successful there would probably become the Wasp but there was no guarantee. She said it was like going to Vegas and seeing the odds. She really wanted to succeed with her being the first female superhero and really being awesome!
"A movie where although we kind of already saw the original in the first Ant Man, where it's really kind of about seeing her take on the mantle of the Wasp and not just because she happens to be fighting with Captain America which would have been for me a real letdown, just essentially being an accessory to a male superhero and Ant Man and the Wasp, thankfully they have definitely not done that. I mean if anything they've made amazing sweet poor Paul Rudd an accessory to the Wasp and he plays the role so beautifully because he's got such an incredibly humble spirit and he's got that every man thing that makes you just adore him especially when he screws up."
Question 3: What other kind of traits and personalities does she develop through this?
" Well what's really been a super challenge for me is that what I'm doing today I haven't done this since we started filming because she looks really, really different in this film and she behaves quite differently because the emotional arc we saw her go through in the first film she resolved some very, very big baggage she'd been carrying for 30 years and this new relationship she has with her had where she spend the last two years working on this singular mission to rescue Janet, her mother, together has, has built such a tight and beautiful bond between them that, that whole kind of hard, cold exterior that you saw in the first film is just gone and she's a totally new woman.
She's very open and vulnerable and light and we really wanted to show that physically but g-d there are moments where I just feel someone is going to recognize Hope van Dyne. I don't even recognize that it's Hope van Dyne and just finding my way in that has been really a challenge because she is quite warm and she's softer and they're all characters and I think it's such a beautiful sign of healing but definitely a far cry from the first Hope, from the first film."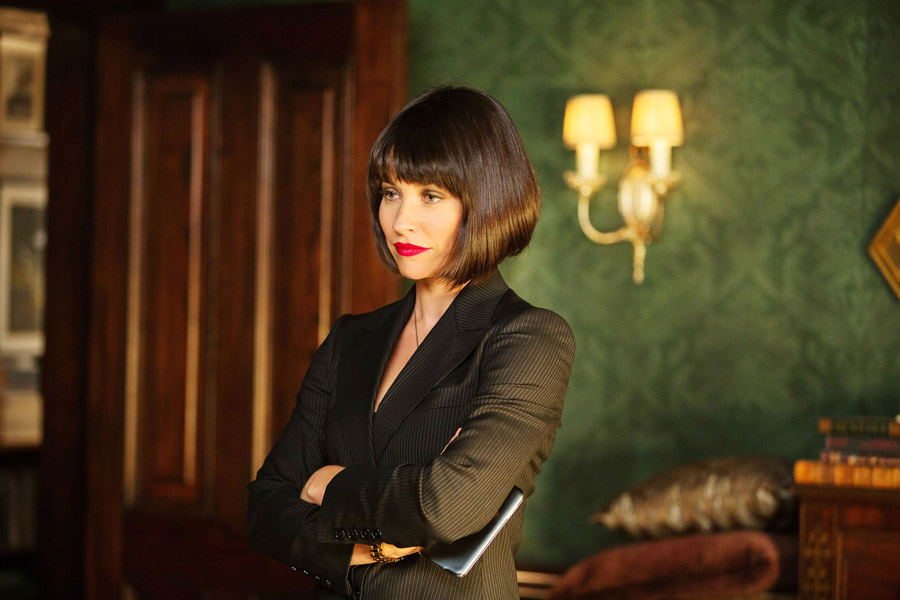 Question 4:    Talk about the relationship between Scott and Hope. According to Payton he did say that the beginning of the film yeah, it's two years later and they're kind of on the odds.
"Well essentially this film has to be driven by a character arc and the character has to grow and change in some way and my character in the first film had a very clear arc and the arc in this film was a little bit tricky to kind of weave out of the story because there is a very elaborate, complicated storyline going on but as they kept rewriting and rewriting and we kept shooting suddenly the penny started to drop and I realized Hope's arc is essentially about needing to realize she can't do everything on her own and that she's better with a partner and that she's better when that partner is Scott and that they really need each other.
And so it's a really beautiful combination of this kind of superhero story where without him she'll probably fail against her, against her villain, against her foe but then also the kind of human storyline of her father has ruined so many relationships in her life and she is so close to him now that she hasn't quite realized how much like him she is and how stubborn and rash she can be with Scott and how she can kind of hold him to a standard that is maybe a bit unrealistic or too much. That to have grace with him would go a long way and what's really beautiful is the person who really drives home that message in the film in the end is Janet.
It's my mom. And it is this super emotional thing to realize that like every girl needs a mom to teach them grace, to teach them compassion, to teach them the things that maybe their daddy might not have taught them and not every daddy is Hank Pym and every mommy is Janet Van Dyne but I think that there is just a beautiful message for women in this film about essentially what are most powerful assets are and I think that is our heart and our compassion."
Question 5:    So you were talking about Hope, women have heart and the film is about family but the Wasp is doing so much. What do you think or hope that girls watching the movie will take away from watching the Wasp?    
"I haven't thought about that specifically yet but as you framed that question so beautifully and very specifically I think I realize that what I hope for girls and women to take away from the film is a lesson that I have been trying to learn for the last I don't know 20 years which is that we can't do it all and everyone tells us we can and it's a very unfair expectation to put on us and I think we all feel like we're failing at everything because we're trying to do it all.
I mean I got two kids at home. I run an NGO. I am a writer. I'm an actor. I'm trying to produce. Like all these things and I think g-d, it just doesn't feel right. It doesn't feel balanced. Why am I not spending more time with my kids? Why don't I have time to do this? Why did my kid miss homework three nights this week? Like what's going on? You start questioning and if you sit back and really think about it it's because it's ridiculous what we're trying to do. I clean my house. You know, I cook. I do all the things and it's like somewhere something's gotta give and really that's the journey that Hope goes in is she finally realizes she's met a foe that is bigger than her and stronger than her and, and she will not win unless she leans on Scott and I think in this day and age men more than ever want women to lean on them because they feel like they've lost their place.
They're lost their role and I think men feel lost a lot and I think that comes down to us ignoring all the noise and the lessons we've been taught that we can do it all, we can do everything and saying I can't actually. I need help and I need a partner. I need someone even if it's not your, you know, in my case it's my spouse or my partner. But even if it's your sister or your mother or your father or a friend, you know, we reach out and we, we ask for help when we need it and that's ultimately what Hope needs to learn in this film.
Being a mom of three, I can so relate to these words. It is hard to balance all in life but her words rang so true to me that day, so for that I thank you EVANGELINE LILLY!
It was such an exciting day at the Ant-Man and The Wasp Set Visit interviewing  EVANGELINE LILLY! Be sure to get your tickets as Ant-Man and The Wasp opens on July 6th, 2018. You can buy your tickets on Fandango now.