*Disney/Marvel provided me an all expense paid trip to LA for this event. All my opinions are my own and not swayed by outside sources. Photo credit: Disney and Louise from MomStart.com.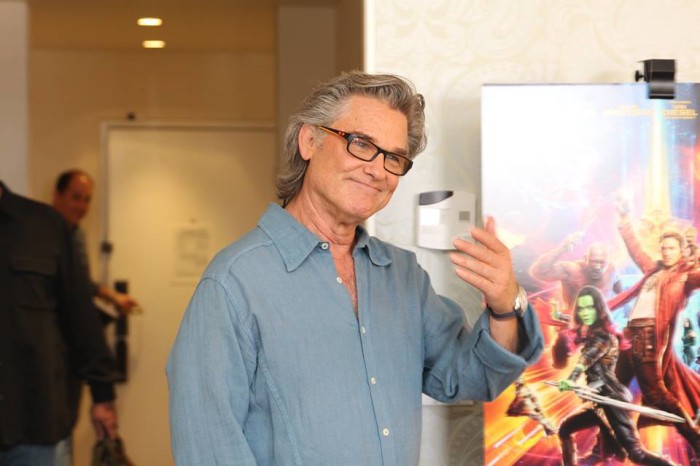 So did you all see Guardians of the Galaxy Volume 2 this weekend?! If not, you must do so because this is truly one of the best of Marvel's films! I saw it on Friday again and loved every second of it. I can't stop jamming to the music!
If you saw it, you know that Kurt Russell is a HUGE part of this sequel. He plays the role of Ego, Peter Quill's father in this movie. He is pure genius in this role! While we were in LA, we had the opportunity to talk about this new role in the Marvel Universe. It was just lovely to talk to Kurt Russell that day! Also if you are wondering, yes I saw both him and Goldie Hawn on the red carpet and they are seriously the cutest couple ever!
MY INTERVIEW WITH KURT RUSSELL:
Question 1:    How did you get involved?
" I was doing this publicity stunt for Tarantino's movie, The Hateful Eight, and one day all of a sudden, boom-boom-boom-boom-boom-boom-boom, my phone started to go off. Which is very rare for me. I don't have a lot of telephone action. People on the phone and in the interview started to ask me, are you going to do  this Guardians of the Galaxy? Are you gonna play Peter Quill's father?  I literally had no idea what they were talking about because I hadn't seen the movie. And I just said, no. And it was like, wow, whatever this is they're excited about it.  And the next day I got the official word and I said well guys, I need to read it and I need to see the movie. And when I saw the movie right away I fell in love with it and it just got better and better. But more than anything else I was kinda watching Chris and saying, I get that energy. I  realized  from movies that I had done in the past, I would bring the right baggage here. And as I read the screenplay  it was even more so."
He then told us after reading the script and feeling very comfortable with James Gunn, he knew the role was for him.
Question 2:   Do you think it turned out the way you wanted it to?
He said yes he loved how it turned out. He said he would have loved to see more of them playing ball but realized that you can't go too far with one aspect of their relationship.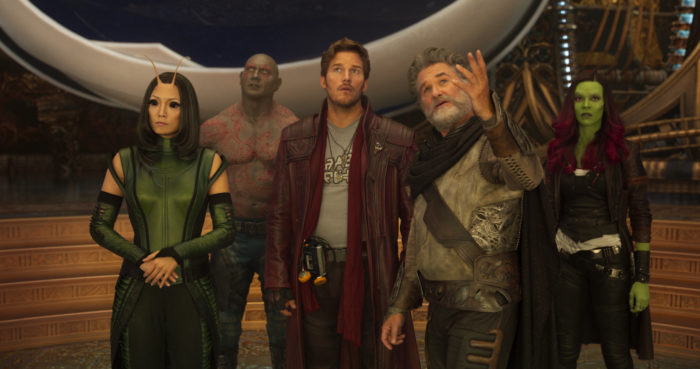 Question 3: Have you found that  the Marvel fan base is different than other types of fans that you've encountered doing different types of films?
He told us he never did a Marvel fan, just a lot of Disney films. He also told us that he loves playing a diversity of characters and hopes to do that for the rest of his career.
"The fact that they came together,  I think kind of says they understand each other and they've obviously been doing this. I don't know what the reaction will be.  So, you just do what you're going to do. I do think that Disney, having done them, there's a different energy to these movies."
" I try to challenge myself with giving the director as many options as possible, with takes so that he could, or she could, put the movie together and have a lot of options to choose from. When you do that you kind of take that and you're putting a lot of trust in the director. The other way of doing it is you sort of give him one thing, which is not to say you don't do that. Miracle was a movie where I had to get in character and then you stay there. And I think there's room for both, and I've done that. You know, I'm just skipped around genres. And I really enjoy that. That's what keeps me going."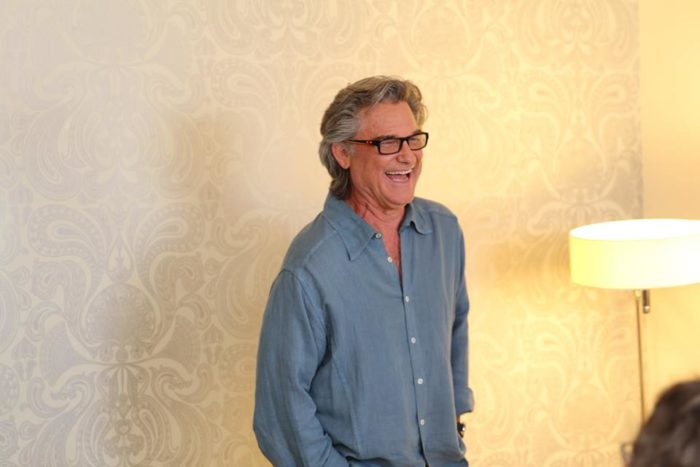 Question 4:   You've done so many different characters, is there like a character that you kinda wish I had something like that that I can dive myself into?
He said not really. He waits for the phone to ring and relaxes in between movies.
Question 5:  How much did you put of yourself in Ego? In your character?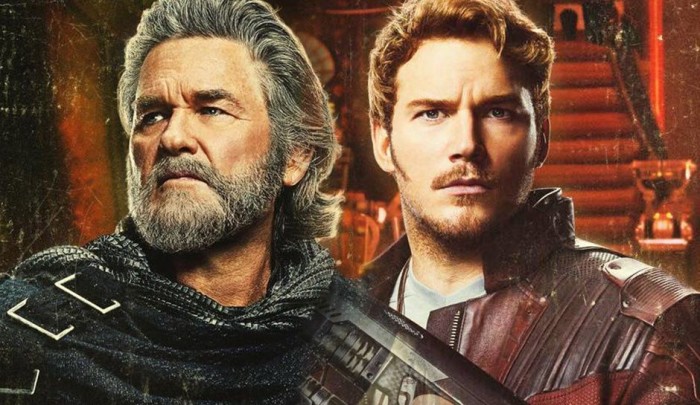 "I got a healthy ego.  I think that's important in our industry and our business and as a human being to have control of your ego. But I think you should have a healthy one. If you don't have a healthy one you're gonna have other problems. Ego is…I love names and characters. You can go back through my litany of characters and you're gonna find at least twelve great names. I think that's important. And if they don't have a great name, I give 'em a great name.  I was very disappointed when I read  the character's name was J'son. Jay-son. And I said, yeah, well fifteen Marvel people will know who this is. That's a weak-ass name. And then later on to find out that well actually his name is Ego the Living Planet. And I went that's more like it.  So how much of myself is there? I don't know. Listen, if you're gonna play G-d let's go big. "
"I mean it's such an obvious thing when you first meet him and the first thing out of his mouth is, my name is Ego. He's very proud of that and you got to understand that he's made everything in his life. And so he's chosen to be that. He chose to come to earth and look like Kurt Russell.  That's a choice.  If he doesn't know who his father is he's gonna create this guy who's like, hey, David Hasselhoff.  And it has to have that right note of comedy and yet correctness to it. And I thought that was a great. I love all the layers. And I don't like to shy away from what's fun about the joke. All levels of the joke. And when you consider all levels of the joke, you're going be in there somewhere. And that's one of my things that I'll pat myself on the back for that more than a lot of other actors."
Question 6:    When we interviewed you on set you had said that a lot of the spontaneity is lost on green screen or blue screen. Is there anything after seeing the movie that you wish you could have seen in it?
He said not really.
"Those are big spaces. What wasn't there was like a room like this with twelve glasses in it. And gee, I wish I'd known those were gonna be there, I woulda knocked those outta the way when we went over there fighting. It would be great to go through those. Or I cut myself. A million things you can come up with. With this movie, mostly it's backdrop. We had enough there to kind of, give us what was going on. So it was nice to see the movie because you can see the pictures when you're working. But it's nice to see the finished project when I saw that.
Question 7:    In the opening scene where you were younger, what was the process like?
He then introduced us to his makeup artist, Dennis Liddiard, who has been his makeup artist for 28 years. He put all the credit on him. While CGI was a part of this, his makeup artist did most of it with his hair and looks.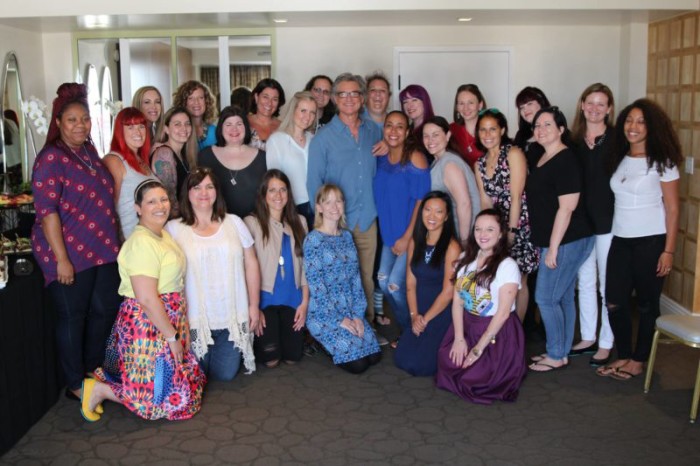 Be sure to see Kurt Russell as Ego in #GOTGVOL2 now playing!
ALSO CHECK OUT MY INTERVIEW WITH KAREN GILLAN ("NEBULA"), POM KLEMENTIEFF ("MANTIS") & ELIZABETH DEBICKI ("AYESHA"), DAVE BAUTISTA,  ZOE SALDANA, and CHRIS PRATT.