*Disney/Marvel provided me an all expense paid trip to LA for this event. All my opinions are my own and not swayed by outside sources. Photo Credit: Louise from MomStart.com.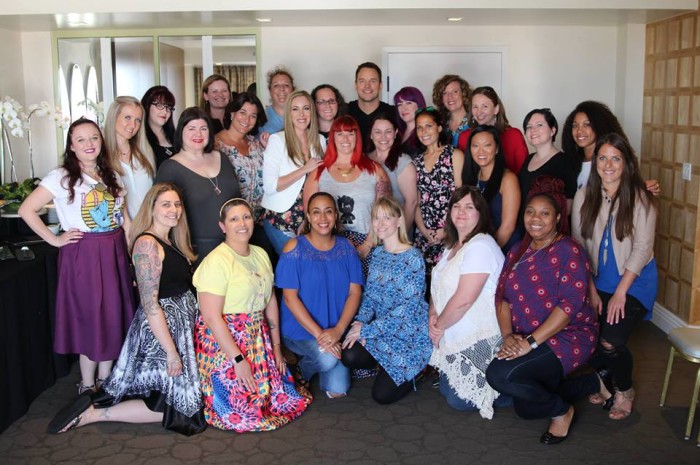 Peter Quill (Star -Lord)  is BACK! That is right! Chris Pratt will be reprising his role in the second installment of Marvel's Guardians of the Galaxy Vol 2.  Last week, I had the chance to sit down with Chris Pratt the day after the red carpet event at the Dolby Theater. At the red carpet movie screening, I literally sat right next to the announcer introducing the stars of the movie to the stage. Chris Pratt was the very first one to come down the alley to the stage and I was just waving and waving. I was so excited!
Chris Pratt is a theatrical genius in every role he plays and his reprise in Guardians of the Galaxy Volume 2 is perfect. Just as in the first one, Peter Quill is funny, sincere, and a very loving character. In the sequel, you find out more more about him and his family relations.  I included the interview we had with him that day. I hope you enjoy reading it as much as I enjoyed interviewing him!
INTERVIEW WITH CHRIS PRATT:
He began by telling us he saw the movie twice, once being the night of the red carpet, and once two weeks prior. He was very relieved with how it came out. He loved the script so much and the movie is exactly like the script was. He told us there is a lot of time between reading the script and watching the completion of the movie. He loved the movie so much!
Question 1: When you read the script and you found out that you were going to  have this not so good relationship with your father in the end, how did you feel about that?
"That idea, that concept was mind blowing. It was next level to me. And understanding the nuances I was going to be allowed to play as this character, was way different from the first movie. There were certain emotional tones in the first movie with Peter Quill with his mother, with hat side of his origin. But this new story, feeling the reality of his biological father, and this guy that he's built up in his mind."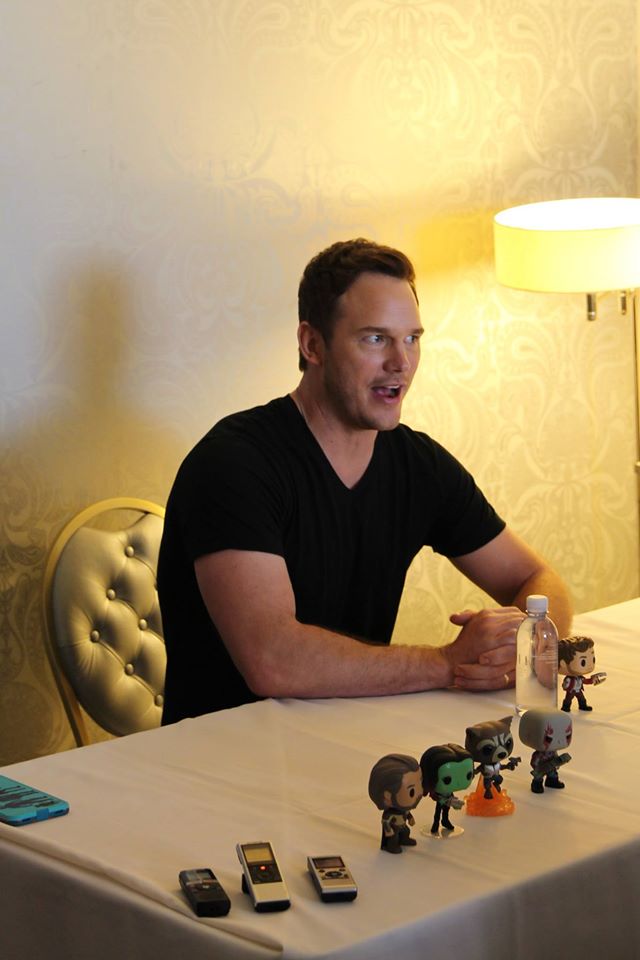 "It's a very contemporary story, and there's a lot of kids that are going to relate to that, whose dads weren't around. And who have another man in their life who's been responsible for raising them, and possibly how we can take relationships for granted that aren't those relationships we have built up in our mind! It was great when James  just told me the whole script when we sat down a couple years ago."
Chris Pratt told us James Gunn invited him to his house only about a month after the first movie came out. He was the first person to hear about the second installment.  He was obviously so ecstatic to sign onto this second movie.
Question 2: Did you use any kind of real life personal experiences to channel that energy and emotion of this character?
In real life he says one of the hardest things for him to do is channel anger because he rarely does that in real life.  Although that might not be the healthiest (he says) that is what he does.
"But for me to like look someone in the eye and yell at 'em, and tell them what they did to me, that they wronged me, that I'm pissed off, that type of thing is not something I do that often. So, it's hard for me to, it was hard for me to get there. You have to rely on some sort of tricks to work rather from the inside out, but from the outside in."
"And I think that's what I had to do in that scene. So, it was actually not as emotional for me as it was kind of practical. Like creating a center, creating a loud voice. James really helps me with that stuff,  it's just a lot about energy,  heightening your energy, and grounding it, and being direct. That's something that doesn't come that natural to me. So, I'm glad that if you think it worked, that's good. That makes me feel happy."
Question 3: Can you talk about working with Kurt Russell, and on and off screen, how did that come out?
He talked so highly about him. He loved working with him.
 "You know, I've heard a few people say like, "It really feels like you guys could be father and son." And  we share a lot of the same passions. He's a really cool guy. He's a really open book. Definitely know where you stand with him. He tells you like it is. And, I really like that."
 "And, obviously he's like this iconic dude, who I've known about him for decades before he ever knew I existed. And so, there's always that strange moment when you meet someone and you're a big fan,  you feel like you have to tell him, because otherwise  you try to build a friendship and it's a little inauthentic.  You just say, "Listen, I have to get this part out of the way, but I love you so much. Oh, you're the best. You're the best. You've always been the best." And he goes, "Yeah, I know." HAHA!
Question 4:  Is there any scenes that make it into the movie, or things that you do that like you're like, I have to say this, and they just roll with it?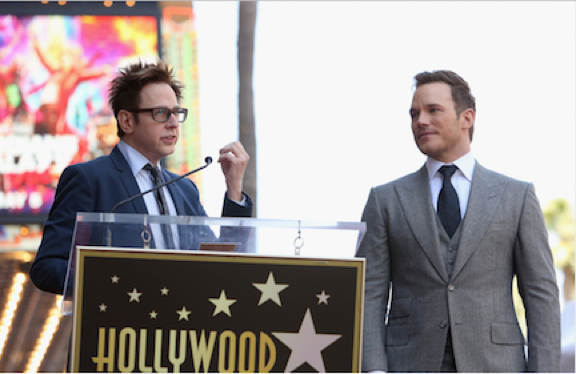 He said definitely. James knows his voice and there are some times when he rolls with it, especially in the second movie.
Question 5: Speaking about weight and fitness, you obviously got a killer body for the first movie, and then you've kept that off and kept your physique up. And lots of people have trouble with that. So, what have you done that kind of slipped the switch and made you keep the weight off?
I loved his answer for this! He says he is very careful about revealing himself to the public when his weight goes slightly up. He makes us think he is thin all the time but that is not the way it always is. He loves to live life and then when he has a movie, he gets very serious and starts his intense fitness plan.
" So, when I do a shirtless scene, or I do a magazine cover, or I do a photoshoot that I know is gonna get a lot of press, I then dial it in so that I can take a good picture.  Don't be hard on yourself if you lose weight and you can't keep it off. That's just really natural. And I think, the best way to think about it is not to have a goal of like a weight goal, do you know what I mean? It's not to say like my goal is 225 pounds. That's not my goal. My goal is six months. It's like six months of consistency. Go to the gym, or do something every day for six months. See if I can do that. Make the goal, a consistency. Build up a bunch of consistency and make it more of a lifestyle."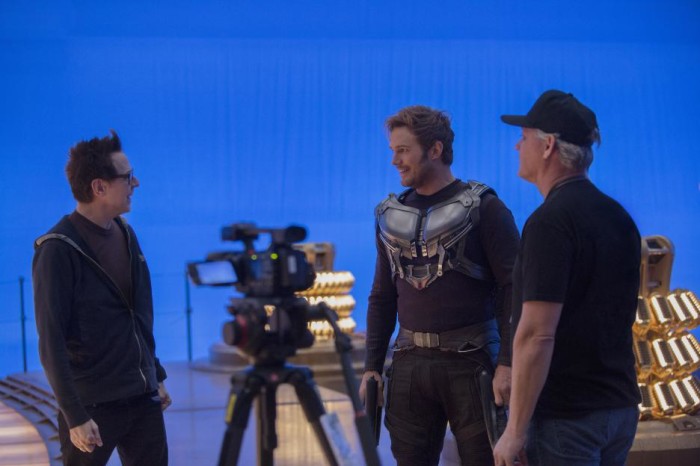 We the talked about his philanthropic ways and he credits Russell Wilson on this.  He thought if he can give back so much, so can I, is what he told us.
Question 6: Chris, you're a family man, and you talk a lot in interviews about the importance of your marriage and being a dad. But you have to balance as well. I mean, you're still a great husband, and great father, and you show that socially. But, how do you balance it all?
He first thanked us for asking that question. He said his wife Anna gets asked that all the time so he loves that he is being asked that. He says it is a lot of communication and planning. Everything needs to be planned out and you manage the schedule. He has help in organizing all the schedules as well. He likes to spend each day with the technology available like FaceTime to talk to his kids and wife when he is on set. He makes sure to check in everyday because family is the most important. 
BE SURE TO SEE CHRIS PRATT IN THE ROLE OF PETER QUILL WHEN GUARDIANS OF THE GALAXY VOL 2 OPENS MAY 5th!