*Disney/Marvel provided me an all expense paid trip to LA for this event. All my opinions are my own and not swayed by outside sources. Photo credit: Louise from MomStart.com.
TWO more days and Guardians of the Galaxy Volume 2 comes out! I can hardly wait!! I have my tickets in hand already and hope you do too! In preparation for the release of #GotGVol2, we had the chance to talk to the amazing cast from the movie and some of my latest interviews included Chris Pratt and Zoe Saldana.  In these set of interviews we also interviewed Dave Bautista who plays Drax in both of the Guardians of the Galaxy. You all know Drax- that lovable blue guy who seems to steal every single scene he is in LOL!  He is one of my favorite characters so it was an absolute pleasure to interview him!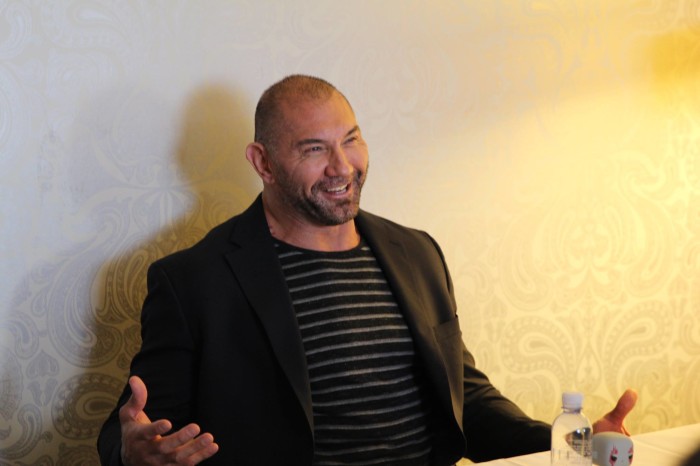 The one thing I walked away with from this interview is how humble Dave Bautista was. He is a HUGE guy so he has every reason to be a bit on the cocky side with his looks and talent, but he is the complete opposite. He is like a big teddy bear who actually does not like getting all the attention he gets from being in all his movies. He loves his family and loves also doing his job, but he prefers to stay out of the press when he is not doing promotion on his movies.
MY INTERVIEW WITH DAVE BAUTISTA: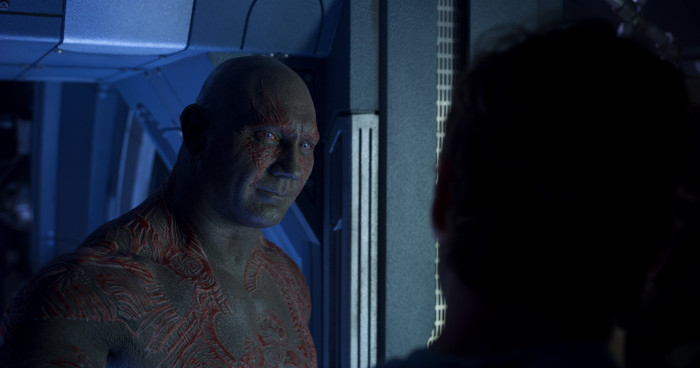 Question 1. In this movie Drax really came to the forefront in a more prominent role.  How excited were when you saw that in the script for the first as opposed to the first movie and your role in that?
He started out telling us that when he first read the script, he was not crazy about it.
"When I usually get a script I go over my dialogue first. So, I read over my dialogue and  I was expecting them to go with a different direction with Drax. I thought he was gonna be more of the destroy. I thought he was gonna be a more comic book Drax and then I realized they were digging more into the funny bits. And I don't find myself funny at all, so when I was reading these lines I was like they're not funny. And I just didn't really get them and I read the script, and I thought, wow, this is really a great script. It's deep. It's emotional, but I still was a little bit disappointed about my part. And then the first day we did our table read, I realized it was hysterical.  I just had a completely different outlook on it as a whole."
Question 2.  So now that you've seen this one like a couple of times and you see yourself and how funny and it all put together, can you talk about the experience of seeing it put together?
He told us he thinks this film is better than the first and I might need to agree with him. He told us the more he gets into the film , the more he is sucked into it.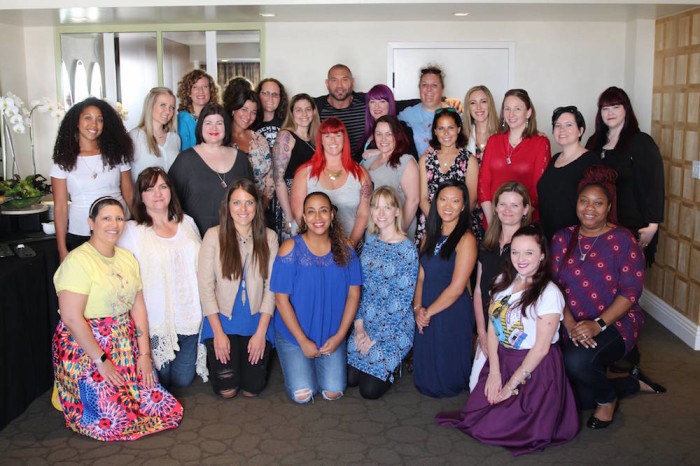 " I just get so emotionally  invested in this film.  I felt that the first one was  fun and exciting and some parts were very emotional, but not like this one. I felt like I was just totally absorbed in this film. As far as watching me on film, I just cringe. I just like don't watching myself on film.   I just don't like it. I'm just uncomfortable with it."
He told us he does not see himself in the character as he is always judging himself. It is hard for him to do it as he is uncomfortable with it.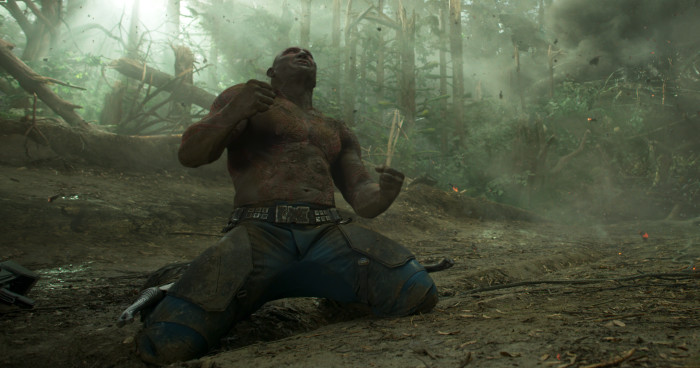 Question 3:  Did it help at all, with you being a wrestler, in acting out Drax?
"I  never really put any thought into it. His friend was making the comparison to the two, and I said there's no comparison. I said wrestling is so big and so broad and such a big, improvisational physical performance, and acting is so intimate. He goes, yeah, but Drax is so big. He's so larger than life. And I never really thought about it, but it really is. So, maybe subconsciously it does help a little bit because Drax is definitely not who I am. He's big and boisterous and a little bit egotistical and proud.  I'm not that. I'm just much more self-conscious and understated. I just never really thought much about it and I never put it in that perspective. But, yeah, maybe it does have something to do with it, especially when, Drax starts laughing. It's just so big and ridiculous."
He then went on to tell us in the next movie he would love if they show more of his family. With there being a GOTGVol3, you just never know!
Question 4:  Can you tell us a little bit about your makeup process? 
He told us it took about an hour and a half.  This was a big improvement over the four to six hours of the last movie, he told us.
"It  was just like these bit sheets of silicone, but it's like these glue transfers that they have. And it takes about an hour a half. It's really hard to get off, but otherwise it goes on really fast and I can't complain."
Question 5:  Can you talk about the chemistry on the set?
He said there was a ton of laughs on set and they are really one big, happy family.  He mentioned how they got really close on the first film and spent a ton of time together. They are like family to him and have great chemistry!
He then also mentioned that James Gunn lets them try things many different ways and is very flexible with them. He lets them be themselves.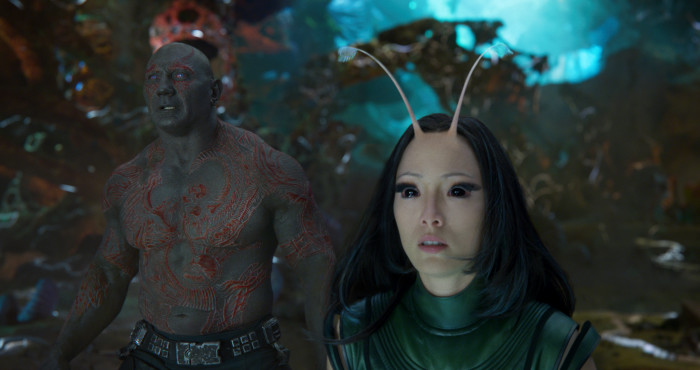 Question 6: Looking from the outside in, we can all tell this is a whirlwind. It's like a tornado going on. How do you, on your downtime, get centered again?
"I go home to Tampa and I hide. I live  in a regular neighborhood. Like where I'm at is very close to MacDill Air Force Base, and I'm surrounded by all military families. It's just kind of a normal neighborhood. And my wife just really shies away from the spotlight. She doesn't like it. So, it's just like real life and I like being there. I'm very content there because all this attention and the spotlight is very uncomfortable for me."
He told us while the red carpet is great for many, he is very uncomfortable with it.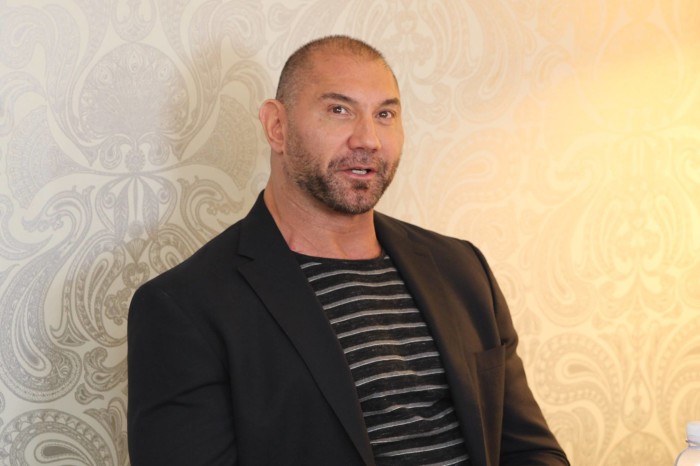 "And I think a lot of people have a hard time relating why that would be overwhelming, especially when they look at what I've done for a living,  with wrestling and everything being out there in the spotlight. I did it because I love it. I was passionate about it. That doesn't mean I was always like super comfortable. I did it because I wanted to step outside of my career zone and pursue my dreams, which is terrifying."
Question 7: How do you fit in working out into the schedule of shooting and what do you do to keep so fit?
He told us fitness is a lifetime thing for him and a commitment.
"I think people expect me to have a certain personality because of the way I look, and I always tell people I look the way I do because of the personality that I have. The only place I ever felt comfortable with is working out. Like I just felt like I was a fish put back in water. I felt like I could just do this on my own. It just made me feel good. It made me feel more confident, and that's why I look the way I do. It's just because all my self-consciousness on the inside, not because I had this personality where I feel like I have to be the biggest guy in the room. So, it's just something I do. It's a life commitment for me."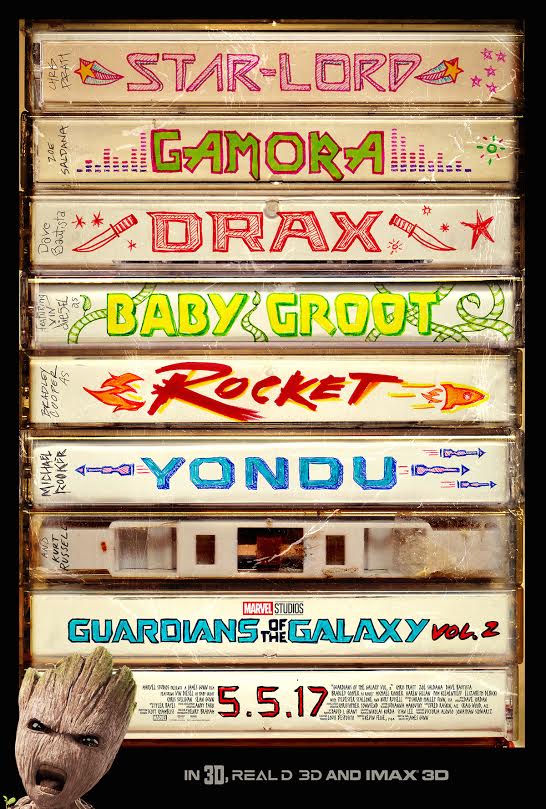 OFFICIAL TRAILER:


SEE DAVE BAUTISTA AS DRAX WHEN GUARDIANS OF THE GALAXY COMES OUT MAY 5th!