*Disney/Marvel provided me an all expense paid trip to LA for this event. All my opinions are my own and not swayed by outside sources. Photo credit: Louise from MomStart.com and Disney.*
This Friday Guardians of the Galaxy Volume 2 comes out! Are you as excited as I am? Here is your official trailer:

While we were in LA, I had the chance to interview Zoe Saldana who plays Gamora in both Guardians of the Galaxy movies. When we went on set last May, I also interviewed her and she was my spirit animal! Her zest for life and her kick butt women power attitude had me almost in tears back in May and had me in the same tears when I interviewed her this past month. No actress has left such an impression on me as Zoe Saldana had those two times. She is AMAZING, GORGEOUS, and TALENTED!!
We started out the interview all excited to interview the one and only Gamora!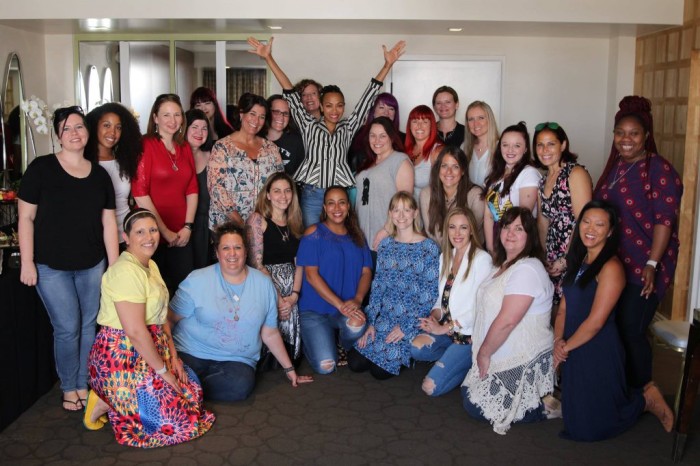 INTERVIEW WITH ZOE SALDANA: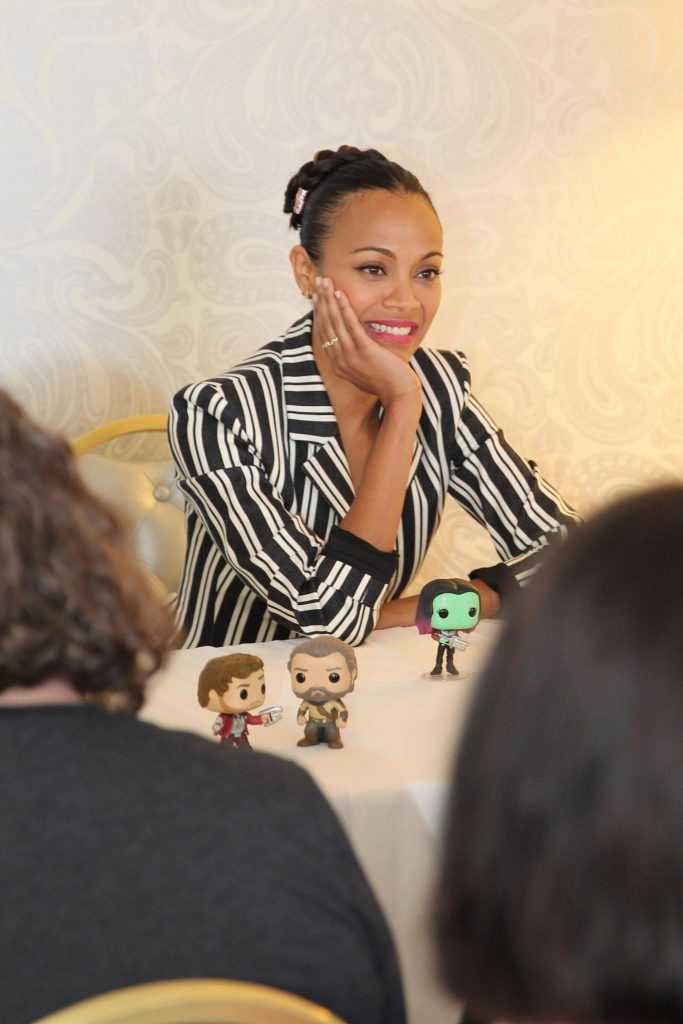 Question 1: How did you feel about your history coming out with your sister in the story?
Without giving away any spoilers, there was obvious tensions between Gamora and Nebula throughout the first movie. We will continue to see a lot of similar themes in the second but family takes even more precedence in this movie.
Question 2: Do you kind of pull from your own maternal component when acting?
"I tried  but I am  the middle child of three sisters, so I was never the Gamora.  My sister Marielle is more the Gamora.  She keeps us on track and everything.  I was always the screw up.  I was always the one, it's like, Zoe, focus, focus, I'm like, squirrel! Because middle kids are sort of given that title. You don't take any responsibility, you don't finish what you start, and you never obey your parents, you know?  So, that was me.  And, so channeling something in Gamora, I think I was just thinking about my sister."
Question 3: Can you talk about  how much you love to bring that character strength?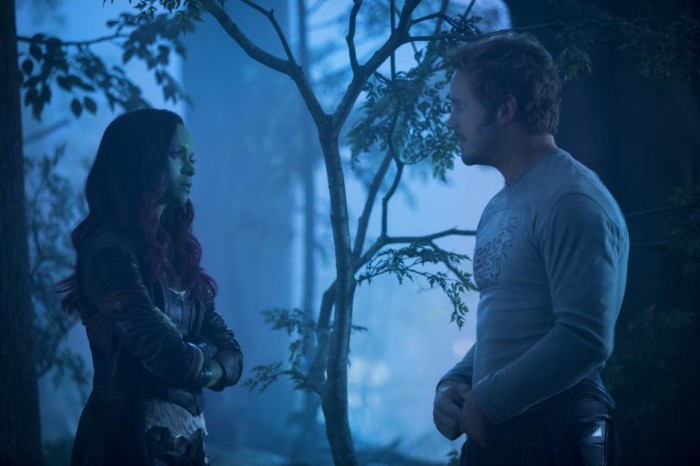 She says she loves to but she also would love to take a break from playing those amazing fiction females. She has been doing it for 10 years so she is a bit tired of it. She wants to experiment with other roles as well.
"When I was little, I only had two icons that I can reference, and I would watch those movies until my tape would break.  And it was Ellen Ripley from Aliens, and it was Sarah Connor from Terminator.  And I would watch these movies endlessly.  And then it was like, Jamie Lee Curtis, when Katherine Bigelow did that movie, Blue Steel, and James Cameron also did that movie, True Lies, l had her as a reference.  But other than that, I was always like, watching action movies told through the eyes of males and stuff, but always feeling that gap, that void, you know?"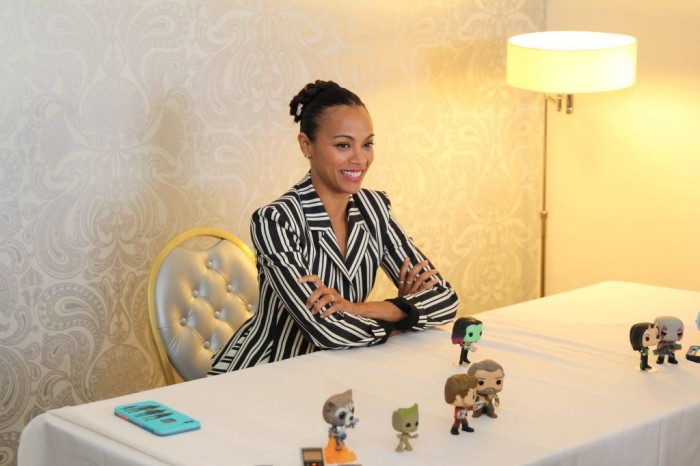 "And I feel like I did take it upon myself to just be happy with the fact that I took a gamble on these movies for a first time, they ended up being super special, and they went into sequels.  I didn't think of this, trust me.  It was not my idea.  I had my responsibility to fulfill them.  But once I was there, I didn't want to be better about it.  I wanted to acknowledge that maybe it means something.  Maybe it is important that I'm a part of those women that are filling in that gap, so that women can have more options, more references to look into. So now that you are one of those women that people are going to look over to, and thank you, as a mom, my daughter, who will accept that."
Question 4: What do you want young girls to take away from Gamora, or your character in general?
She says that it is okay to still be vulnerable and be strong at the same time. She told us she thinks vulnerability is strength and being strong means you have to be vulnerable.
Question 5: Can you talk a little bit about the stunt process, and who was your stunt woman?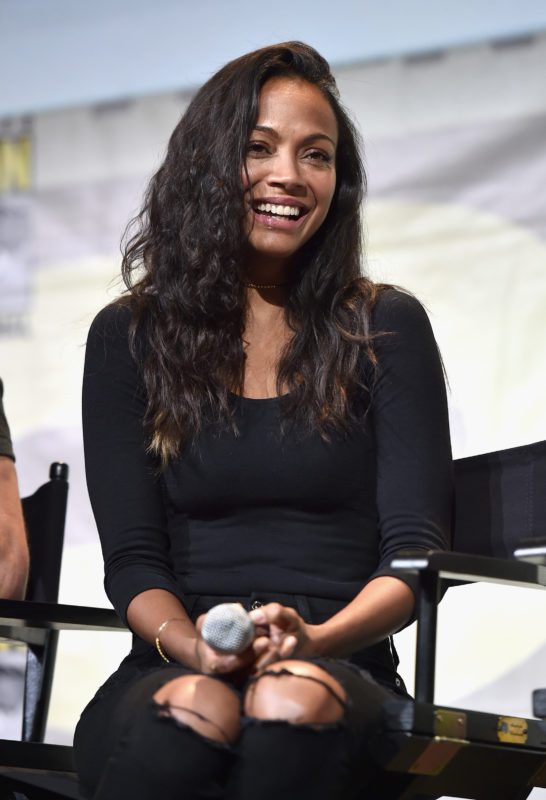 She told us her name is Leanne and she is phenomenal. She made Gamora look really unbelievably cool!
"And all the parts where I'm posing, and taking out my sword and stuff, that's me. But I did do a lot of those jumps.  And I would so a lot of the stunts that she would do, but  the PG-13 version.  Because, one, I can't do them.  And two, it's a liability to the film if I get killed or something.  But I posted something on Instagram.  There is a jump that I did.  They made me jump from like, three stories or something like that!  And I was on wires, but I don't know, I still can't remember if somebody told me, and I just brain farted, or somebody forgot to tell me that I was going to free fall.  Like I was not going to feel the tension on the wires.  So when they said action, and I jumped because obviously I don't like to take my time, because there's so many men watching you. So I jumped and thought I was dying. Forgot to speak English!  And then James Gunn was like, yeah, your face was kind of awful there. You have to do it again.  And I was just like, oh my god.  So I did it again.  It's on Instagram.  But as soon as I land, I was like, I don't want to do this again.  Like, the girly girl came out of me.  I was just like it was awful, but super fun."
Question 6: How long did it take for you to get all the green paint on and the whole entire costume each day?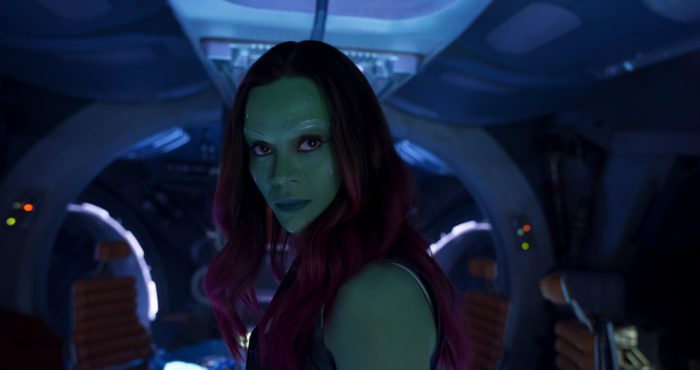 She  said it took four hours each day! To pass time, she loved to play with her phone and FaceTime anyone she could! She loved talking to people during this time.
We then talked about a few spoilers that I will omit from this interview talking about Star Lord and Gamora's relationship! You will need to see the movie on May 5th to see all the spoilers! And trust me, there is QUITE A FEW!  What a tease I am! HAHA!