When it comes to the safety of your children, you can't be too careful these days. This is especially true when it comes to baby products that are geared towards keeping your little ones safe. As parents, we spare no expense when faced with the desire to protect our babies but often times we don't get hung up on just the expense but rather the sheer number of different brands and models of baby gear that are out on the market today. As a mom who has done her fair share of purchasing products for my children, I know how hard it is to put in hours of research and comparison between the best products on the market today. It's not only frustrating but maddening as well.
Thankfully there's a company called Diono who has made it their mission to ensure the safety of our little ones. Their passion in life is to lovingly engineer ideas that are all about providing safety and smiles to their customers. Diono is a maker of baby related products like car seats, strollers, booster seats, covers and parts for some of your favorite products and accessories that go along with them.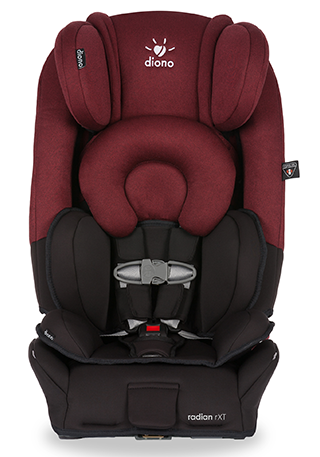 I was recently given the opportunity to partner with Diono to review one of their awesome car seats, the Radian RXT. Considered to be one of the best on the market right now, the Radian RXT is about as safe as you can get. It's also a little pricey but when you consider the safety of your little one with buying a cheaper, less sound option, I'll take the price tag any day. While it might be a little expensive up front, you'll be glad you went with the Radian RXT because it'll actually save you money in the long run!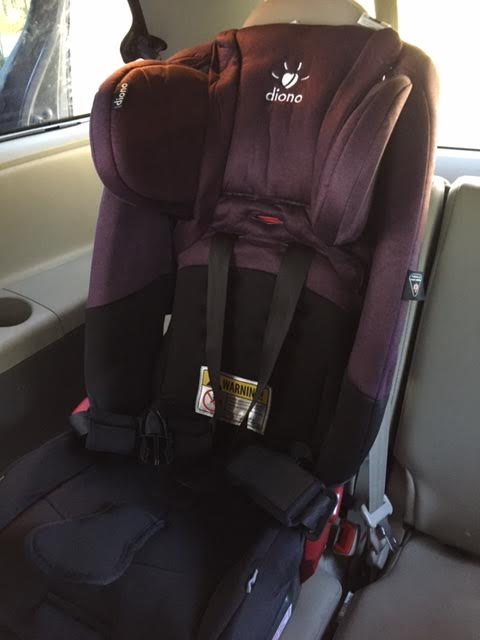 You might be wondering how it's possible to save money when the price tag is so big.. It's actually quite simple: usually with every milestone or stage your child meets, you have to buy a new car seat to fit their growth which ends up costing you more money but with the Radian RXT it's actually 3 car seats in one! An infant seat, toddler seat and booster, so, you never have to spend more money when it's time to upgrade your child to a new stage of development.

As an additional bonus, the RXT also allows you to extend rear facing which is proven to be safer for your child in the long run. You can enjoy rear racing from 5-45lbs for maximum safety and with the help of the included plush head and body support cushions, you'll never worry about your child's safety in the car again.
One of the things that make this car seat different from the rest and safer, is the fact that it's built with premium materials such as energy absorbing EPS foam, aluminum reinforced side walls and utilizes a 5-point safety harness to keep your little one secure during use. My favorite added measure of security is the steel, alloy frame that's been built into the Radian RXT for maximum safety.
If you're an avid follower of the ever changing car seat safety regulations then you know that the recommended age to keep your child in a booster seat is at least 8 years old. Some people choose to keep their kids in a booster seat until age 11. The Radian RXT allows you to keep your child in a car seat forward facing up to 80lbs with the 5-point harness but when you convert to a booster seat for your big kids, you get the opportunity to keep them in until they reach from 50-120lbs. That's awesome compared to some car seats on the market.
Other key features to note about this awesome car seat include:
Unique SuperLatch System that makes installation super easy.
Fits 3 across in most mid-sized vehicles, making having multiples a cinch.
Infant Body Support Cushions and Memory Foam support for comfort.
12-Position adjustable headrest, 5 shoulder and 3 buckle positions.
Expandable sides and long seat bottom for proper leg support.
Angled cup holder.
Machine washable cover.
10 year life so you're covered from infancy to the big kid stage.
If you're in crisis mode while trying to find the perfect car seat for your pending new arrival or know someone who is, then I can't recommend the Radian RXT enough. It's attractive, easy to install and above all it's high safety rating makes it a no-brainer as far as options go.
To find out more about Diono you can visit them online or follow them on their social media sites like Facebook|Twitter|Pinterest|Instagram|Youtube.
GIVEAWAY: One winner will receive a Diono Radian RXT car seat ( ARV: $290). This giveaway is run via rafflecopter so click read more to see the actual giveaway. The only mandatory entry is to visit Diono and tell me what your favorite feature is. While the other entries are optional, I highly suggest filling them out to increase your chances of winning. US only. Good luck!
a Rafflecopter giveaway
*Sample received. All my opinions are my own and not swayed by outside sources.*