Ever since I was a little kid I've loved bath time. Every evening after dinner my Mom would draw a warm bath for me and let me pick out a handful of my favorite toys to take in with me. I remember how much fun I'd have splashing around, pretending I was a mermaid, etc. When it came time to get out I'd always beg for just 10 more minutes, even after my skin had turned pruney and 9 times out of 10 she'd relent and give me those last few minutes to play.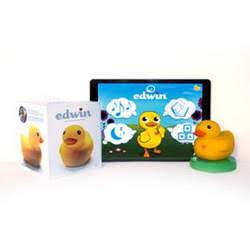 One of my favorite toys to play with during bath time was something that most kids had back then, a yellow rubber ducky. I had so much fun playing with my ducky that it was my one constant toy when my others would be in constant rotation. In fact, I loved it so much that I knew I wanted my own kids to have one when they were born. We've gone through our fair share over the years since some have gotten lost or worn out but no of them could compare to Edwin the Duck.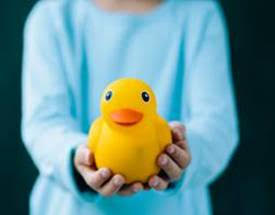 Edwin the Duck is the ideal companion for preschoolers, toddlers and even newborns. With the classic yet adorable design, Edwin is going to be your little ones new favorite toy this Christmas. Not only can you use Edwin in the bathtub for the ultimate fun bath time experience but you can also use him for other things as well such as an app controlled sound soother & nightlight for a great nights sleep for a child of any age. This little guy is also able to play original songs, tell stories and much more, making him a multi-functional toy that you'll be glad to have around for months to come!
Included features that both parents and kids alike will love, include:
Interactive Stories. Tap, tilt and toss Edwin to help him solve puzzles, sing songs, and play games thanks to the free apps found in the Play and Apple stores.
Hands On Learning Games. Play games and solve puzzles without ever touching the screen.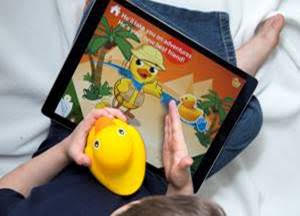 Waterproof Bluetooth Speaker. Play your little ones favorite songs from your device or utilize the included 7 bedtime sounds. You can also set timer and volume to your exact specifications.
Thermometer. You can toss Edwin in the tub and he'll tell you the exact temperature of the bath water so it's just right for your little one. You can also engage disco mode to keep your child engaged during bath time.
Up to 12 hours of batter life to ensure that you're little one is entertained all day long!
Edwin the Duck allows you to bring your favorite childhood memories home to share with your own little ones, with a few added features. You can find out more about Edwin and his capabilities by visiting his website or you can stay up to date with the latest news by becoming a follower on social media sites like Facebook|Twitter.
*Sample received. All opinions are my own and not swayed by outside sources.*