*I am receiving an all expense paid trip thanks to Disney. All my opinions are my own and not swayed by outside sources.*

In May, I had the absolute honor to take part in the #TomorrowlandEvent where I had a chance to attend the screening of the movie and meet the incredible talents of Raffey Cassidy,  George Clooney, Britt Robertson, as well as the dynamic duo, Brad Bird and Damon Lindelof. It was event I will always remember! I LOVED Tomorrowland and I was one of the first in line opening night to see it, even though I saw it a week prior. My whole family sans my two youngest saw it and it earned raving reviews from all of us. I remember tweeting about this event and seeing how many people in the twitter world were raving about this movie. I can completely understand why! We'll, in case you missed it in the theaters Tomorrowland is going to be released to Disney Home DVD on October (the 13th) and it will be your chance to own it!

Of course, this is also is why I was completely excited to receive a press event for not only the Tomorrowland DVD release but also the Aladdin DVD release! You know with Disney, they only release DVDs out of the vault every few years, so now is your chance to own Aladdin (release date is October 6th). When I got the invite, I knew I needed to attend and this coming weekend, I am off to Anaheim to experience the TOMORROWLAND, ALADDIIN & Disney Movies Anywhere Press Event!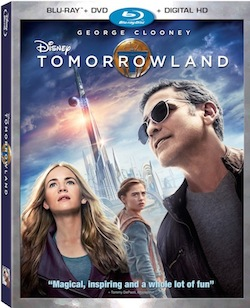 We got our final itinerary yesterday and it looks superb. While I get to experience this event first hand, I am going to be tweeting, facebooking, and instagramming this event out so you want to be sure you are following me on these social media sites. When we get there on Sunday night, we are going to have a relaxing dinner and explore the Anaheim Hilton Hotel.
Then the next day, we are up early to go to Disneyland! Eek…I visited for the first time ever on my Tomorrowland trip and it was an AMAZING experience. I can not wait to relive all those memories I made a few months back.  The first day will be all about the Tomorrowland DVD release.  For Tomorrowland they are going to be bringing together a group of inspiring 'Disney Dreamers,' from filmmakers, talent and entrepreneurs to imagineers and an award winning chef who will embody Walt Disney's legacy of creativity, optimism and innovation.
We will be given the chance to have roundtable interviews with:
Mike Goslin (VP of Production and Content at Disney Consumer Products)
Charita Carter (Producer at Disney Imagineering)
Thomas Robinson (Young Frank) & Raffey Cassidy (Athena)
Brad Bird (Director)
Then we will be attending the Disneyland60 lunch right in Disneyland. Oh.. I can only imagine how good this is going to be! After we are done, we are going to do some photo opportunities and then explore Disneyland. I can't wait to go on It's A Small World, Toy Story, Star Wars, and Space Mountain to name a very small few. We will end the day with the Disneyland 60th Anniversary Parade and Fireworks Show.
For the second day, we will be focusing on the Aladdin DVD release. I just watched the DVD last night and it brought back so many wonderful memories from my childhood. It was so great to be able to now share these memories with my own children. We will first meet the Aladdin Genie Animator, Eric Goldberg.  We will end the day with a Disney Movies Anywhere demonstration of future movies with the VP Product Developer, Eddie Drake.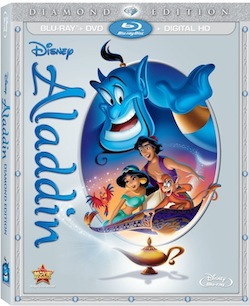 I look forward to venturing off tomorrow to the #TomorrowlandBloggers, #Disneyland60, and #AladdinBloggers trip. Please be sure to follow along and I will be back next week with some exciting posts. Stay tuned…