****I received an all expense paid trip thanks to Disney and ABC studios. All my opinions are my own and not swayed by outside sources.**
I had the privilege of interviewing the one and only George Clooney. You know that unbelievably talented actor, director, producer, writer, and activist. Also, the Academy Award, BAFTA, Screen Actors Guild Awards, and Golden Globe winner! Yes-that George Clooney! To say that the experience was surreal is quite an understatement. It was like living out a dream that I am still pinching myself over to make sure it was real!
On Friday May 8th, myself and 24 other bloggers eagerly waited for George Clooney to come into the conference room. Coming off a fresh screening of Tomorrowland and of course knowing how crazy good he was in the role, we were all so excited. A true legend was gracing us with his presence. A few minutes later, he entered the room and while we all cheered ferociously, we all were pinching ourselves with excitement.
Before I go into the interview part, I will tell you that he was one of the most gracious and funny actors I have ever met. He was witty, intelligent, and made us all feel at ease from the moment he sat down in the chair. Although he is a mega movie store, he was interested in what the "mom bloggers" were all about and eager to learn more about us. Before the interview even started, his first line was, "Alright, we have time for one more question." His humorous presence was seen over and over again in this interview.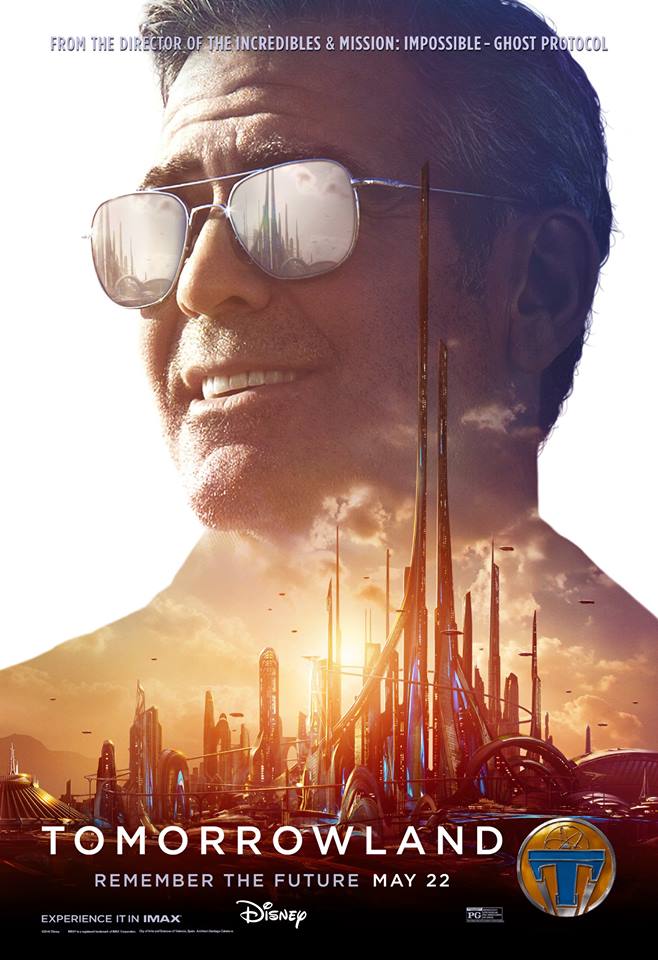 Since George Clooney is such a big name in the acting world, I thought it was only fair to split up my interview into two parts so you can really learn more about him. So I hope you enjoy learning about George Clooney as much as I did. It was truly an experience of a lifetime I will never forget!
Part 1:
We were all very interested to learn that this was not George Clooney's first Disney movie. His first movie was a Miramax film, called From Dusk Till Dawn. However, he was very eager to take on his role  in Tomorrowland because of his admiration of the producer of this film, Brad Bird.
"I wanted to work with Brad Bird. I just love the kind of films he makes. And then when I read the screenplay of Tomorrowland, I thought, what I love about it is that we are inundated in our lives with lots of bad news. You turn on the television, it hurts."-George Clooney
With this film he went on to explain that the future is what you make out of it. This resonates over and over with the themes throughout Tomorrowland. He tells that you need to participate to get what you want out of the future and you need to make changes to see how it will end.
" I was born in the early 60's, so I grew up in the era where the individual actually had effect,the civil rights movement, the Vietnam movement, the women's rights moments, and such, so I always felt like and believed that there was a version of it. I was raised that there was a version of this where you could affect the future, and you didn't have to just accept it. The Russians weren't going to necessarily just blow us all up with nuclear bombs. So I really loved the idea of hearing this again, this idea that we're not just necessarily doomed, that there's something that you can do about it if you pay attention and you work hard. And I liked it."- George Clooney
I absolutely loved the messages that he told and what we saw in Tomorrowland. In today's day, just like George Clooney mentioned to us, we are hearing bad news all the time. However, as a whole, it is important to teach not only ourselves but our children, that we can change the future with some confidence and hard work!
In Tomorrowland, the special effects are truly amazing. I was blown away by them and so our next question for George Clooney was, "Was it hard to work with various contraptions, harnesses, and other props that were used throughout the film"?
He said he was familiar with working with some of the special effects from the various movies he has worked on through the years.
"When they put you in a contraption, and say now you're gonna fly,it is like the 12 year old going, am I going to fly from here to there? Oh yeah, let's go, it's fun. I've always found that part to be magical. When I was growing up, it was the space race and it was everything you were eating, space food sticks and drinking Tang, etc. I really thought by now we'd be riding around in Jetson cars."-George Clooney
He mentioned to us that the thing with being an actor is he never needed to grow up with the various roles he was offered. He told us he is 54 and still loves playing make believe. I LOVED that!
He also told us that having a jet pack, which you will see is a main object in Tomorrowland, would be completely advantageous to have in real life. He joked with us that he could go avoid traffic and get beamed away without ever having to travel. I thought to myself how neat that would be! Maybe one day!
We then asked about the younger Frank Walker and if  he had any say who would play him as a young child. We were all amazed how much of a true resemblance there was between both of them.
You can see how funny George Clooney is just by his answer here:
"No, they just went around to find him and actually they did a little plastic surgery on him."
All kidding aside, he said it was a pleasure to work with the actor who played his younger self and loved how good of a job he did!
We were then interested in his favorite scene from this great family friendly movie! He mentioned that when he first found out about this part he was teasing with Brad Bird that he was the grump of the movie-an older and angry grump.
"But what I loved about it was that the entire film, he's just a grump. He's just a grump through the whole thing. So I loved when Britt Robertson first comes to the house. It's really fun. And so we really had fun shooting all that stuff in the farm house. That was fun cause all the robot guys were really sweet and nice. And, so I think that might have been the most fun scene to shoot, all the farm house scenes."-George Clooney
Since this is a great family film, we wanted to know in his own words what the message of this film would be.  He  told us several times in the interview that the future is ours and each one of us can decide how it is going to turn out.
"As you look at the world, and you see how sort of tragic it can feel, truth is, it always has been that way. It wasn't particularly great in 1968 either. There were assassinations and there was wars and there was civil unrest and riots, but we weren't as inundated with it, and so there was always still a hopefulness that the future was still gonna be alright. And I feel as if we have to get to that point where, we all understand that the individual is not helpless. And I think that's a really important part of this."- George Clooney
He stressed to us that we can all make a difference in our lives and help shape the future. Even if only two people are listening, that is two more than you had before you started on your mission. He also stressed to us that our voice matters and is important.
"I feel that we're losing perspective of the things that are going on in our world, and we think oh, it's just nothing but apocalyptic stuff, which I don't necessarily believe  is true. I mean, there's an awful lot of good and it's hard to report good because it doesn't sell. So I think that maybe along the way, it would be nice to remind ourselves that there's an awful lot of good that's being done too!" -George Clooney 
We ended part 1 of the interview by asking him if he took any memorabilia from the Tomorrowland set. In true George Clooney fashion, he answered with a comical, "I can't tell you what I stole" answer. He is truly so funny and witty! He had terrific one liners even in our interview.
I will be back with part 2 of this interview shortly but before I go, I want to remind all of you that George Clooney can be seen as Frank Walker in Disney's Tomorrowland movie opening May 22! Perfect for the entire family! Be sure to follow Tomorrowland on Facebook and Twitter to learn more!