*My contributor, Jen, went to the Domino's press trip for my site. Travel expenses and such were covered by Dominos. All her opinions are her own and not swayed by outside sources. *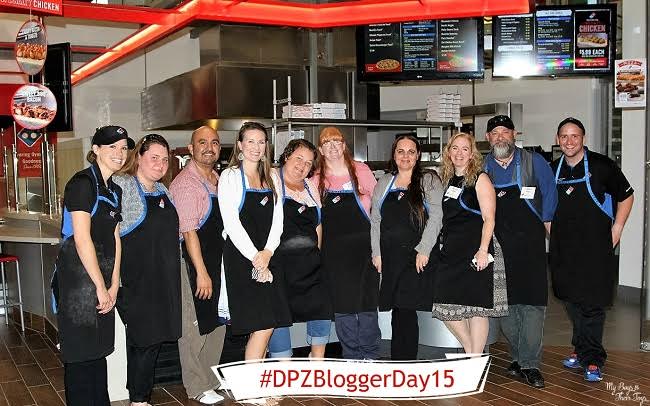 Hi there, I'm Jennifer (4th from the left) filling in for Melissa at Domino's Headquarters. You may have remembered Melissa's visit to Domino's Blogger Day last year, and this year a new group was invited to experience all things Domino's!
Our 2 days were filled with delicious pizza competitions, touring the Test Kitchen, Q&A with Domino's execs and much more. We began day 1 by eating pizza! That's a great way to get the day started right? The Test Kitchen is inside the World Resource Center in Ann Arbor, Michigan.
This was our first lesson in pizza making by the experts at Domino's. Needless to say our group of 8 bloggers had a ton of fun in the kitchen. Domino's paired our personally made pizzas with their popular side dishes. Oh and we topped off lunch with those amazing chocolate lava crunch cakes. Yum!
Next, we toured the World Resource Center visiting Customer Care, IT and the Dot Shop – where you can find all kinds of Domino's merchandise. I brought home a few goodies for the boys too.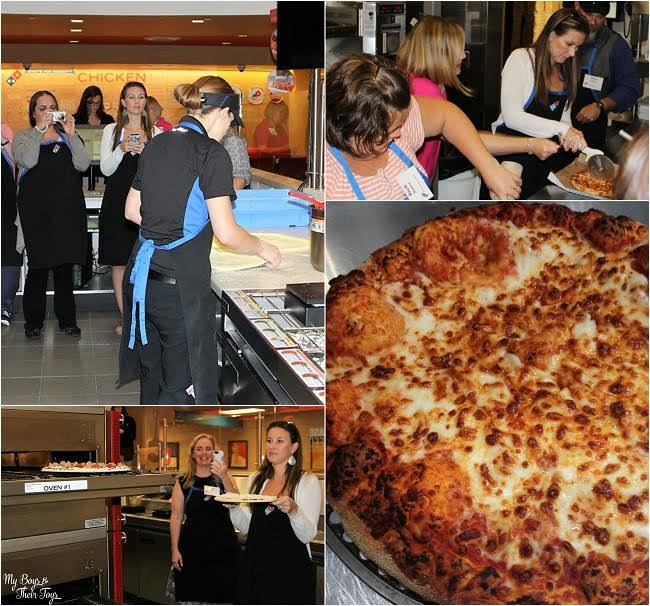 Seriously – how cool would it be to have your pizza delivered by a Stormtrooper made of Domino's boxes?! Domino's came across this cool piece of art on social media and had to purchase it from the artist. It's pretty cool in person!
On day 2 we began by visiting the Supply Chain Center nearby. This location services over 300 stores! We saw their freshly made dough – yes Domino's dough is always fresh and never frozen. That's part of the reason their pizza is so delicious!
Now that's A LOT of dough! Cartons and cartons full to be exact. We toured the rest of the facility then headed back to the World Resource Center for our pizza competition.
While my pizza did not win – that's okay it was still good to me. I prefer tons of bubbles in my crust, but Domino's says that's a no-no. LOL!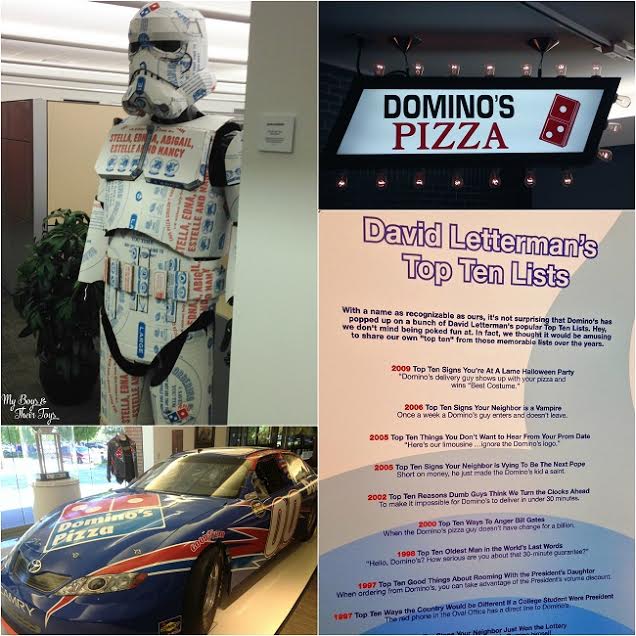 After lunch we chatted with the Product Innovation department on their newest product – the Marbled Cookie Brownie dessert. This unique dessert offers two irresistible desserts in one; milk chocolate chunk cookie and fudge brownie. We of course had the opportunity to sample a piece or two (or 3). This shareable dessert includes 9 pieces per order! Just wait until you taste it – you're going to love it!
Just before heading home we sat down with the Leadership Council including Patrick Doyle, President & CEO of Domino's, Lynn Liddle, Exec VP – Communications & Investor Relations, Kevin Vasconi, Exec VP & Chief Information Officer, and Dennis Maloney, VP – Chief Digital Officer.
I appreciate how transparent they were and how much they wanted to listen to our input as well. It was a really great conversation. During the Roundtable we discussed a few things readers wanted to know, like "will there be a comment box when checking out online"? They are listening and taking that idea to heart, hopefully we'll see that implemented soon!
The visit to Domino's headquarters was a success and a ton of fun! Domino's wants our readers to enjoy the fun too by offering a reader giveaway.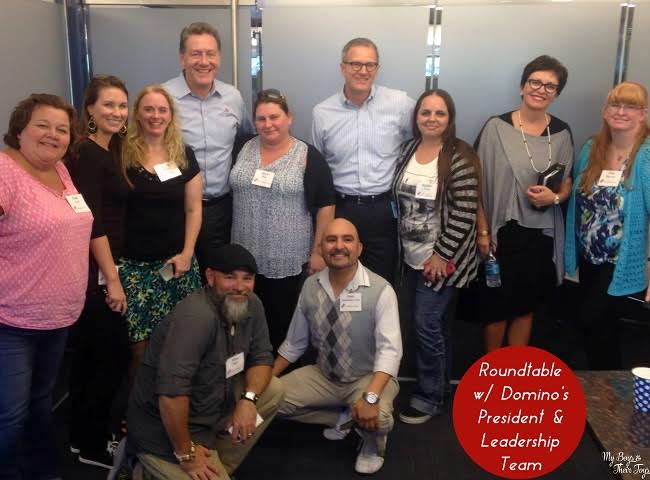 Enter for your chance to win a $20 Domino's GC using the rafflecopter below.
a Rafflecopter giveaway

Then head to My Boys & Their Toys for even more Domino's news, including Fun Facts and their all-new Piece of the Pie Rewards Program!