Happy weekend everyone! This week was a big milestone because my last born turned 1! Bittersweet but I love seeing her grow up:)
As always, come link up any cute or funny post. Definitely check out the other posts who link up as they all provide a great laugh. Feel free to take my button or share on social media, although this is not mandatory , just optional. Have a great weekend everyone!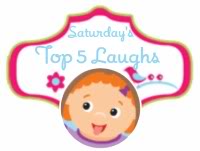 My top five laughs:
5. Taylor turned one this week and it was her first taste of cake or sweets. I gave it to her and she spit it out. Seriously…She can't be my kid!
4. Zane was so happy that it was Taylor's birthday that he made her a full on superhero card. He already knows she is going to be a superhero fan for life!
3. Hayley slept out this week at her camp. I asked her if she was afraid and she responded, "No Mom…You are crazy!" Okay, I won't ask again!
2. We received alarm clocks for  Zane and Hayley. I set it for 7:30 am so they can't get out of their room until then. Miraculously…It worked!!! Wahoo! I heard Zane talk to himself and say, "Not yet Zane..My alarm did not go off!"
1. My cutie!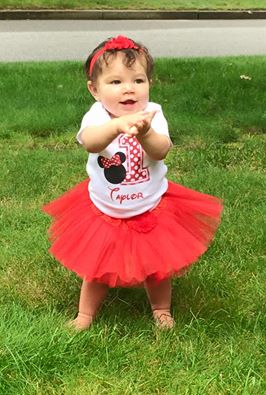 Now your laughs: