*I received the Kurio for review. All my opinions are my own and not swayed by outside sources.*
The Kurio EXTREME tablet is the perfect starter tablet for kids. This tablet is both rugged and powerful, making it the perfect choice to introduce children to tablets and how they work. Although the Kurio XTREME is designed with kids in mind, it's by no means a whimpy device. It' actually quite a powerhouse.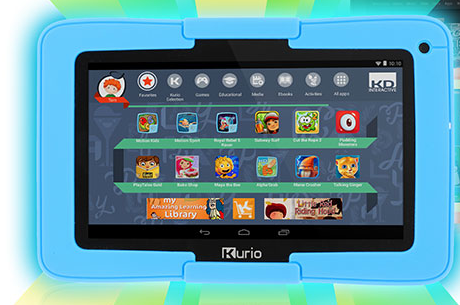 The Kurio XTREME Tablet – Rugged and Powerful
I featured the Kurio XTREME in my Toys R Us holiday post, and there's a reason for that. It wasn't just to fill a spot on my list. This is a great tablet! We have one, and the entire family loves it. Although it's a tablet designed to stand up to kids, it's not a dinky machine. This tablet is powerful and has all the features you'd expect from an adult oriented tablet.
On every level, the Kurio XTREME is designed to accommodate children. From its rugged design to its pre-loaded apps, this tablet is a powerhouse that can stand up to the rigors of rough handling and hold the attention of the young ones. It has a super durable design made to withstand drops and impacts, and it features a powerful processor and the Android 4.4 KitKat operating system. If it weren't made to have an appealing look for kids, you'd never know this was a child oriented tablet.
The Kurio XTREME – Family Tested and Approved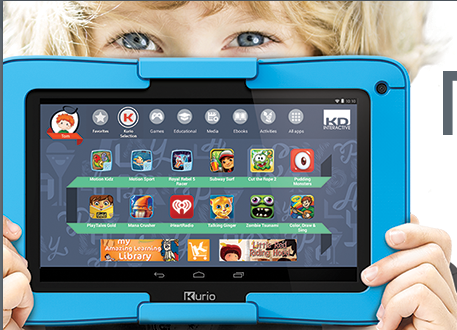 We love our Kurio XTREME. Not only does it stand up to my kids, it's powerful enough that my husband and I can use it in a pinch. Hey, my tots have been snatching our tablet for a long time. Turnabout is fair play!
When we first got this tablet, its look and its 90+ apps immediately grabbed our kids' attention, and it hasn't let go yet. This thing is full of apps that keep and hold a child's attention, and they're all kid appropriate and safe. When you add in its kid resistant design, as I like to call it, you have a tablet that can stand up to both the rough handling and short attention span of a child. It also features parental controls to control every aspect of the kids' interaction with the tablet, which I love.
In addition to all of that, the Kurio XTREME is powered by Intel, arguably the biggest name in computer, phone, and tablet processors. The super powerful processor in this tablet keeps everything running quickly and smoothly. That's important, because no kid has the patience for slow loading or laggy app performance.
Kurio XTREME Specs
The Kurio XTREME is designed to be both rugged and powerful, and it has the chops to stand up to even the most picky tablet user's standards.
Super tough design to stand up to rough kid handling
More than 90 pre-loaded apps
Kurio Genius parental controls
7 inch touch screen with 5-point multi-touch
Intel Atom Z2520 processor
Anroid 4.4 KitKat operating system
$129.99 MSRP
As you can see, the Kurio XTREME is a great tablet for both kids and adults. The entire family actually uses "the kids'" tablet more than we use the "grown up" tablet. It's always around, and we don't have to protect it from the kids because it was designed for them. That means we're all just picking it up whenever. It's actually very nice.
If you have kids, I would highly recommend the Kurio XTREME. Its tough design and robust power make it the perfect tablet for the entire family.