I have received information and materials from McNeil Consumer Healthcare, Division of McNEIL-PPC, Inc., the makers of TYLENOL®. The opinions stated are my own. This is a sponsored post.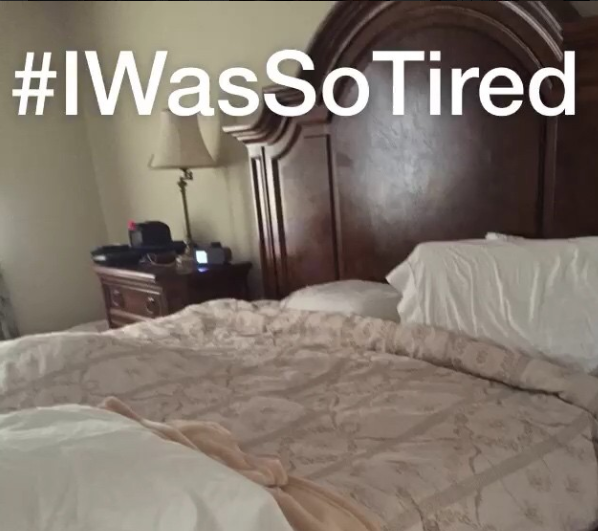 If you work as much as I do, you cram everything you can into a day. While that might be great for productivity, it's not so great for getting good sleep. You lie down, and your mind is still racing from the day and thinking about what tomorrow holds. I had a terrible time sleeping for the longest time until I found and mastered these sleep tips. Now I wake refreshed and ready for another crazy day.
Sleep Tips to Help You Fall Asleep, Stay Asleep, and Feel Great
If you have a hard time falling asleep or staying asleep, then these sleep tips are for you. They work! I know, because before I started following them, I rarely got a good night's sleep.
Set a Sleep Schedule
Your body operates on an internal clock, so one of the biggest sleep tips to master is setting a sleep schedule and sticking to it. This helps your body get into a rhythm, so it can recognize when it's time to power down for the night.
Don't Just Lie in Bed
If you can't get to sleep, don't just lie there. I used to think that if I laid in bed long enough, I'd fall asleep. It's exactly the opposite! All I did was lie there and think about how I couldn't go to sleep. If you can't sleep within 30 minutes of going to bed, get up and read a book. Go for a walk. Do anything except lie in bed and stare at the ceiling. It won't help!
Turn Off Your Brain
This is one sleep tip that I had a really hard time mastering. When bed time is approaching, shut down your brain. Don't work or watch television or do anything that revs up your brain while you're in the bed. Your mind will equate your place of rest with work and stress.
Get in the Mood
Get in the mood. The mood for snooze, that is. If your mattress is old and lumpy, replace it. Are the walls a bright color? Repaint them with a calm, soothing color. Use heavy window treatments to block out the light of passing cars and street lamps.
Power Naps
Even though this isn't a tip to help you fall asleep at night, per se, it's still one of my favorite sleep tips. Power naps can help you recharge during the day when you're feeling extra deflated.
Nip Pain in the Bud
A bad night's sleep can ruin your entire week. If you have pain that's keeping you up at night, try a pain reliever and sleep aid combo. I like TYLENOL® PM. It helps get rid of my pain and helps me fall asleep.
Take a Break
Taking a break during the day can help you clear and reset your mind, and it's also great practice for using that same technique at night to get yourself to sleep.
Exercise
One of the best sleep tips out there! It's really hard to stay awake when you're tired. Daily exercise not only invigorates your mind for the day, it also burns off energy. That means that you won't be so wired when bed time rolls around.
No Nightcaps
Everyone thinks that a nightcap is the perfect way to get great sleep. Not so! A glass or two of wine might make you feel drowsy, but it makes STAYING asleep harder.
Better Sleep Through Better Foods
These foods can help your body prepare for sleepy time.
Milk: Milk contains tryptophan, which is great for giving you the sleepies.
Oatmeal: This also has tryptophan in it. So it's great for breakfast AND for bed time.
Bananas: Another food that contains tryptophan.
It's worth noting that not only does tryptophan help you feel drowsy, it converts to melatonin, a natural compound which makes sleeping through the night easier.
These Sleep Tips Helped Me When #IWasSoTired
If you follow these sleep tips, they'll help you, too! There's nothing worse than not being able to sleep. By the same token, there's nothing more enjoyable than a wonderful night's sleep! If you have any sleepless confessions, you could win a $1,000 Bed, Bath & Beyond Bedroom Makeover.
All you have to do is share your sleepless confession with @TYLENOL® on Instagram. Just take a photo or video to show how tired you felt or what you did when you didn't get enough sleep and share it using #IWasSoTired and #Sweeps. You could win a great bedroom makeover!
NO PURCHASE OR SUBMISSION NECESSARY. OPEN TO LEGAL RESIDENTS OF THE 50 US & D.C., 18 AND OLDER. VOID WHERE PROHIBITED. Sweepstakes ends 5/1/15. Prize awarded as a gift card. For Official Rules, how to enter without use of a mobile device or submission, prize descriptions and odds disclosure, visit here. Bed, Bath & Beyond™ is not an official sponsor of this promotion. Sponsor: McNeil Consumer Healthcare Division of McNEIL-PPC, Inc., 7050 Camp Hill Road, F