Happy Weekend everyone! It should be a beautiful weekend so hope you have fun with whatever you do. We are having Hayley's birthday party this weekend so that will consume some of our fun.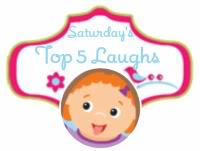 As always, come link up any cute or funny post. Definitely check out the other blogs who link up as they provide a great laugh. Feel free to take my button or share on social media, although this is not necessary.
My top five laughs:
1. Hayls birthday party is tomorrow. When anyone as asks what she wants, her answer is always the same- anything Frozen! Go figure!
2. Zane is obsessed with money. Just the other day, he asked me for a quarter. I only had a nickel so I have that to him. He got very mad and asked if I knew the difference between a nickel and quarter.
3. Hayls asked me the other day to buy her new underwear. I asked her what was wrong with her old pair and she told me, that new underwear needs to be bought every month. Really Hayls!
2. Taylor is just the cutest baby. I decided to buy her a few different outfits for Halloween and my husband proceeded to tell me that a 3 month old only needs one outfit. My response was, "what happens if she has an accident"!
1. I asked Hayls and her friend if they wanted to go to McDonalds. Their answer was nah.. We rather got to Marshall's. Lol!!
Now your laughs: