*Quaker asked me to talk about the partnership between Quaker Fuel to Play 60 and the NFL. All my opinions are my own and not swayed by outside sources. Quaker is providing the prizes for this program at no cost to me. This program is not administered or sponsored by Quaker or its affiliates, but solely by The Motherhood Chronicles.*
It seems obvious that play is integral to kids development, yet I feel like new studies are being done all the time these days to figure out exactly just how important it is. I suppose in part this is due to school budgets being tight and ever shrinking "wellness" time (what we used to call recess) for kids during their school day. It may be the concern over how much screen time this generation will grow up with as well, but to me it's a no brainer. Play is important for kids, and it is also an important part of life for the whole family. We know that a healthy lifestyle includes both physical activity and good nutrition combined, and as a parent part of my job is to incorporate those elements into our family life. Plus, play is fun and easy, we all love to play, especially kids, so it's just a matter of getting them started.
Our kids are still little so I know the way that we play as a family is something that will evolve through the kids' lives. These days play looks like trips to the pool or the playground, and riding their trikes or scooters. When the weather is nice I love to just set up a lawn chair in the driveway, drag out the bucket of chalk, the bouncy balls, the bubble machine and the tiny plastic kiddie pool and let them have at it. As they have gotten a little older we can play games of beanbag toss, four square, red rover and tag with some semblance of order, but we are getting there! They love to jump on our tiny trampoline or play catch. It is simple things, but my husband is excited that now that we have three kids, and as they get older we can have teams for backyard football and whiffle ball games.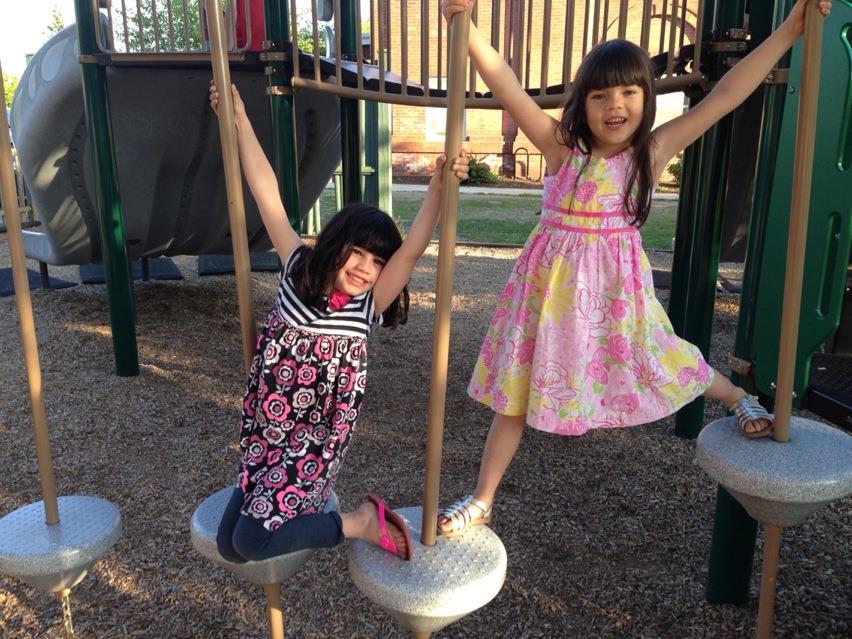 As an active mom with a playful family I am excited to team up with Quaker For the Love of Play campaign in partnership with Fuel Up to Play 60 and the NFL this fall. This campaign is a fun way to inspire and empower families and communities to get more active wherever they are. The campaign recommends 60 minutes of active play per day and now through December 1, 2014, you can visit QuakerMakethePlay.com to share the unique way that your family plays for a chance to win a grand prize "Day of Play" in your hometown with Indianapolis Colts Quarterback Andrew Luck! This is the third year Andrew Luck has teamed up with Quaker to help inspire families to live fun active lifestyles, and maybe this is your year to win! There are also awesome daily giveaways for a $50 NFLShop.com online gift card as part of the Make The Play Contest. My family doesn't need too much inspiration to get us out and playing around, we love to be active, but hey, a little inspiration never hurt! So what are you waiting for? Get out there and have some fun, yes, it's as simple as that, grab your family to just go play, and you will all be healthier for it in so many ways.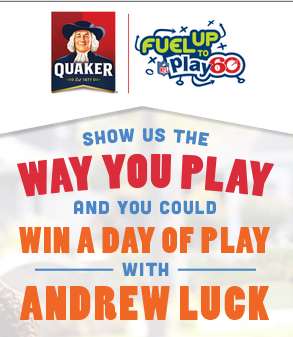 Giveaway: One winner will receive this fabulous $46 valued prize pack:
  An LED Light-Up Frisbee perfect for playtime outdoors with the whole family
  A Mini Football for kids to enjoy team games
  A Stopwatch to time fun activities and ensure your family gets 60 minutes of play per day
  A set of Mini-Desk Cones for families to create their own games or relay races
  A handy sports bag to stay organized while keeping active
This giveaway is run via rafflecopter so click read more to enter the giveaway. The mandatory entry is to tell me what is your families way to play in the comment section proceeding this post. While the other entries are optional, I highly recommend filling them out to increase your chances of winning. US only. Good luck!