Happy Friday everyone! We are in route to NH this weekend for some Story Land action. My back has been killing me lately so I will be sitting mostly while the hubby takes the kids on the rides. Whatever you do, have a great weekend!
As always, come link up any cute or funny post, kid or not kid related. Definitely check out the other blogs who link up as they all provide a great laugh. Feel free to take my button or share on social media, although this is not necessary.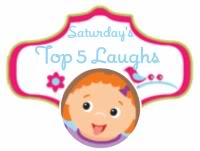 My top five laughs:
5. This week I took Zane to my OB check up. When he heard the heartbeat coming from the doppler, he asked me what it was. When I told him that it was his sister's heartbeat, his only response was, "Don't be silly mommy!"
4. Zane is a great sleeper but the night terror phase has started. Hayley went through this around 3 too and although it totally stinks, it is short lived. Last night, he had one but instead of letting my husband comfort him, he said to my husband, "Get away.. Get away… Only mommy is good!" I love that boy, lol!
3. Each morning when Zane wakes up, he goes into Hayley's room to play. This morning I hear them talk how they have to be very quiet because mommy is still sleeping. That did not last too long because the next minute they were screaming on top of their lungs, the whole Frozen soundtrack.
2. This one is just sweet. My back pain has been debilitating. I would go through labor 10 times over without any drugs, not to have this pain. Hayley and Zane always come up to me and ask if they could rub my back. They are truly sweet and although their touch does not help alleviate the pain, it is such an endearing thought.
1. Zane to Mommy- "How long is Baby Girl going to come home with us for when she is born?" Oh boy..I am so in trouble!
Now your turn: