Happy weekend everyone! I hope you all have a great weekend. We are finally getting good weather here- yah!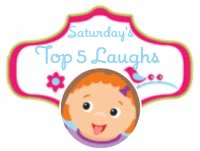 As always, come link up any cute or funny post and LAUGH! Feel free to take my button or share on social media, although this is not necessary. Definitely check out the other blogs who link up, as they all provide a great laugh!
My top five laughs:
5. Zane has been a character this week. Hayley told me to drive fast in the car and Zane tells her, "She can't drive fast. She needs to drive slow to pay attention". He makes me laugh all the time!
4. Zane gave up naps- boo boo! But I am adamant about putting him in his room for an hour for quiet time. Yesterday I put him in and he peed all over his sheets on purpose. He took off his underwear and just let it go. I asked him why he did that and he said, "Mommy..I was bored!"
3. Hayley is obsessed with school buses. Yesterday she went on a field trip to the public school she will be going to in first grade. She told me that she will finally be a big girl when she can ride the bus. Who knew buses could be so much fun?!
2. I have total pregnancy brain. Two nights back we went to the Book of Mormon and they were reading a book in the show. I turned to my friend Kristen at MamaLuvsBooks and asked her, "What book are they reading?" Laugh away at me!
1. The Book of Mormon is the funniest show I have ever seen in my life. If you want laugh after laugh, definitely check out Book of Mormon. I may or may not have peed in my pants! I couldn't help it!
Now your laughs: