Hi everyone! Easter weekend and I hope you all have a fabulous weekend with whatever you do! As always come link up any cute or funny post that you may have, kid or not kid related. Definitely check out the other blogs who link up, as they all provide a great laugh. Feel free to take my button or share on social media, although this is not necessary. Have a great weekend!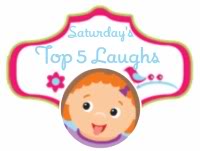 My top five laughs:
5. Zane is at the point where he is almost giving up naps. I try to make him stay at least an hour in there but he comes up with every excuse to get out. Today, I heard at least 4 excuses including, "If you don't get me out, I will pee the bed". The boy is a smart one!
4. Hayley and Zane are really close these days but boy do they fight! Hayley likes to blame Zane and Zane likes to blame Hayley. I probably hear about 2 hours of fighting a day and then in between the fighting, they are best friends. Seriously, bi-polar much?! I kid:)
3. Hayley is getting her room painted and we let her pick out the paint and rug. While she did a great job with the paint color, I totally vetoed the floor color. Brown carpet, purple walls, and a yellow mural- does not match! It is almost like her picking out her clothes that have totally no matching to them! It is cute though!
2.  Totally have pregnancy brain. Just went through drive through at Starbucks and when I got to front, I told them that what they were giving me was not my order. Within 2 minutes, I realized I never actually ordered from the drive through. Just drove my car right to check out. Lol! I messed up that barista.
1.Kids were eating dinner and Hayley told a blatant lie. Zane yelled out to Hayley, "Hayley..Your nose is going to get bigger!" Hayley proceeded to start crying because she really thought her nose was going to grow and asked me how to stop it from growing. How in the world does my 3 year old know about this but my 5.5 year has no clue! I had to laugh!

Now your laughs: