*I participated in an Ambassador program on behalf of Mom Central Consulting for Kohl's. I received Kohl's gift cards and sample pieces to facilitate my posts and as a thank you for participating.*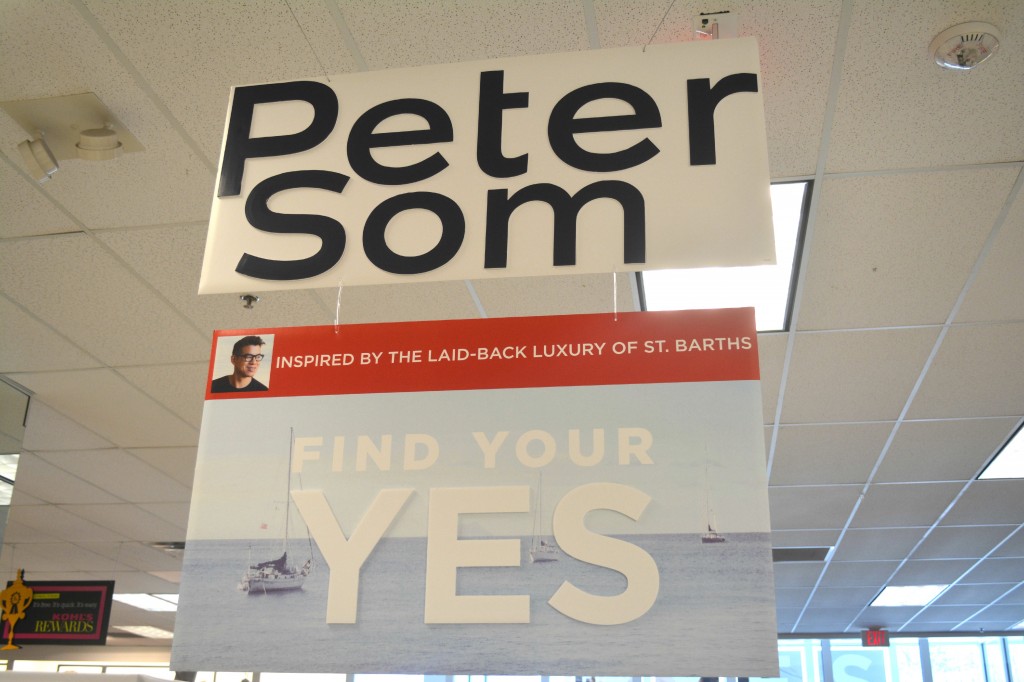 Last week, I told you all how the Peter Som DesigNation line was in preview at Kohl's nationwide. Now I am happy to report that their full collection is available to purchase at your local Kohl's, as well as online. To refresh your memory about the Peter Som collection, his fashion pieces have a completely beach feel to them, which he drew inspiration from his experiences vacationing at St. Bart's. When I visited two of my local Kohl's this week, his collection was front and center in the store and really gave me that feeling that I was picking out fun, fresh, fashionable, free-spirited, and most of all relaxing clothes. He draws inspiration from his incredible sketches and his Instagram pictures from visiting St. Bart's, and brings the look directly to his clothes. He is big on gorgeous prints, vivid colors, comfortable fabrics, and more. Best of all, his clothes can be worn to a daytime event or can be dressed up to hit a night on the town.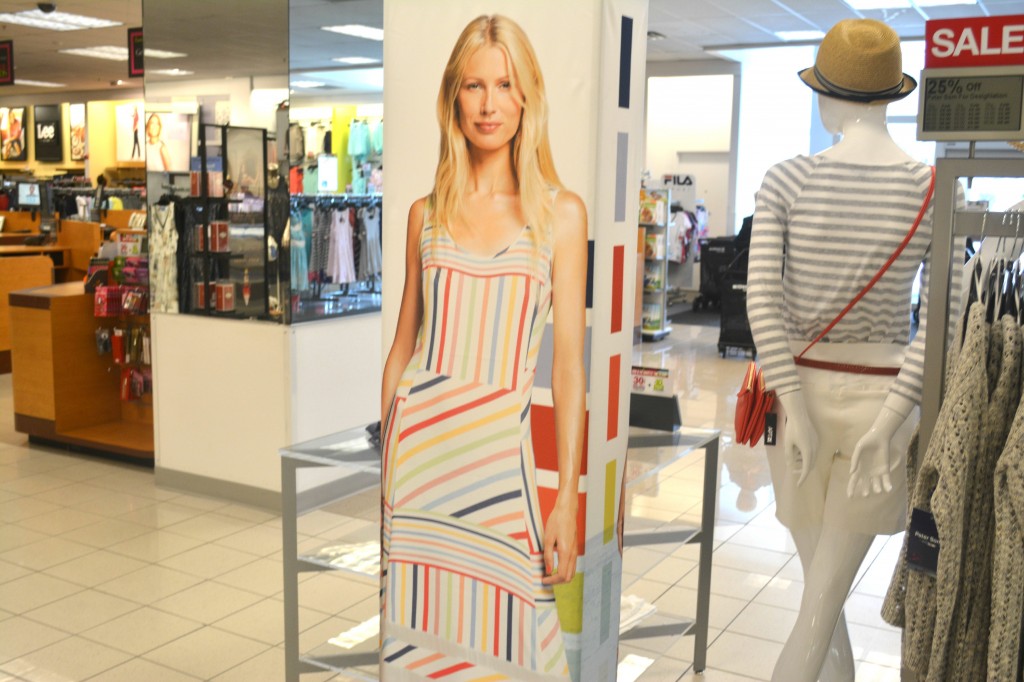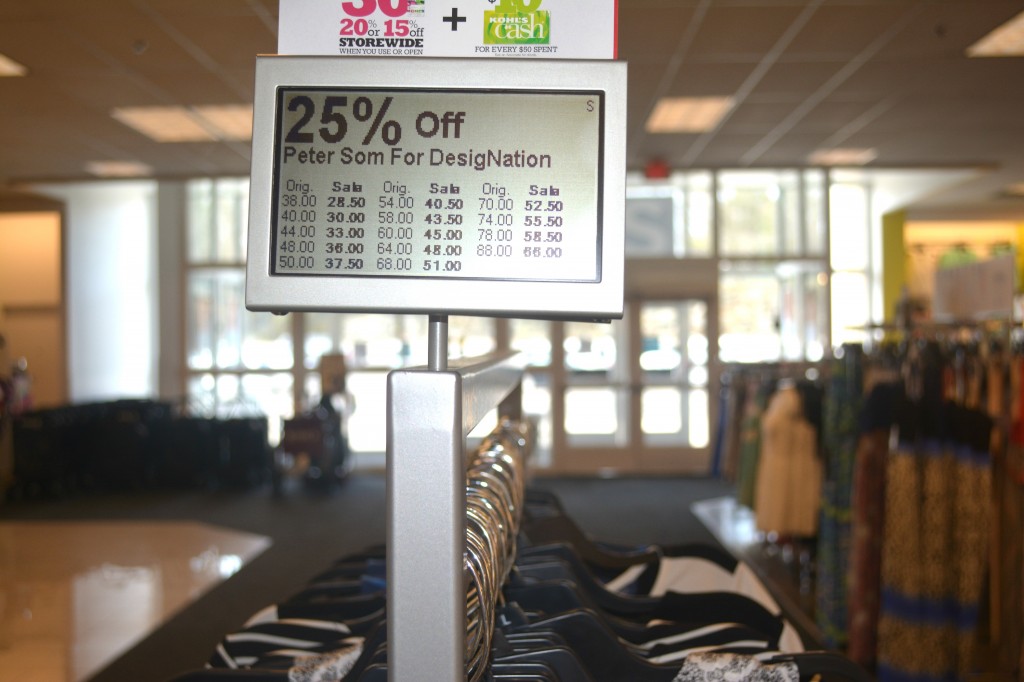 As I mentioned last week, these are just some of the items I received and bought from the Peter Som Collection when it went on preview.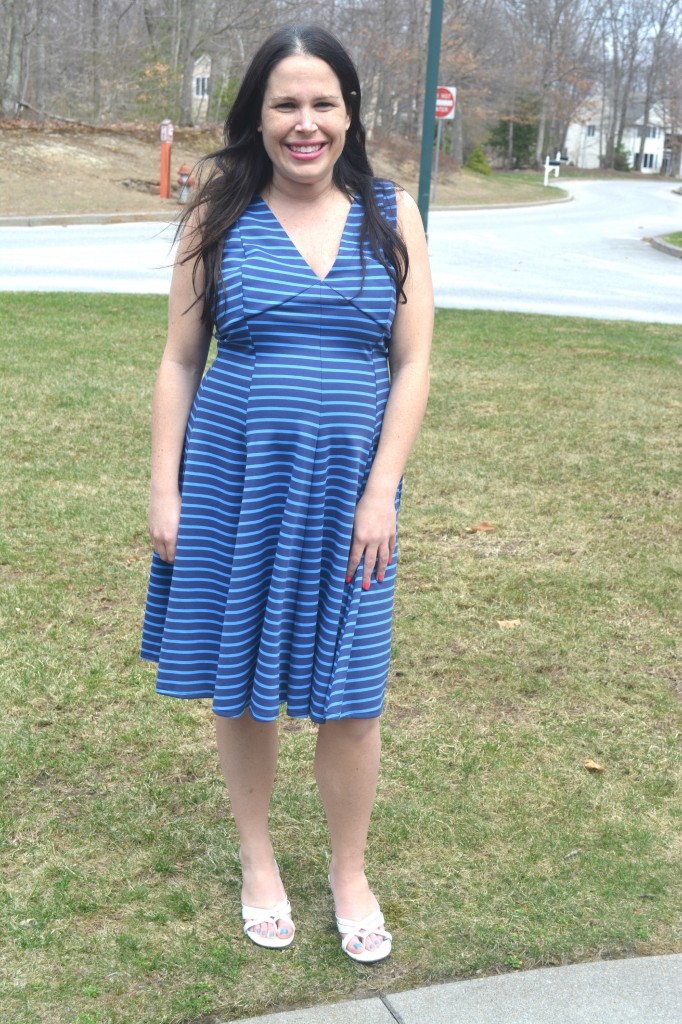 I was so drawn to the collection that this week, I went back and bought this gorgeous Printed Shift Rope Dress in coral. This dress features a silky outlay and tropical prints, making this the ideal dress for the Spring/Summer. It has a beautiful V-neck, sleeveless, a back zipper, and a coordinating rope belt. When I tried it on in the store, I felt like I was swaying along to some Carribean music on vacation. Since there is no vacation anytime soon for me, I might as well buy clothes that remind me like I am on vacation. To add to the beauty of the dress, the coral color is one of the hottest of the Spring, and Peter Som adds various degrees of the coral color to this dress.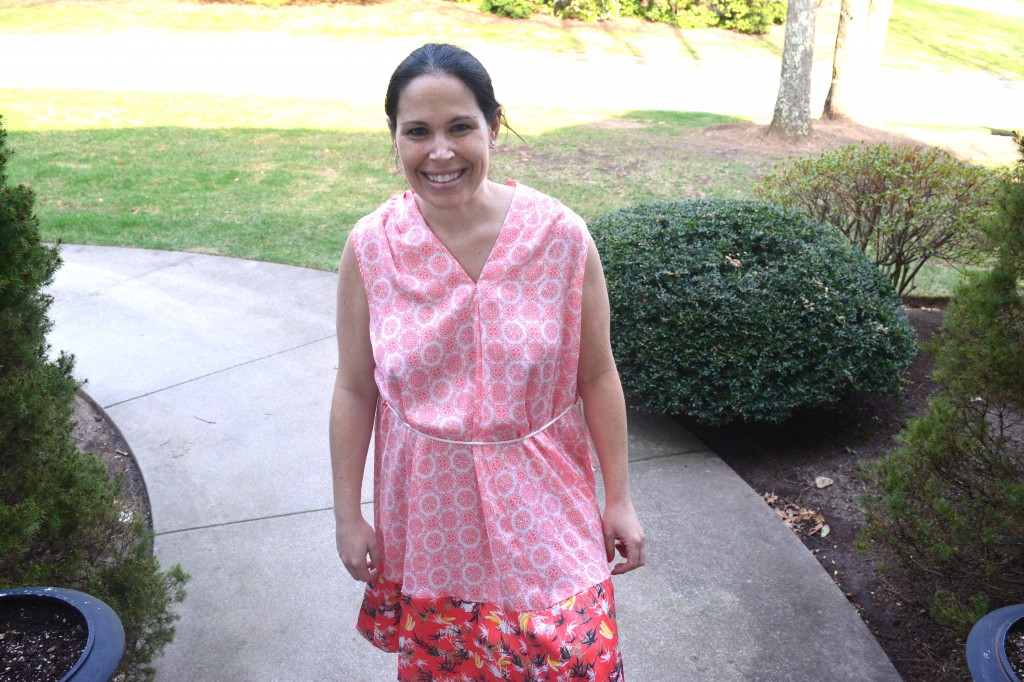 I thought it would be fun to show you all three different ways you can wear this dress, for different occasions. I first put on this dress and paired it with some cute flip-flops. This would make the perfect daytime look, hitting the beach with your kids or going for a nighttime stroll with friends. I loved the casual feel of adding flip-flops in to make this dress more of a daytime look that I could wear basically anywhere  and not be overdressed, but yet look gorgeous. The textures and fabrics made it a comfortable and lovely daytime look.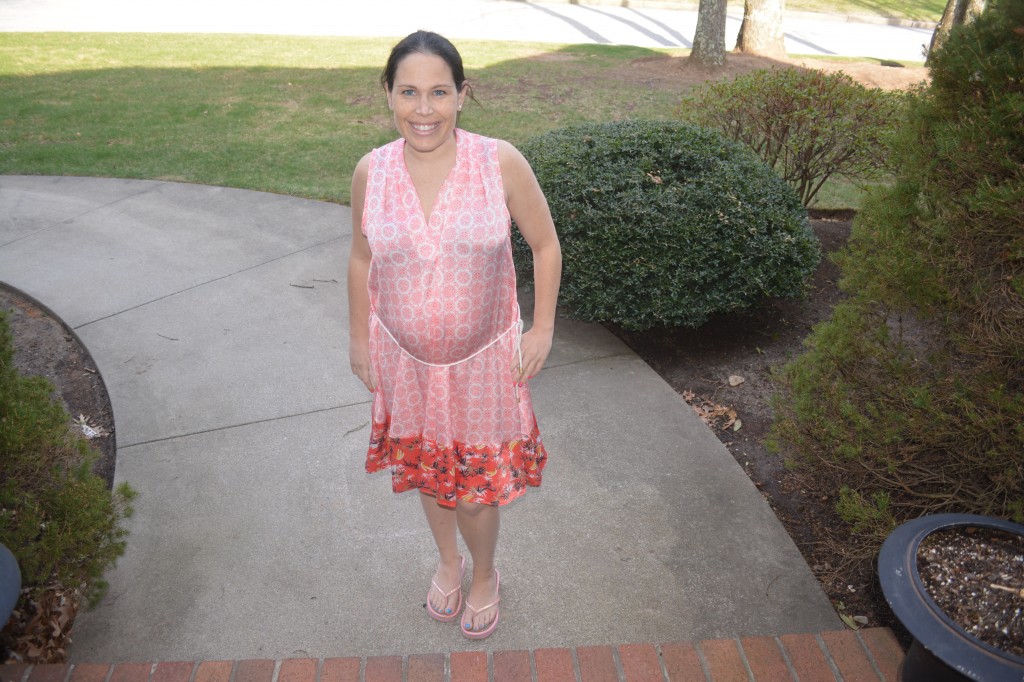 I then paired this same dress with my Sonoma cardigan that I got a few weeks ago at Kohl's, along with my Sonoma wedges. This is also a casual look but can equally be worn to a nice dinner in the Spring/Summer. It gets cool here at night in New England and by adding a cardigan, you can get a more dressier look but still have that casual feel. I envision myself going to a concert this summer in this exact outfit.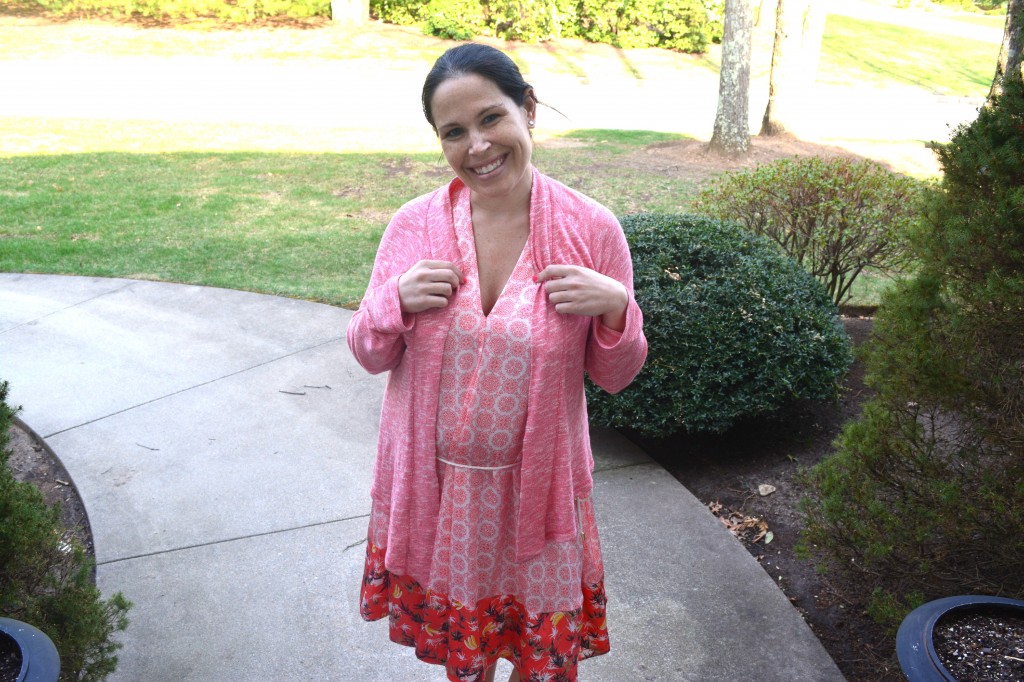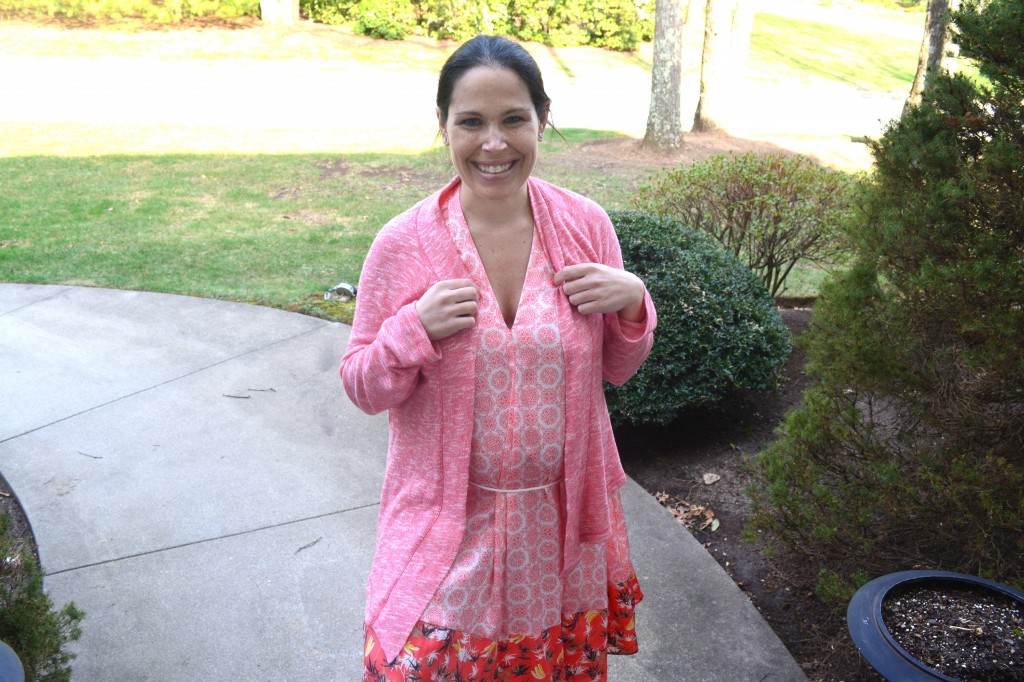 For a fancier look, you can pair this Peter Som dress with a pair of white wedges and add in a fun pocketbook like the look below. You can definitely get away with wearing this look to a summertime wedding or to a nicer dinner on the water this Summer. By simply adding in a few accessories, you can make this look one that you can wear in the nighttime to more fancier occasions.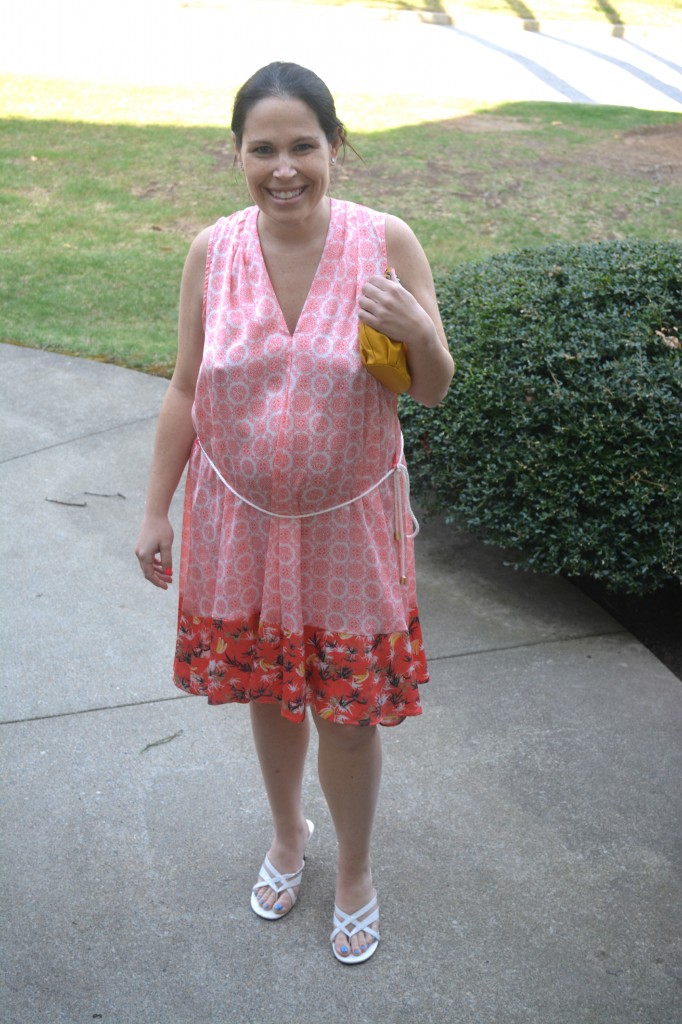 Besides his versatile and beautiful collection, I love the fact that you can easily transition from daytime to nighttime with his clothes. It is always nice to buy outfits that you can wear for a more casual, as well as a dressier look. After all, who wants to buy a dress for only one purpose? With his clothes, you can buy the same dress or top, and wear it during the day or at night. In my eyes, that is a win-win!
To see more of the Peter Som collection and what I ended up buying at Kohl's, check out my video below. Even a 7.5 month pregnant girl can look good in his collection! The Peter Som collection is for all who want to feel confident, comfortable, fashionable, and hip!
Kohl's partners with high end fashion designers, like Peter Som, to bring runway looks into everyday wardrobes at affordable prices. Be sure to check out the Peter Som collection nationwide at Kohl's! Before I end, I want to send a big thank you to Mom Central, Kohl's, and Peter Som for allowing me to showcase all these wonderful fashion pieces over the last few months. I hope I encouraged you to go to your local Kohl's and buy a new wardrobe (at extremely reasonable prices) for this Spring. We all deserve to be fashionable!
Buy it: You can now shop the Peter Som collection for DesigNation online and in stores across the country. His clothes  are limited releases so you will have to make sure to visit your local Kohl's as soon as possible, or visit the store online to start shopping.
Win it: One winner will receive a $100 Kohl's gift card to go shop the Peter Som brand new collection. This giveaway is run via rafflecopter so click read more to see the actual giveaway. The only mandatory entry is to visit the Peter Som collection online at Kohl's and tell me your favorite clothing piece. While the other entries are optional, I highly suggest filling them out to increase your chances of winning. US only. Good luck! Ends 5/5.