*I participated in an Influencer Program on behalf of Mom Central Consulting for MassMutual. I received a promotional item to thank me for participating.*
I still believe in the American Dream. I know, the economy is still barely inching back from the downturn, and it is hard to keep the faith in the economy.  Still I think about my grandparents' lives and then my parent's lives, and can see the progression of the groundwork those previous generation laid.  It is evident how they paved the way, and how much more my husband and I have been able to do for our kids because of them.  I still believe that America is the land of opportunity, and I am a perfect example! I mean look at my blogging career! Just over two years ago I was just starting out and now it is flourishing. Hard work and determination can pay off!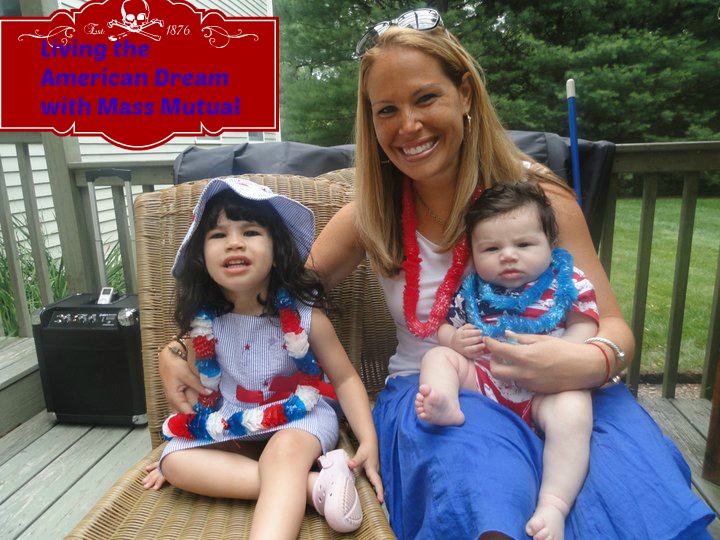 This is still the land of opportunity, but I guess now more than ever we have to be strategic in our financial plan. Mass Mutual has released a report entitled Mass Mutual's State Of The American Family ( http://bit.ly/1oMZOAH) that is such an interesting read on this topic. According to the report only 20% of people surveyed are satisfied with their current financial situation.  Most people have similar worries no matter their economic status. Saving for college, retirement, not burdening their kids in old age, and teaching kids how to be responsible with finances. Almost 80% of adults agree it is important to save for their children's education, but it is overwhelming to even begin to think about it.  74% of parents think it's never too early to start saving for college, and I totally agree! The Mass Mutual report includes information on seminars in your area on saving for your kids education and fun worksheets to do with your kids to help them learn about financial responsibility. As a mom, I find it very important to teach my kids at a young age about finances and such.

I think everyone has their own version of what the American Dream might look like depending on their frame of reference. For us, our dream is to live comfortably and be able to provide enriching experiences for our kids, along with of course the basics of food and clothing, to be able to provide the best education possible and see them grow to be healthy, happy adults. We don't want them to have the burden of taking care of us financially, so saving for retirement is important to us , as well as being prepared for emergency expenditures that my come up. We also have the American Dream to pay off our student loans, our mortgage, and our car payments. I think with the right financial planning, we are well on our way.
Another interesting statistic from the report says that while 65% of people believe that it is their responsibility to prepare for retirement, only 30% feel like they are doing a good job at it.  Our American Dream sounds pretty basic, but there are lots of moving parts to fulfilling this dream.  I feel like it will be even tougher for our kids to sustain the quality of life that my husband and I have built for them, and we hope to make it as easy as possible through good education and financial planning on our part for them to do so. It is interesting to see what Mass Mutual has to say in the report, and to see where the country is as a whole on the matter. If finances are on your mind you can check it out at MassMutualFamily Finances, and it may help you to better understand your finances.