***I am a member of the Collective Bias®  Social Fabric® Community.  This shop has been compensated as part of a social shopper insights study for Collective Bias and their client.*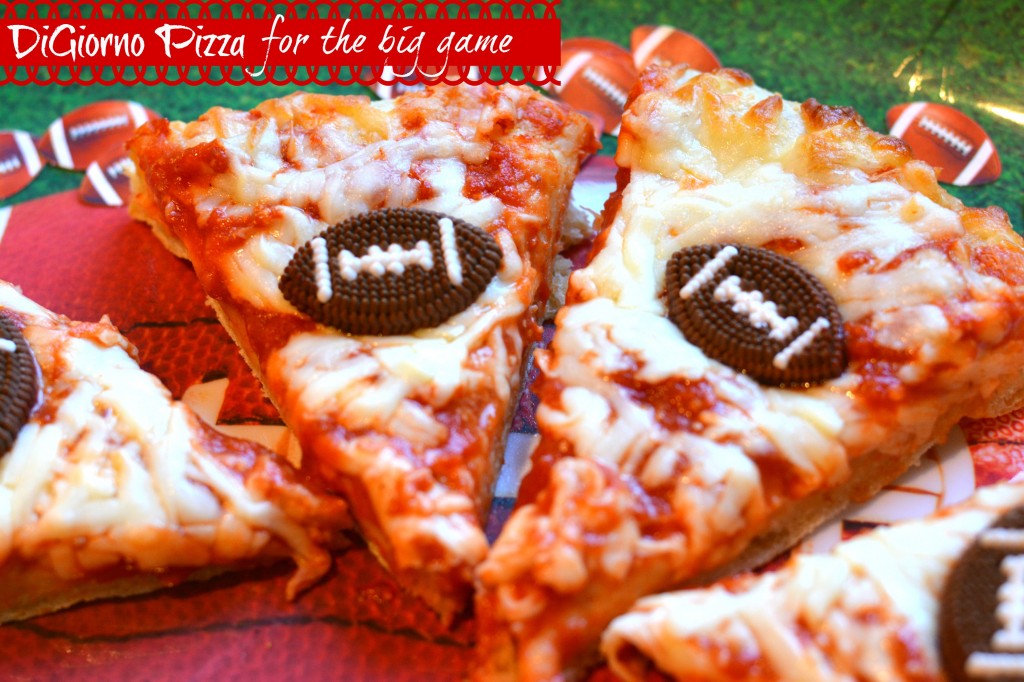 It is January which means the big football games are on! In my family, we usually gather around for almost every game of the season, with our family and friends, to see New England fight in action on the football field. Our most recent gathering was this past weekend for a huge game. Because football is so intense in our household (yes, even I have been known to yell at the TV screen), I do not like to spend a lot of time cooking. However, I love to entertain. For this reason, I love to turn to DiGiorno pizza for the perfect game time food. It is the most perfect game time food that requires no cooking (other than putting the pizza in the oven) and it is very easy to serve! Who wants to miss any of the touchdowns in a football game? Let DiGiorno make it easy for your whole family during game day.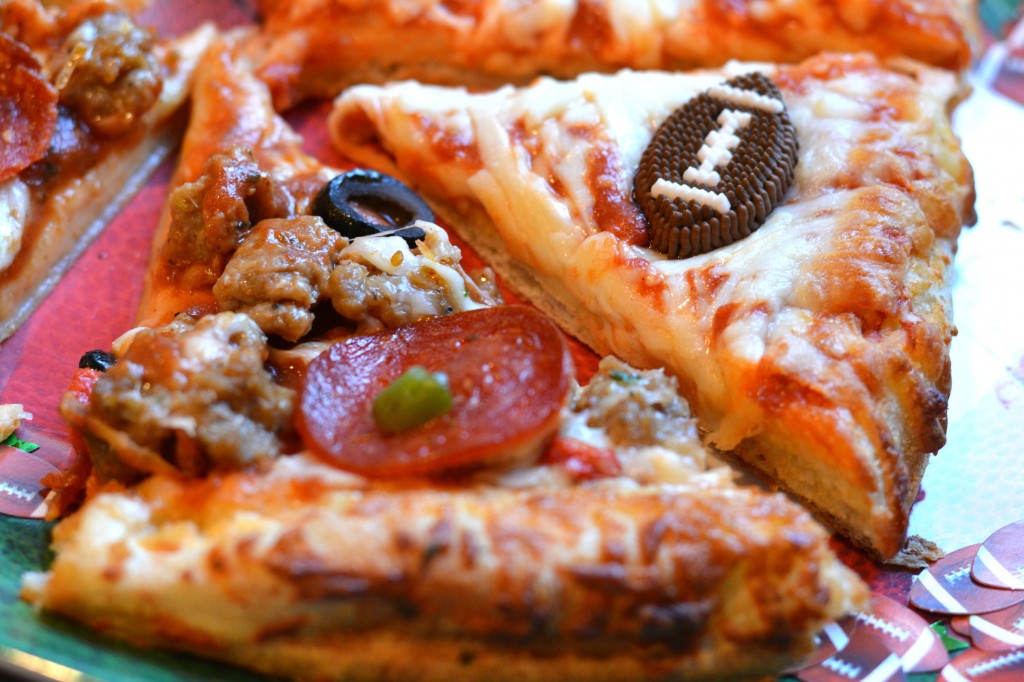 My husband and I have been DiGiorno pizza fans for quite some time now. I will fully admit that I am a total pizza snob and my husband, being a full bred Italian, only eats pizza with delicious sauce. Both of us say that DiGiorno is absolutely DELICIOUS! I know you can't see taste it without going out and buying DiGiorno at Walmart, but seriously how good does this look:
Due to the big game this past weekend and the fact that we were having company, I headed to Walmart to pick up some DiGiorno pizza. Guess what I found- DiGiorno pizza is now available at the special rollback price of $4.50! Can you beat that for a delicious pizza to feed family and friends? I think not! There were so many delicious choices for me to pick from including DiGiorno pizza Rising Crust Pepperoni, Rising Crust Sausage, Rising Crust Surpreme, and 4 Cheese to name a few. I decided to pick up the Supreme and 4 Cheese, since I knew they would be fan favorite on game day. I went home so excited for our get together with our good friends.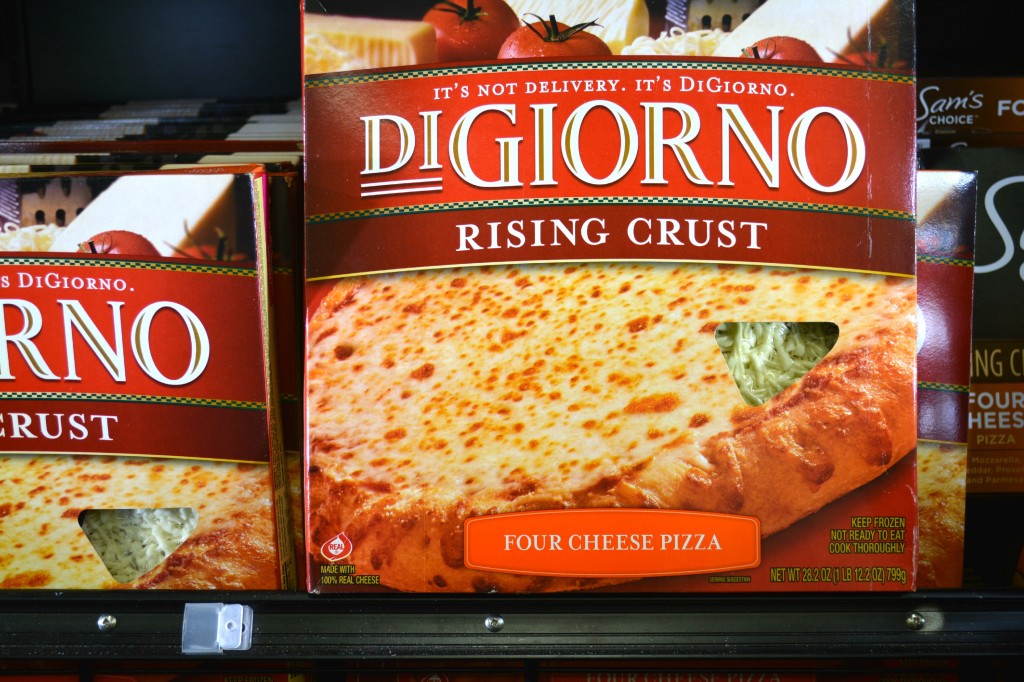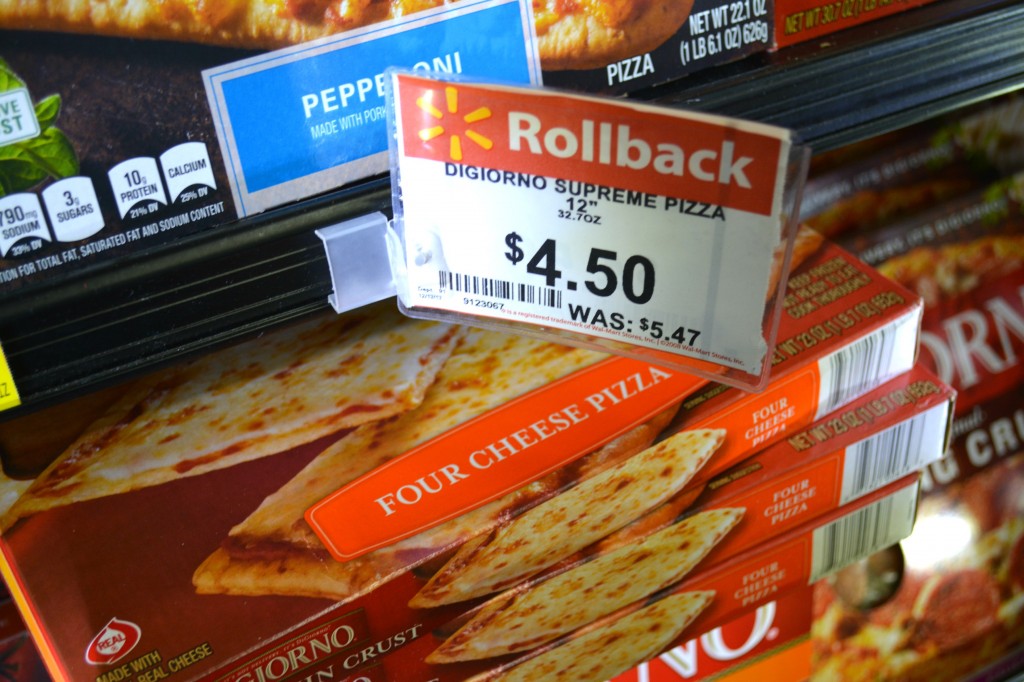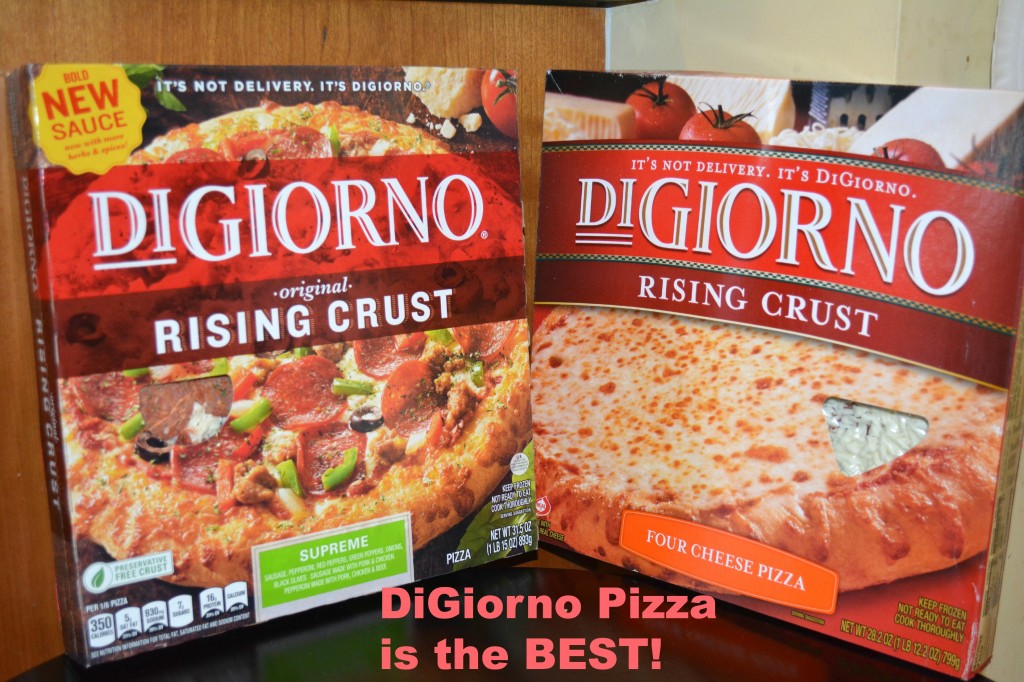 Game day arrived and in no time at all, I had the DiGiorno pizza cooked and ready to go! DiGiorno makes it so easy by having it all cooked for you! I simply needed to preheat the oven to 400 degrees F and then let it cook for about 20 minutes. The smells that were surrounding my kitchen during the time the pizza was in the oven, was seriously to die for! I took a sneak peak and saw the cheese bubbling over. It looked so good and best of all, once it was done, I can readily sit down with my friends and not worry about anything else in the kitchen.
I thought to myself that it might be fun to decorate the pizza a bit to make it more spirit-friendly for Game Time. I found little edible football decorations that I decided to add to the 4 Cheese pizza, to a make it a bit more festive. I also bought football placemats that I thought the kids can eat the pizza on. After all, the kids are young and might not be too excited about the game as the parents were, so to have some festive pizza would really make them happy!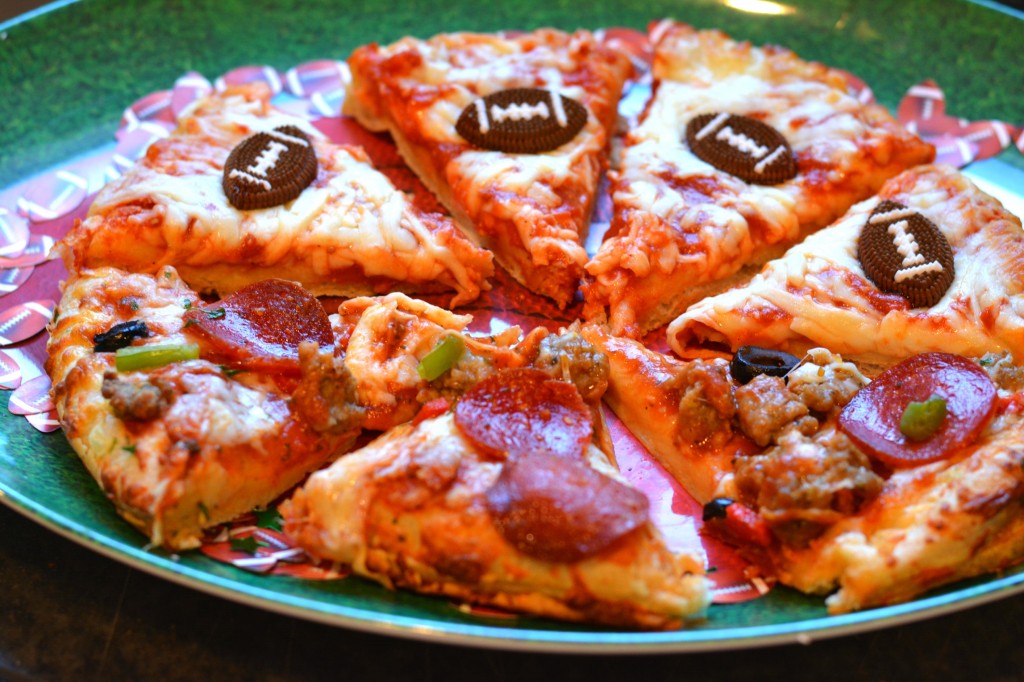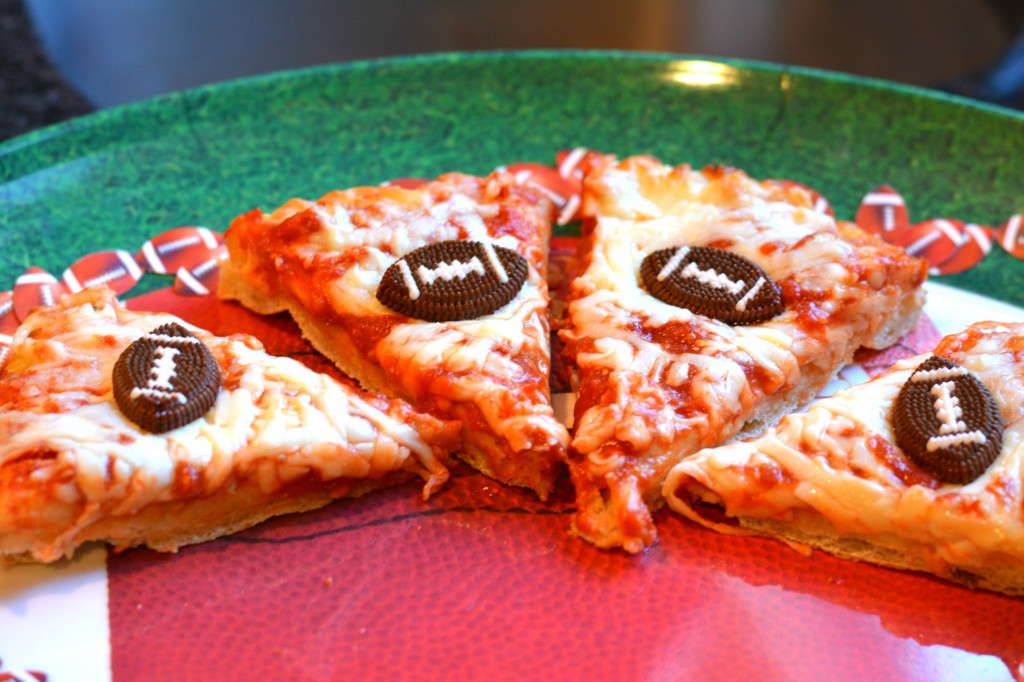 My friends arrived and the kids/adults sat down to eat the pizza. It was an absolute smashing success eating the DiGiorno Pizza during game day. Not only was it so easy to prepare, but it was so easy to eat. While I had the kids eat it at the table (to avoid messes), the adults were able to take their slice and eat in on the couch, while simultaneously watching the game! In my opinion, nothing could be better!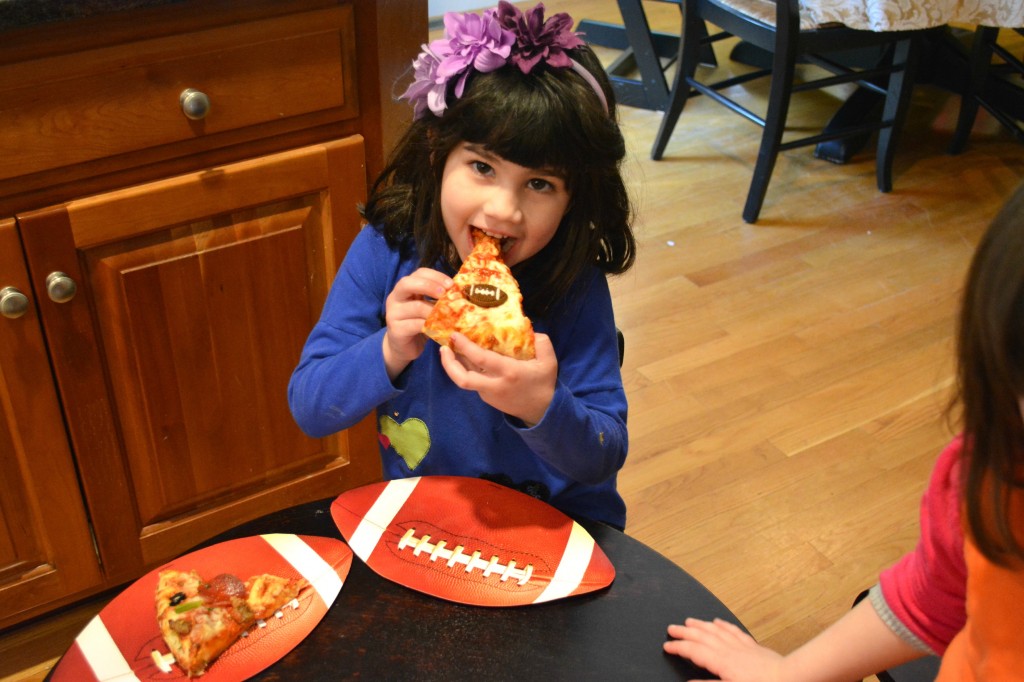 As I said before, we have had DiGiorno for many years now, as did our guests, but we were all knew to the Rising Crust on the pizza. This crust is absolutely divine and the fresh sauce that is on the pizza just adds to the delectable taste. We devoured two pizzas over the course of 4 hours and at the end, my friends requested the pizza for our next sports gathering. It was a definite fan favorite at our gathering!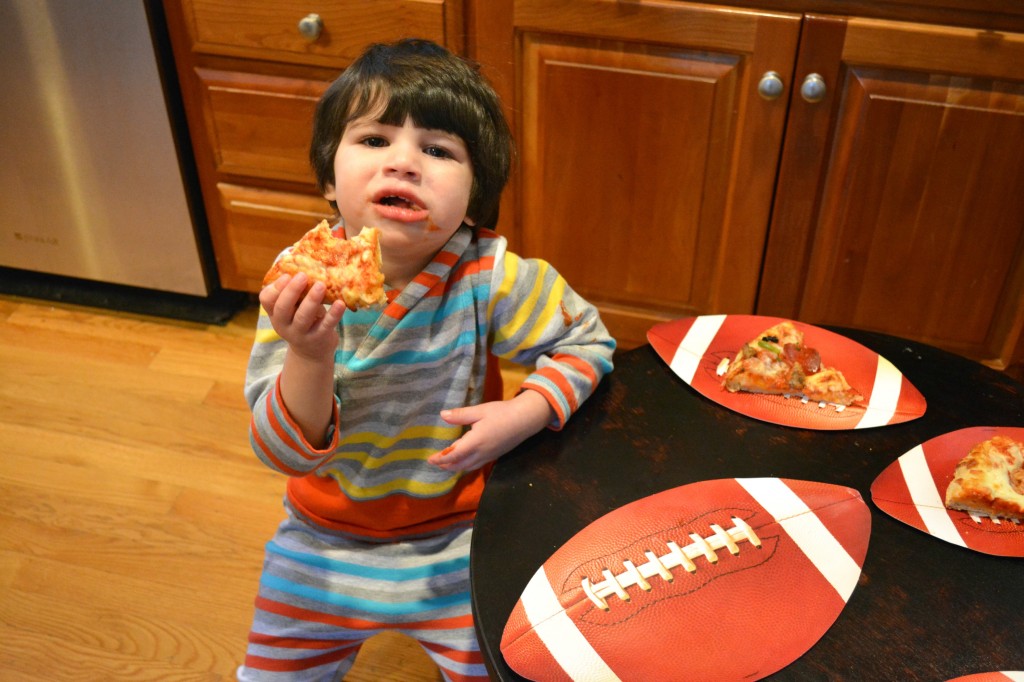 Now is your time to head over to Walmart and pick up DiGiorno pizza at that special rollback price of $4.50! Trust me, it will make your next sport gathering a huge hit! Think about it- Who wants to cook during Game Time? Now you do not have to with DiGiorno pizza!  It is indeed the perfect game time food for any of your future sports watching!