I was very late in taking Hayley to see Frozen! My husband wanted to take her since I was home sick with the flu for a few weeks, but I was determined to be the one to take her. Last week, we finally saw Frozen and I have to say it might very well be my favorite Disney movie to date. I know that is saying a lot considering we basically own and watch every Disney movie out there weekly, but I was in awe over this movie, as was Hayley. I knew nothing about the premise  going into the movie, other than my beloved Idina Menzel (who I saw about 10 times in Rent/Wicked) plays the part of Elsa and the fabulous Kristen Bell, plays Anna.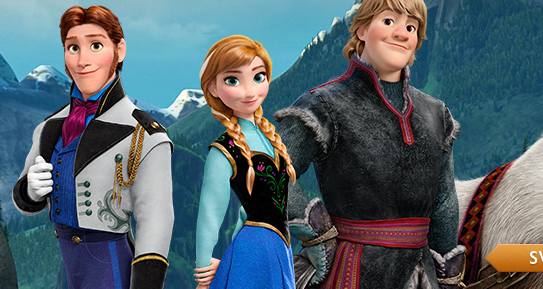 Before I tell you about the "Let It Go" Multi-Language Sequence, I thought I tell you all about something funny that happened during Frozen. Hayley never saw Frozen and I thought never heard the music before. When the song "Let It Go" played, Hayley started singing it loud and everyone around us was laughing. I had no idea at all she knew every word in that song. It was really cute!
"Let It Go" is now available in 25 different languages in this new multi-language sequence!  You have to check this out because it is so amazing!

Oh, I would be remiss if I did not tell you that there will be an All-New Sing-Along version of Disney's Frozen that is going to hit theaters nationwide on January 31, 2014!
Here is some additional information and ENJOY this marvelous movie!
"Frozen" audiences are invited to join the act—literally—as more than 1000 theaters nationwide introduce an all-new sing-along version of Disney's Oscar®-nominated, Golden Globe®-winning big-screen adventure beginningJan. 31, 2014.
"'Frozen' fans have embraced the film's original songs and its soundtrack with such passion—there are countless YouTube videos from people singing songs like 'Let It Go'—we decided to create a version that would celebrate that enthusiasm," said Dave Hollis, executive vice president, theatrical distribution, The Walt Disney Studios. "It's a great opportunity for families to get together and have some fun with these songs."
According to Hollis, on-screen lyrics and a magical bouncing snowflake will accompany select showings; moviegoers can check local listings for showtimes and theaters. The duration of the sing-along run will vary by theater.
Disney's "Frozen" received two Oscar® nominations, including best animated feature and best original song ("Let It Go"). Named best animated film by more than a dozen critics associations, the film won a Golden Globe® for best animated feature, two Critics Choice Movie Awards, including best animated feature and best song ("Let It Go"), and a Producers Guild of America Award for outstanding animated feature.
In wide release since November 27, the film posted the No. 1 all-time Thanksgiving debut and the largest opening ever for a Walt Disney Animation Studios film. "Frozen," WDAS' 53rd feature film, has earned more than $773 million worldwide, including $337` million domestically. The film's soundtrack was No. 1 in the Billboard top 200 for two straight weeks.
At Hollywood's El Capitan Theatre, the "Frozen" sing-along version includes on-stage appearances from the movie's Elsa prior to each showing, plus snow flurries inside the theater. Showtimes are at 10 a.m., 1 p.m., 4 p.m. and 7 p.m.
On Digital HD & 3D Feb. 25 and Blu-ray Combo Pack, DVD & On-Demand March 18, the in-home version of "Frozen" promises continued family fun with a blizzard of never-before-seen bonus extras to complement the film's gorgeous animation, memorable characters and unforgettable music.