Only a few more days to Christmas!!! Are you stressed? Don't be because CVS has you covered for all those last minute shopping trips. CVS has something for everyone on your list including items for him, her,  youth, grandparents, and more!
First, CVS has a full beauty department for fashion and the hottest beauty accessories. They have many different perfume sets, makeup kit sets, and bath and body sets. One of my favorites was the Cranberry 10-Piece Bath and Body Gift Set, which has all sorts of wonderful lotions and bath items, all in one beautifully wrapped set. To top it off, most of their sets are $10 and under, so you can not really beat it. In terms of makeup, they have just about every type of makeup imaginable to help you get holiday ready. 
For appliances for the home, they have everything from Flip Jack frying pans all the way to Retro Series '50s Style Chocolate Fondue Fountain. You might also want to check out their electronic department, which features cell phone cases, alarm clocks, memory cards, and so much more!
I also was able to find one of my favorite new items, the Turbie Towel. This item is only $5.99 and would make a great stocking stuffer. Since I have long hair, I can simply squeeze or blot against hair to absorb water, and it will reduce my blow drying time. This is a fun and great new product available at CVS!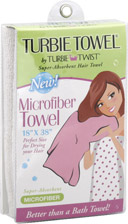 CVS is there and ready to serve you for the remainder of the holiday season and beyond! Be sure to check out your local CVS today for some last minute shopping ideas. Happy Holidays!
*CVS sent me products. All my opinions are my own and not swayed by outside sources.*