Can you believe that the summer is almost over already? I don't know about you but I felt like it flew by! I hope you all enjoy  your weekend and the last few weeks of summer.
As always, link up any cute or funny post. Feel free to take my button or share on social media, although this is not necessary. Definitely check out the other blogs who link up, as they all provide a great laugh.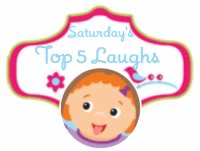 My top five laughs:
5. Hayley went to the beach with me yesterday. She is a good swimmer but never stepped into the ocean. She was scared out of her mind. I tried convincing her but nothing worked. I told her that if she tried going in the ocean, I would get her a new sticker book. That is all it took and off she went. At the end she told me swimming in the ocean is the best! All I said was, "I told you so!"
4. Zane is a talking machine these days. Seriously, his vocabulary is unbelievable. This week he looked at me and said, "Mommy..You are being ridiculous!" He is hysterical!
3. Zane has one pacifier he sleeps with. Last night I could not find it so I put in the exact same pacifier but in blue. Ten minutes after I put him down, he screams, "This ba (aka pacifier) is not right. Mine is red!" LOL!
2. Hayley and Zane absolutely adore one another now. They like to tag team against me though sometimes which can be quite the problem:)
1. This one I put on my fb page but I could not resist adding it. I put on a two piece on Hayley for the first time this past week. After she had it on, she said, "Mommy..This bathing suit has a big whole in the middle. It is too small on me." I lost it from laughing so much!
Now your laughs: