Happy 4th of July weekend! I hope you had a wonderful time celebrating yesterday with family and friends!
As always, link up any cute or funny post. Please feel free to take my button or share on social media, although this is not necessary! Also, definitely check out the other blogs who linked up, as they all provide a great laugh!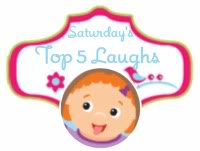 My top five laughs:
5. Hayley is so afraid of fireworks. When they started yesterday she screamed, "Get it away!! Get it away!!" The girl wanted to be as far away as the action as possible.
4. Zane slept through the fireworks . I took a picture on Instagram that will prove it. Who falls asleep during fireworks, is what I want to know!
3. We went to the pool club yesterday during the day. Zane stayed in the baby pools for hours. Seriously, the kid was one big prune when he got out.
2. Hayley said to Zane, "Come play with me". Zane's answer: "No Hayley No". I was LAUGHING! That boy has a mind of his own.
1. I did some blogging work to promote Despicable Me 2. They sent us a package of goodies including Despicable Me 2 goodies. In it was shirts. Hayley made me wear one shirt and she wore the other. Yes, I went out and went to the mall with a Despicable Me shirt on! That is how I roll these days! I was thinking of wearing it as a nightgown but obviously Hayley had other ideas.
Bonus laugh on fb this week: Hayley says to her friend, "Come on over to our BBQ- we have hot dogs, hamburgers, ice cream, and BEER!!""
Now your laughs: