**I am a member of the Collective Bias®  Social Fabric® Community.  This shop has been compensated as part of a social shopper insights study for Collective Bias and their client.**
It will be the official start of summer in two weeks and in these parts of town it is getting extremely hot. When the days get longer, the kids are out of school, and the beaches are crowded from early morning to late night, the last thing I want to do when I come home is make a complicated dinner for my family. While I truly love to cook and do so most days of the week, I like to take a summer "break" and create easier, healthy recipes that my family will love. Tyson is allowing me to do just that with their new Tyson Sliced Salami.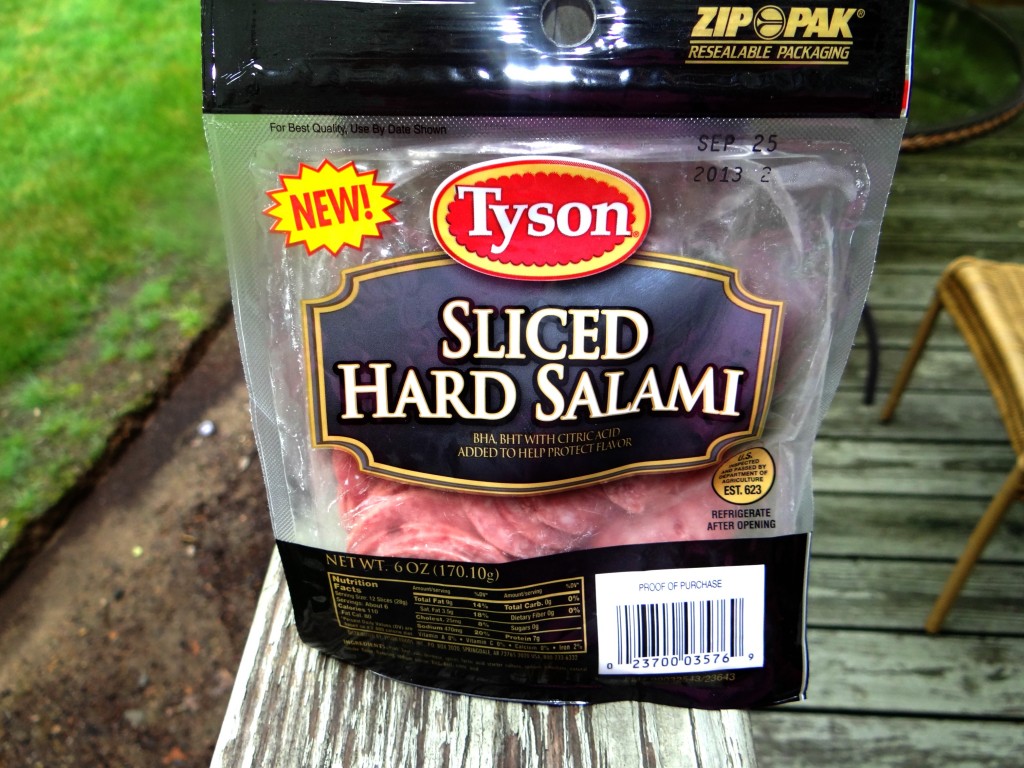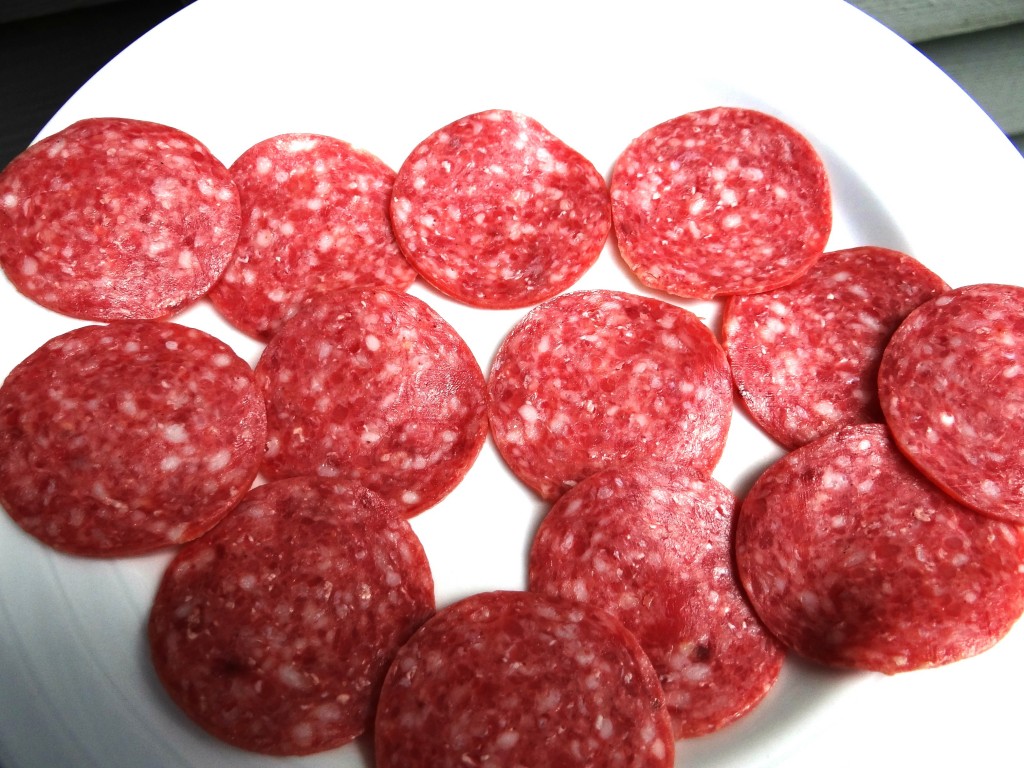 I have been using Tyson products for years now (you would laugh if you saw how much Tyson chicken we freeze at a time), so when I found out that they made a brand new line of food toppings, I admittedly started doing the happy dance. Tyson now makes individual packets of food toppings including sliced salami, sliced pepperoni, and bacon pieces.  This would certainly be beneficial for me to make great recipes because it eliminates all the slicing and cooking of the meats!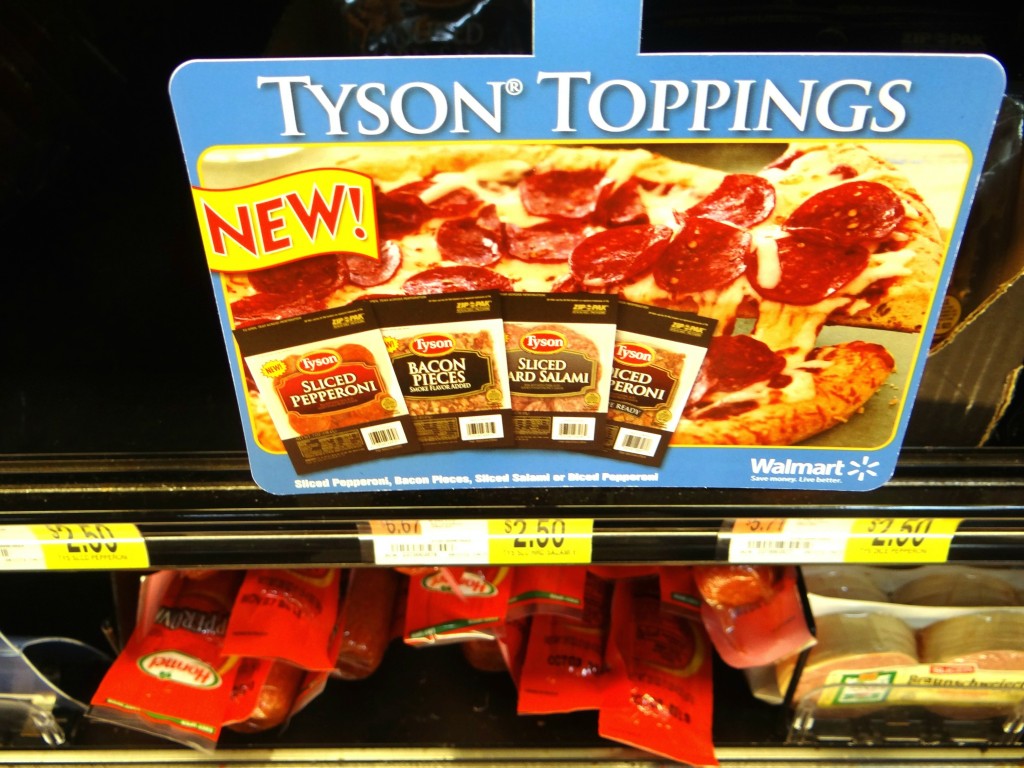 I decided to go to Walmart to check out the Tyson toppings. I easily found them in the refrigerated section near the lunch meats. I immediately decided to add the Tyson Sliced Salami to my cart since both my husband, my kids, and I are big salami lovers.  Feel free to check out my full shopping Tyson trip here to see more: Tyson Google Plus Story.
I was excited to see how the Sliced Salami looked so fresh, even in the packaging. I could basically open the bag and eat the salami without any prep work if I wished. On my way home, I did just that.  I dove right into the bag. I was hungry and I wanted a little bite of the Sliced Salami. It was truly delicious! It actually tasted better than most other salami I have tried.  I thought of all the wonderful ideas for using the Tyson Sliced Salami including using it in pasta dishes, in omelets, on pizza, on salads, and even as a simple cheese/salami appetizer on a cracker. Tyson Sliced Salami is an extremely versatile food that can be incorporated in so many different recipes or as a stand alone food for an appetizer.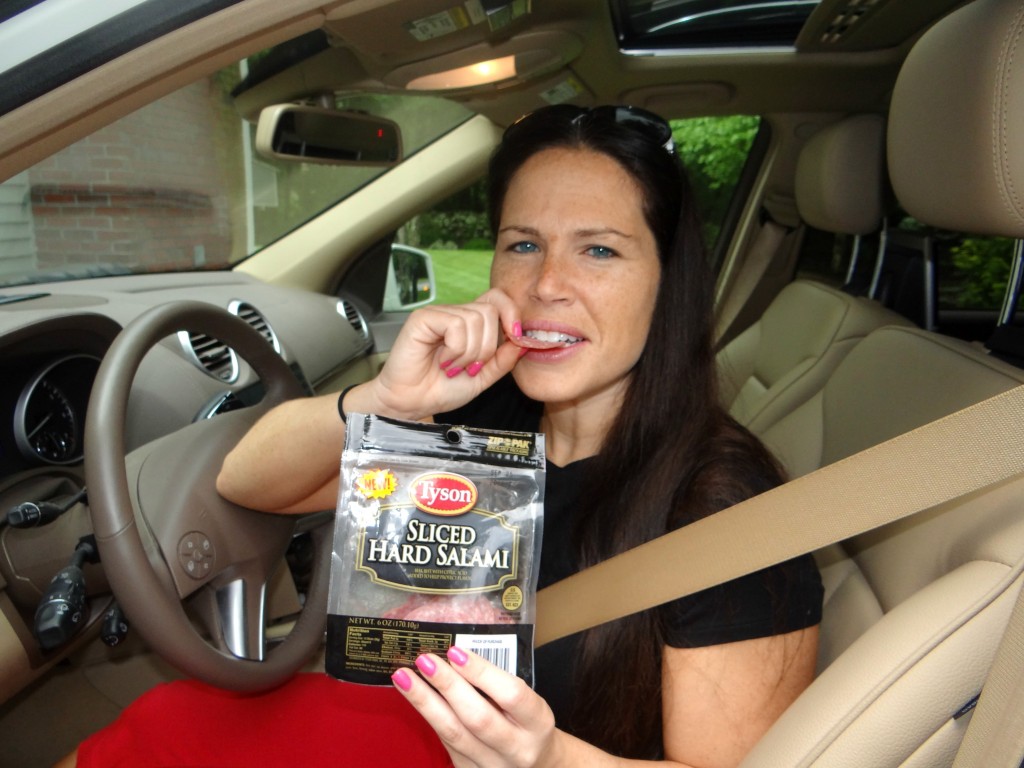 I decided when I got home that I was going to make my summer pasta salad, which is a household staple. It is easy to make and quite delicious. I never made it before with salami but I figured why not give it a try and see how it comes out.
I gathered all my ingredients and began to get to started on creating my Summer Pasta Salad.
Ingredients: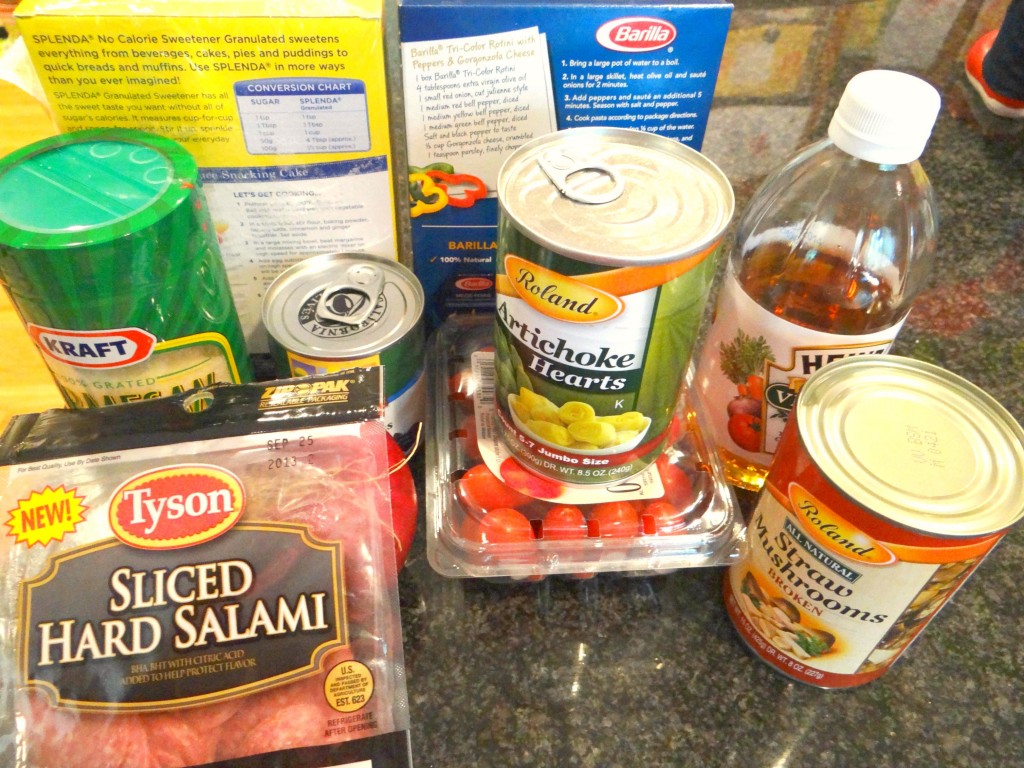 – 1 red onion chopped
– I package of Tyson Sliced Salami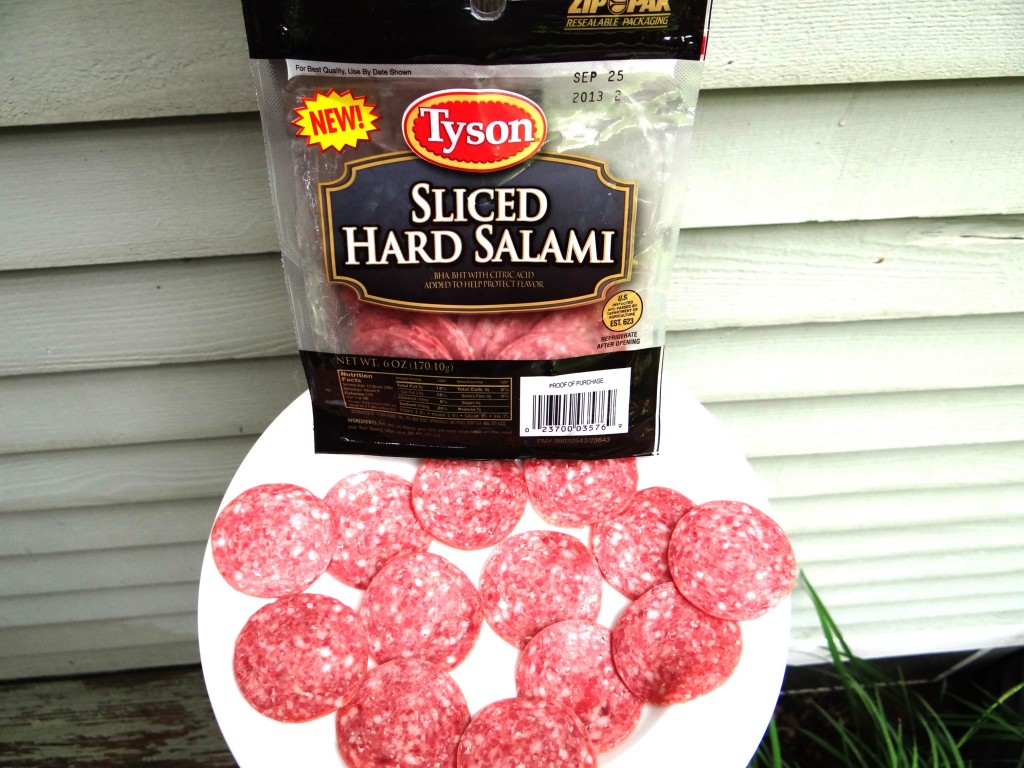 -1 can of mushrooms
-1 can of artichoke hearts
– 1 box of rotini pasta
– 15-16 baby tomatoes halved
– 1 can of olives
– 3/4 cup apple cider vinegar
– 1/4 cup sugar
Directions:
1. Boil rotini in a large pot on the stove until cooked. Once the pasta is finished cooking, place it in a bowl to cool for approximately 20 minutes.
2. Add red onion, tomatoes, olives, mushroom, and  artichoke hearts in a small bowl.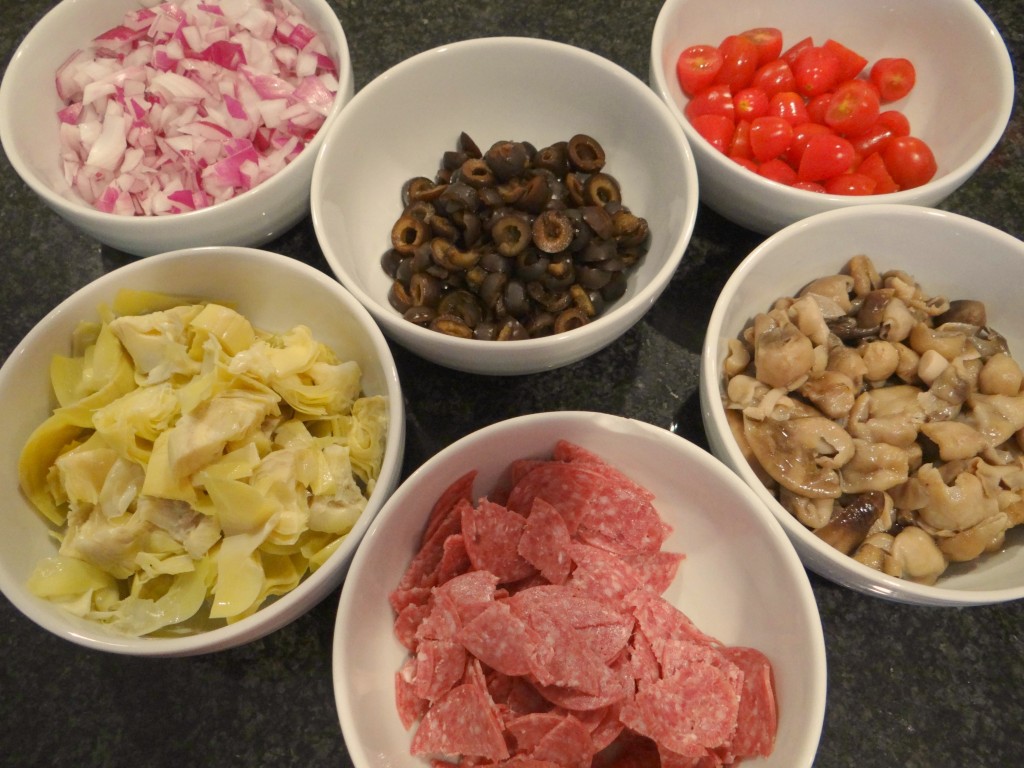 3. Cut each slice of Tyson Salami in half. You can add it in whole to the recipe but I like my salads to not have too many big pieces.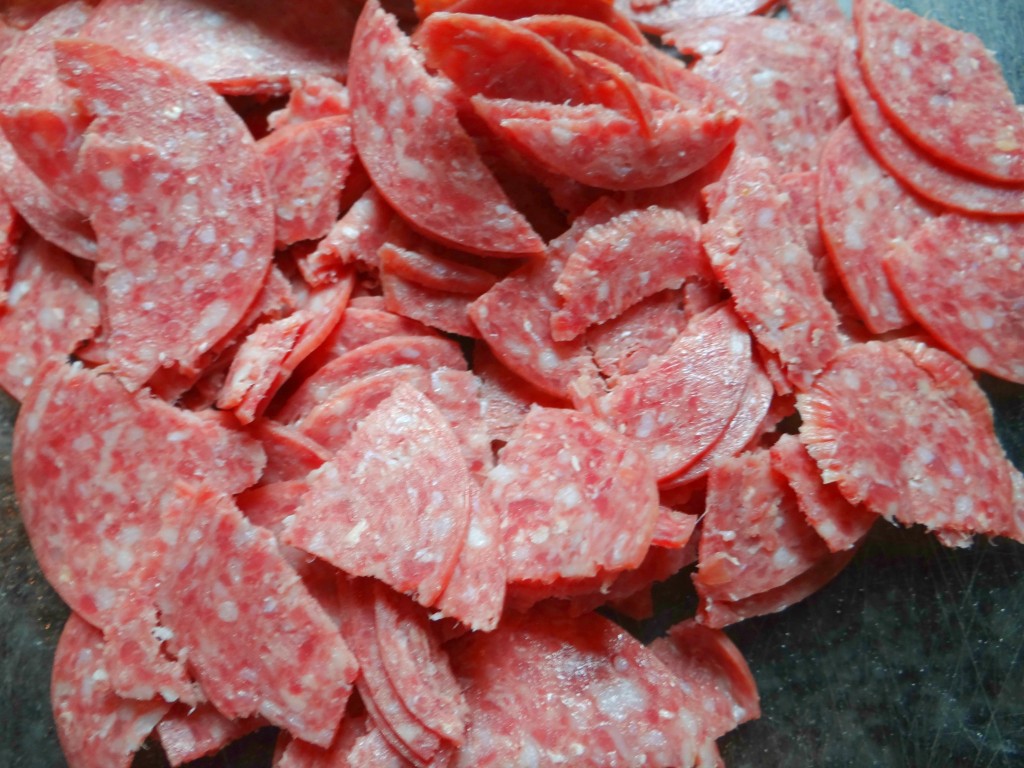 4. Add #2 and #3 to the prepared pasta in #1. Mix all ingredients together.
5. For the dressing, add 3/4 cup apple cider vinegar with 1/4 cup sugar. Stir the vinegar with the sugar and immediately pour over the salad.
While I have had this recipe plenty of times before, I had never added in the Tyson Sliced Salami, so I was very eager to try it. Actually my husband and I both sat down to the meal to try it simultaneously.  I can't even begin to tell you how delicious it was; the Tyson Sliced Salami added a lot more taste to the salad. I don't think I will make the salad now without the salami because it gave it that extra special kick.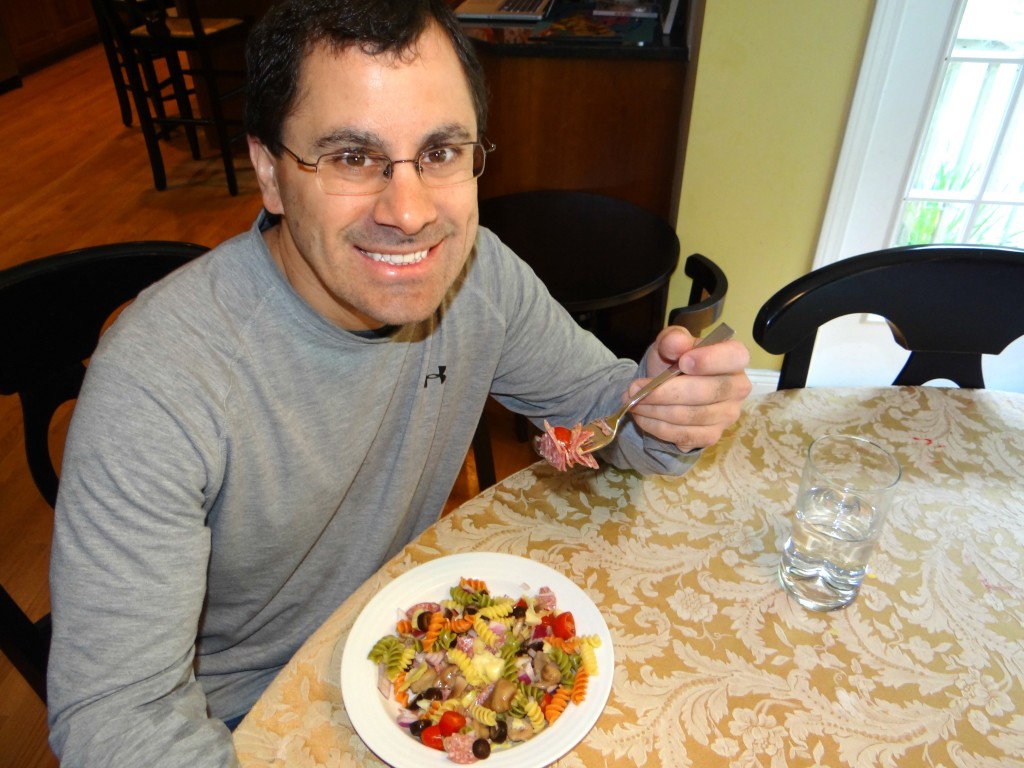 Be sure to check out the Tyson Sliced Salami at your local Walmart to add taste and easiness to your recipes this summer. It makes for the perfect meal solutions when you are looking to create a recipe without much time. Let Tyson Sliced Salami allow you to enjoy cooking and eating with ease on those hot summer days!
You can keep up with Tyson to learn more about these great products on their Facebook and Twitter page!