I am completely exhausted today but for a great reason. Last night, I traveled a few hours via train to see my mom got honored at her retirement party. After 32 years of teaching, she is retiring from teaching at the same high school I went to! She is an amazing teacher and I wish her and my dad, all the best in their retirement.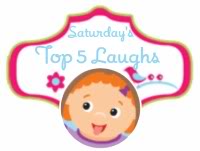 As always, come link up any cute or funny post you may have. Feel free to take my button or share on social media, although this is not necessary. Definitely check out the other blogs who link up, as they all provide a great laugh!
My top five laughs:
5. Hayley graduated preschool on Tuesday. They did the full graduation with cap and gown, and the music when they walked down to get their "diplomas". It was the cutest thing I have ever seen!
4. When Zane saw Hayley walking down during graduation, he kept screaming, "Hayley..Hayley". He was so proud of his sister!!! It was so stinkin' cute to watch!
3. I am taking Hayley on a surprise trip to Disney just her and I in November. She has no idea about this trip but she does know we are going in December to Florida to visit her nani and popa. She is asking me all the time, "Can we please go to Disney". I am just so excited to see her face when we go!
2. I was leaving for work one day and I accidentally dropped my heavy pocketbook on the floor. It was around 730 AM and Zane was still sleeping. I hear him from his crib go, "No wakey..No wakey". I think he was mad that I woke him up.
1. I say this over and over but Hayley and Zane's interaction these days is so amazing. They play together, talk together, sing together, dance together, and more! I just love it!
Now your laughs: