*I participated in a campaign on behalf of Mom Central Consulting for Dunkin' Donuts. I received a Dunkin' Donuts Party Kit to facilitate my review and a promotional item as a thank you for participating.*
My husband and I have a total obsession with Dunkin' Donuts! How can we not- there are 3 Dunkin' Donuts within a 5 mile radius! My husband every single morning for the past 5 years has gone through the drive-thru and ordered a medium regular, which translates in New England terms to coffee with milk and sugar. As much as I like going through the drive-thru, I save that for the weekends only. During the week, I make Dunkin' Donuts coffee at home. I brew my coffee in the morning and put the remainder in the refrigerator, so I could have iced coffee later on in the day. There is really nothing like Dunkin' Donuts coffee!
Recently, I was sent the three new seasonal flavors to try: Coconut, Triple Berry, and Strawberry Shortcake. I could not wait to try these flavors so I thought the best way was to throw a morning party so all my friends and I can indulge in Dunkin' Donuts coffee. It is very rare around these parts of town to not find a Dunkin' lover, so when I told them we were going to have a morning coffee season with the new Dunkin' Donuts coffees, they were more than ecstatic. Being in New England, if you do not like Dunkin' Donuts, you are definitely in the minority.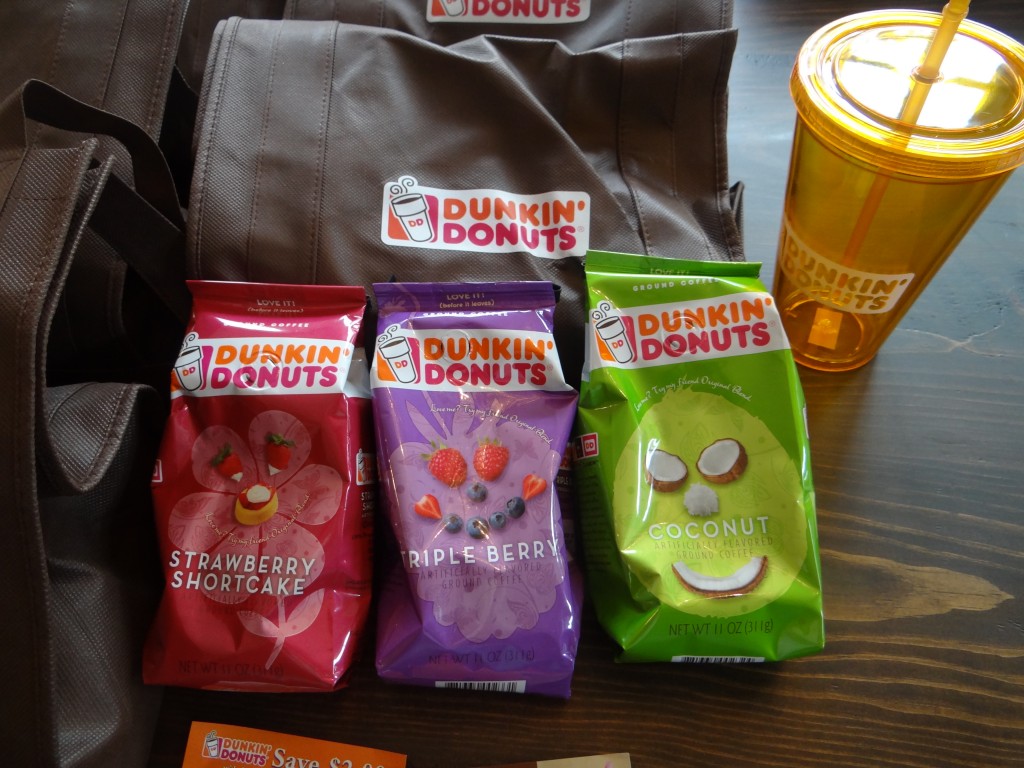 I set up the party at my friend's house. Each guest was given a Dunkin' Donuts bag which featured one of the seasonal coffee blends, a tumbler for them to drink their coffee, and a coupon so they could replenish their special Dunkin' Donuts seasonal flavored coffee once they ran out. While I made freshly brewed pots of each of the three flavors, I also made Iced Coffee with the recipe that was included in my party pack. Since it was 80 degrees, the day of our party, Iced Coffee was definitely a necessity.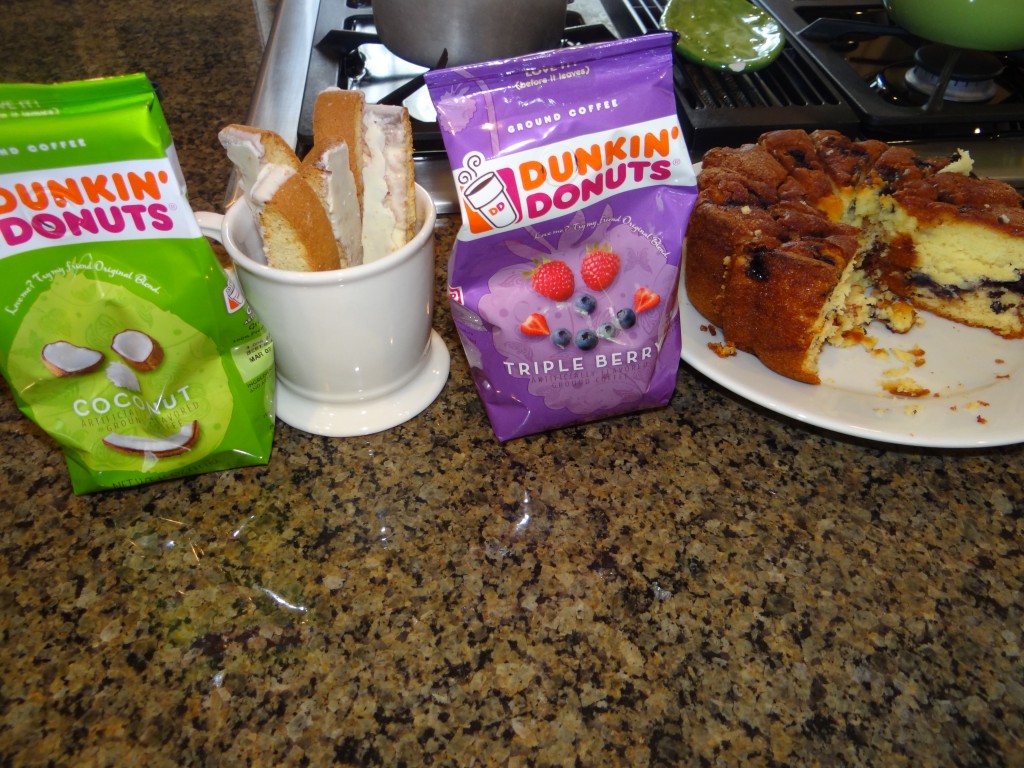 Dunkin' Donuts Iced Coffee Recipe:
Ingredients: -3/4 cup of Dunkin' Donuts Coconut Coffee (you can also substitute the Strawberry Shortcake or Triple Berry), 3 cups of cold water divided -1/3 cup sugar -1/2 cup half and half -optional whipped cream (we chose not to use this with the recipe)
Directions: 1. Brew the coffee in a coffee maker using 3/4 cup of ground coffee and 1 1/2 cups cold water 2. Combine hot brewed coffee, sugar, and half and half in a pitcher. Stir until sugar is completely dissolved. Blend in 1 1/2 cups cold water. Chill until ready to serve. 3. Pour over ice in tall glasses or cafe mugs. Top with whipped cream if desired. Serve immediately.
We sat around comparing the deliciousness of each of the three various flavors. Here are little tidbits about each flavor: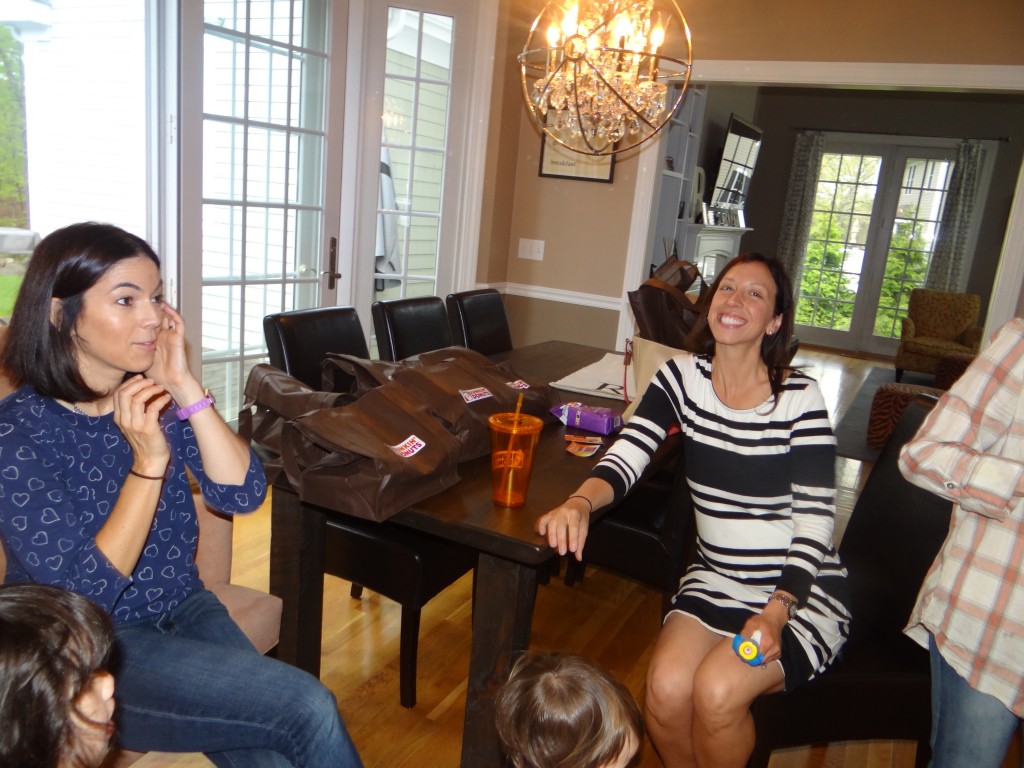 Coconut
Sometimes you feel like fresh coconut coffee flavor. And sometimes, you really feel like it.
Triple Berry
You know what they say, "Three berries are better than one." That's a saying, right?
Strawberry Shortcake
Just one sip of our strawberry-flavored coffee and you'll agree: Dessert should come first.
Honestly, we all were amazed at how delicious the new Dunkin' Donuts Seasonal Flavors were. My favorite was coconut because I am just downright in love with anything coconut. All of my girlfriends had a three way split between the three flavors.  We all agreed that this would be the perfect Iced Coffee treat for the hot spring/summer months coming up. If you are like me, I like to drink hot coffee in the am, and drink iced later, and these flavors are perfect for both types of coffee.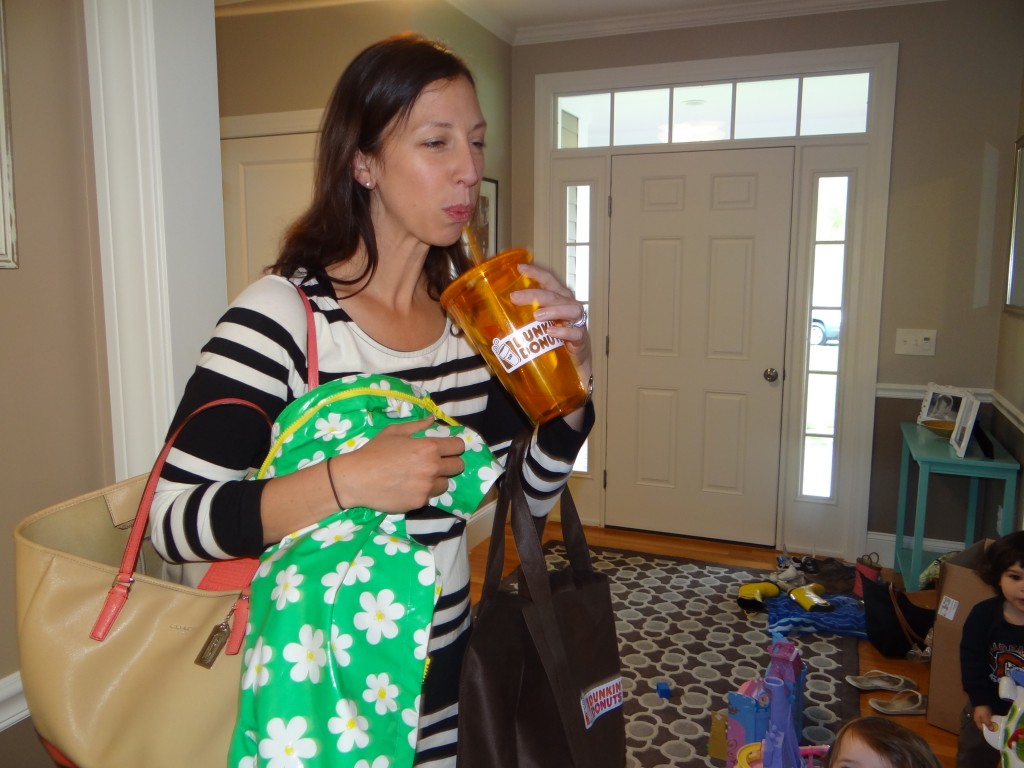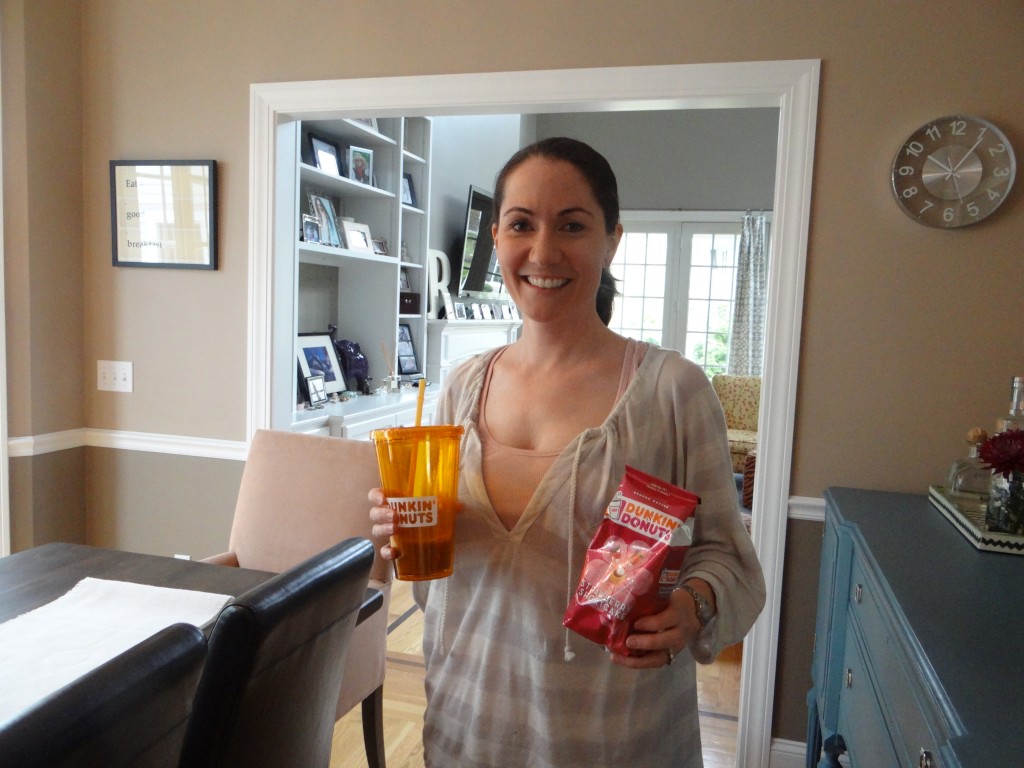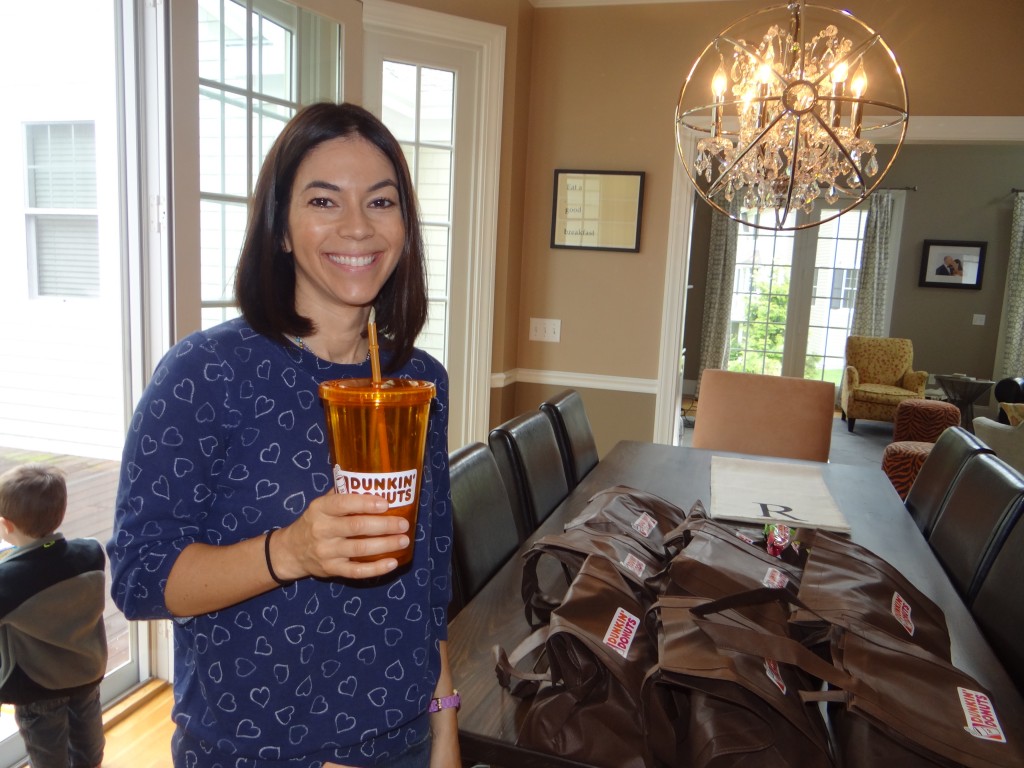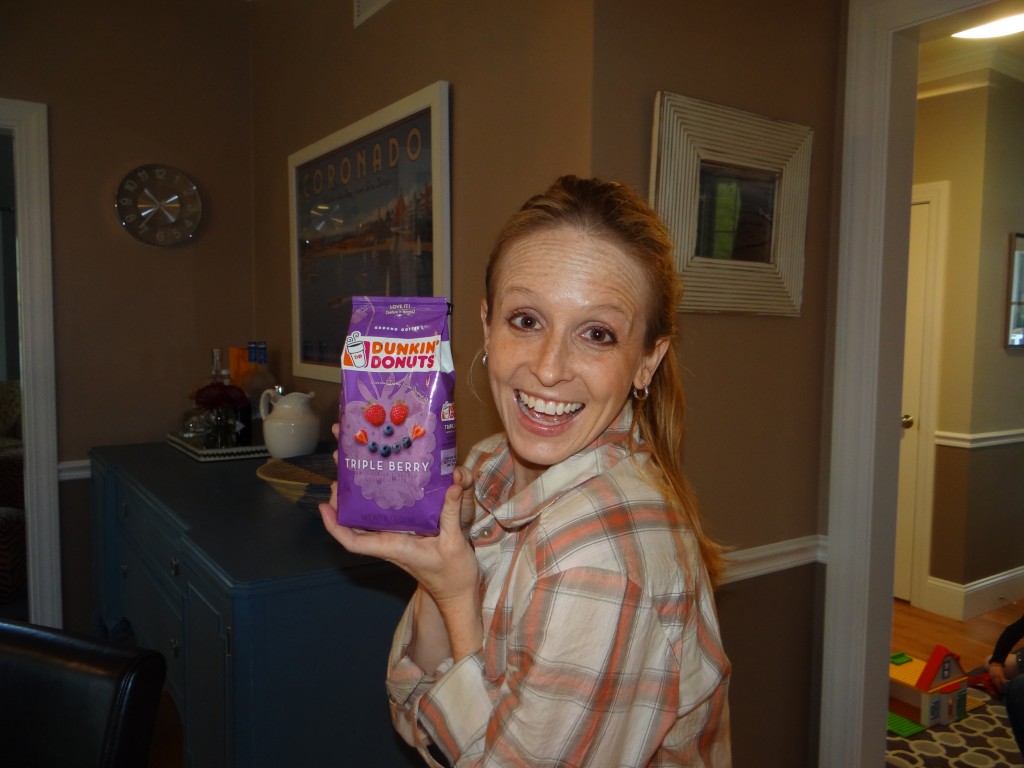 We had a wonderful Dunkin' Donuts party and all my friend were really excited to use their special coupon to go out and purchase more of the seasonal flavors. I know I will be buying much more of these flavors, this spring season. These special flavors are only available in grocery stores for a limited time, so be sure to purchase them today! These flavors will put you in the mood for the great spring weather we have coming up! They remind me of just enjoying spring by sipping on delicious and spring-like flavors of coffee. What could be better!
*I participated in a campaign on behalf of Mom Central Consulting for Dunkin' Donuts. I received a Dunkin' Donuts Party Kit to facilitate my review and a promotional item as a thank you for participating.*