If you ask Hayley her favorite show on television, without a doubt she will tell you Doc McStuffins! She has been watching this show since it first went on the air. She admires Doc so much that she now wants to be a doctor when she grows up. I will admit, that I am also a huge Doc fan too!
We had the chance to review the Doc McStuffins DVD titled Time For Your Checkup.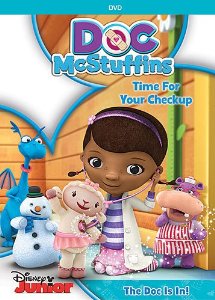 *Get ready to start your day in a wonderful way! Doc McStuffins is all about helping to keep toys and little ones happy and healthy. Join Doc and her trust team of lovable toys as every new checkup leads to miles of smiles. Laugh along when Doc cures Gus the Gator's "Stuffedfulliosis." Blast off with Star Blazer Zero as Doc shows him how to play it safe from launch through landing. Whether it's eating right, getting enough rest, or getting in an annual physical check-up, this delightful and nurturing program combines music, humor and suprises in five fun-filled adventures that inspire friendship, hugs and stay-healthy habits every day!*

Hayley and Zane both absolutely LOVE this DVD!!! Seriously, they could watch it over and over!  I love that it teaches important lessons such as sharing and caring. While they watch the DVD, they pretend to be Doc by dressing up in their Doc attire. It really is so cute! This DVD is a must for any kids who love Doc McStuffins! Oh, and being a dentist- I loved the episode, Bronto Boo-Boos / Brontosaurus Breath, where they talk all about brushing teeth!
Buy it: You can order it now on Amazon!
Win it: One winner will receive their copy of Doc McStuffins-Time For Your Checkup. For this giveaway, tell me what is your child's favorite Disney Junior show in the comments proceeding this post. For an additional +2 entry (can be done daily), tweet this giveaway out mentioning @dentistmel and Doc McStuffins. Please leave links for confirmation in comment section. US and Canada. Good luck! Giveaway ends 6/1. Please remember to leave a EMAIL ADDRESS or a way to reach you, if you are the winner!
*I received the above copy for review purposes. As always, all my opinions are my own and not swayed by outside sources.