Can you believe in a few short months, it will be bathing suit time! I know I am ready- I say bring on the summer months! With the summer months coming up, so begins swimming season. Hayley who is 4.5, is a swimming fanatic. She would swim 24/7 if we let her. She has been in the water since 6 months, so she is a total water lover. Zane, who turned 2 yesterday, is starting swim lessons today. When the kids are such big lovers of water, you need good swimsuits to get them through the hot summer months.
Recently, I learned about SwimZip which are stylish, UV 50+ swimwear for babies, toddler, and children. They feature the signature full zipper down the front of their rash guard shirts, so kids have an easy time putting on and taking off their suits. What I love about this swimwear, is children will be protected against all the harmful rays with their swimwear line. I still 100 percent would put sunscreen on all children, but with these SwimZips, you know your kids are fully covered, even with the areas that are hard to reach with sunscreen. SwimZips  block 99% of those nasty, cancer causing UVA and UVB rays. As a mom, I love that my children are protected with SwimZip Bathing Suits.
SwimZip makes stylish UV protection a zip and are exactly what Moms want for Spring Break and for the summer months. SwimZip are made of the highest quality materials and are ridiculously cute! Don't believe me, check out what SwimZip Hayley was sent. Zane also received an equally adorable SwimZip.
SwimZip signature  features full zipper down the front of the rash guard swim shirts, which means that vacations no longer have to start with tears as kids get yanked around trying to get their rash guards on and off. For the upcoming spring vacation and summer months, I highly recommend SwimZip! They offer a stylish UV 50+ protection for kids and babies alike, while being extremely comfortable for your children to wear too. Even better, SwimZip is chlorine resistant and protects children to the fullest!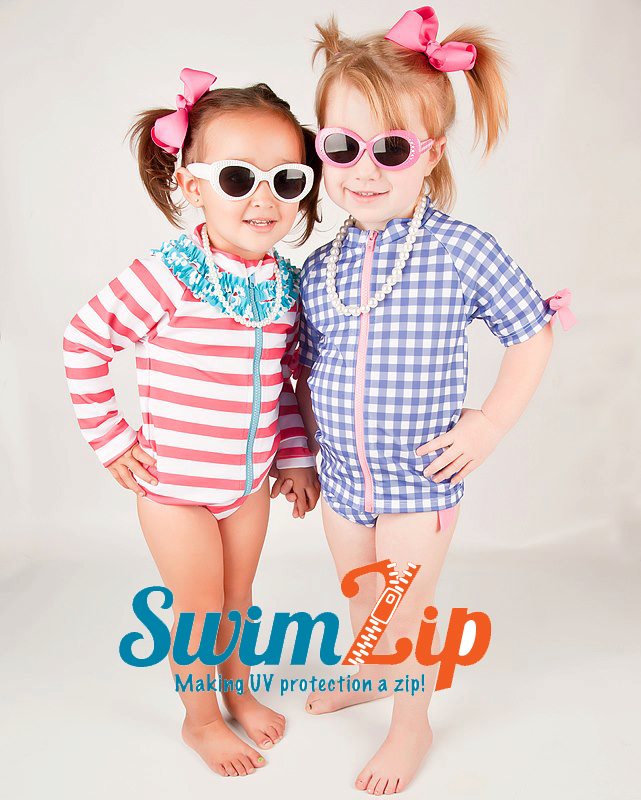 Be sure to check out SwimZip for all their various bathing suits for your children.
Win it: One winner will receive their choice of SwimZip. This giveaway is run via rafflecopter, so click read more to see the actual giveaway. The only mandatory entry is to tell me which SwimZip you like to receive in the comment section proceeding the post. While the other entries are optional, I highly suggest filling them out to increase your chances of winning. US only. Good luck!
*I received SwimZips for review purposes. As always, all my opinions are my own and not swayed by outside sources.